Our announcer Keith Howell delivers a warning at the beginning of tonight's episode. You'd be wise to listen to it very carefully and then completely disregard Keith's cautionary words and jump right in to listening to Episode 25! His claim of the TNCC crew getting really hammered in the final hour of the show is possibly slanderous, certainly inflammatory, and quite possibly the absolute truth. Ok ok, we got a little more shnockered than usual. So sue us. But don't sue Keith, he's innocent in all of this and a really nice guy. Damn you Rasputin…
The 6×46 box press is beautifully constructed with an Ecuadorian Habano wrapper and a closed foot that unleashed an extremely pleasant aroma of cedar and leather upon lighting. We were all greeted with an immediate blast of red pepper and spice that literally knocked Tut out of his seat (see video) BUT before it could scare us into running home to our mommies the cigar quickly downshifted into medium territory with ease. A really nice cocoa note developed on the retrohale and it continued throughout the duration of the cigar with both it and rich cedar being the dominant notes for me. It's a rustic but very well balanced cigar and I imagine the NBK will be equally enjoyable to both the seasoned cigar smoker and a newbie on the scene. That's a somewhat rare quality in a stogie. I'm a fan.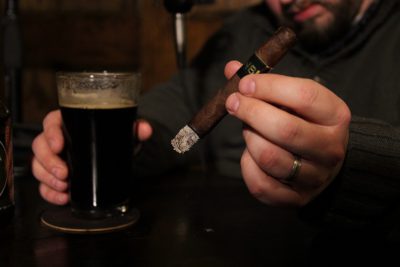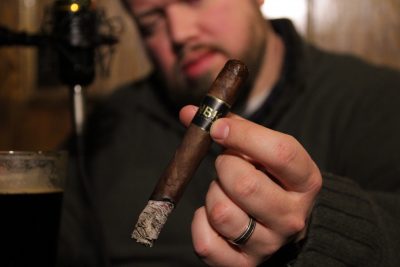 Everything you could ever want to know about the NBK cigar and how we feel about it can be found by watching the interview video below. We talk at length with Black Label Trading Company's James Brown about his thought process behind creating the NBK as well as the history behind both BLTC and his newly formed Black Works Studio.


Those Californians love their hops! And I love them for it. This Imperial Stout is bitter as all hell and Cody and I thought it paired beautifully with the cedar and the spice of the NBK. That bitterness acts as a effective palate cleanser as well. The second after you swallow, the taste of the beer is magically gone and you can then fully envelope your senses in the cigar once again.

Tut did not necessarily agree on the pairing's success. He felt that a creamier stout would pair better with the NBK but admitted that he could just be sour on the Russian stout as "Rocky 4" is one of his favorite films of all time… I can certainly see where he's coming from but majority rules and therefore the TNCC deems the Old Rasputin a winner and a worthy pairing partner to the NBK cigar. But what the hell do we know, get your ass to the nearest liquor store and sample it for yourself! Notice I used the word "sample" there, I wouldn't advise chugging down these 9% ABV bad boys one after another unless you're asking for trouble. But, then again, what group of numbnuts would ever do that?

That sad sack of shit downing shots and chain smoking in the photo above is surprisingly NOT a member of the Tuesday Night Cigar Club. It's the one and only Charlie Sheen. Despite the bizarre character of "Charlie Sheen" that the actor has created for himself in recent years, I've always liked him on the big screen. He's unique and brings a smartass sense of humor and wit to almost everything he does that elevates what might be otherwise run of the mill characters. In the highly entertaining "Beyond The Law", Sheen plays an undercover narc hellbent on taking down the Jackal motorcycle gang even if he gets dragged through the trenches of hell in the process. He's helped by a friendly biker named Virgil and almost killed by a heroin fueled madman who looks a lot like our brother Fritz Beer… it's almost too much awesome to comprehend which may be why we were forced to drink so much while talking about it. Yeah, that's the ticket!
There's bikers galore in this film and they're led by Michael Madsen, the ultimate American tough guy. Fist fights, motorcycle chases, drinking, drugs, steamy sex, and Apache medicine men. This flick has it all! I won't spoil the end for you but, needless to say, it involves a man stripped of his soul (and of most of his clothes) who finds himself walking stoically out into the wide open desert to find himself. And maybe, just maybe, find his clothes…?

THE NUB

You'd think after 24 episodes we'd learn to eat big dinners before each podcast and get plenty of sleep the night before we pound beer after beer for five hours straight. You'd be wrong in thinking that. In fact, sometimes it can do one more harm than good overthinking the actions of the night before as it may force us to face the harsh realization that… Oh yeah, I almost forgot! Here's a photo of the guy who looks like our buddy Fritz about to stab Charlie Sheen in the neck with a dirty syringe!


Thank you for checking out The Tuesday Night Cigar Club and we'll see you next time when we review another cigar, adult beverage, and film. May the wings of liberty never lose a feather…
Podcast: Play in new window | Download (276.5MB)
Subscribe: Apple Podcasts | RSS