Tonight's episode is based around the concept of "All Things New" as we indulge in, well, all things new! We review one of the most anticipated new cigars of the year, we drink copious amounts of a brand new groundbreaking spirit and seasonal beer, and we spend the evening discussing a newly released film. And the next morning we all were told that we required new livers! So at least when we pick a theme we're consistent with it…
Size: Petit Belicoso (5 x 50)
Wrapper: Ecuador Habano Oscuro
Binder: Indonesian
Filler: aged tobacco filler form Nicaragua and Dominican Republic
Price: $24.50
The Pappy Van Winkle Tradition features a beautiful Ecuador Habano Oscuro wrapper, you can barely make out the seams upon initial inspection. Sweet earthiness on the cold draw and upon torching the foot we all experienced a quick blast of spice immediately followed, or rather enveloped, by a smooth creaminess that overtook our palates. We barely clipped the end of the cigar and the draw was perfect, with burn line and construction overall remaining impressive throughout. A bready sourdough note, a flavor reminiscent of salty peanuts, and a reemergence of the pepper around the halfway point resulted in this cigar providing a complex blend of sensations that justifies the price tag.
Tut said "There's a subtleness here in this blend that I haven't seen in a Willy Herrera blended cigar. This cigar is phenomenal." and, for once, I have to agree with him. As an added bonus, this stogie also led to Tut creating his new catchphrase "SWEET RAISINS!!!" but you'll have to watch/listen to the show below to find out why. Special occasions call for special cigars, so pick yourself up a Pappy Van Winkle Tradition for yourself and see if you agree.
TNCC SCORE = 93
While the blend is 45% Florida rum and 55% Kentucky bourbon, we definitely felt the sweet rum presence first and foremost once the sipping began BUT the bourbon component tamed the usual high level of "syrupy" sweetness associated with Florida rum to a much more moderate level. Also of note is that while the bottle smelled primarily of rum, when you dip your nose in your glass the aroma is almost entirely of bourbon… what the hell is this strange elixir? It's Brixton Mash Destroyer and we all agreed it's fucking awesome. As it rests in your glass (we all agreed it's best served chilled, no ice) the sweetness subsides and the bourbon aspect of the BMD steps to the forefront. And that dance between rum and bourbon continued throughout the night. There's simply nothing else like it on the market.
Barrow's seasonal farmhouse ale is a winner with a nice mixture of baking spices (pepper, cloves) and a unique sweetness on the backside as a result of the inclusion of persimmons in the brewing process. It's a super cloudy beer yet through the murkiness you can watch a tiny steady stream of bubbles fight mightily to reach the surface – studying your pint glass is like watching a dense, demonic, and delicious lava lamp. Heavy, with a nice malty component, and that unusual fruity sweet auxiliary note leads us to highly suggest you seek out Barrow's Farm To Market Saison immediately as it's another impressive entry from one of our favorite new breweries.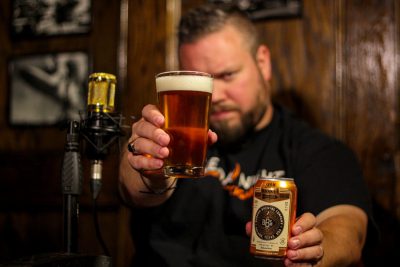 I miss THAT Bruce Willis so much. I miss him like someone misses a pinky finger that got severed in a bizarre fishing accident and then sewn back on… sure it's still there on your hand, it may even look almost the same, but it doesn't do anything the same way that you remember so fondly. Moonlighting was a life altering force in my formative years to say the least and my love for Bruno steadily grew from there (to an admittingly strange peak but you'll have to watch or listen to the show to learn that embarrassing tale). But somewhere in the mid 90s things changed and yada yada yada here we are with the brand new Bruce vehicle Once Upon A Time In Venice…
The poster above is how this movie is being marketed, along with a rather serious action-heavy trailer that borrows generously from the popularity of John Wick and its revenge driven storyline. However, the poster below much more accurately captures the true spirit of this private detective comedy…
Truth be told, Once Upon A Time In Venice has more laughs than bullets and perhaps the producers might have wanted to emphasis that in order to separate the flick from the other two dozen Bruce Willis action films currently saturating Netflix. In fact, I make the case during tonight's conversation that you could totally add in a bunch of random beach tits and ass shots, rename it to Venice Nights, and this would fit comfortably in the good ol' USA Up All Night rotation of fun skin flicks! We have a surprisingly good time taking you through this movie, so what are you waiting for? Click the PLAY button below and join the party pals!!!
I always say, episode after episode, don't you dare give us a boring cigar and don't you dare give us a boring beer ~ there's nothing worse in this world we drunkenly swim in than BORING SHIT. Well tonight we experienced a spirit in Brixton Mash Destroyer that was the furthest thing from boring that we've had the pleasure of experiencing in quite a while. And the cigar and beer were equally unique as well. As you can see, the totality of all the awesomeness took its toll on your poor ol' host by the end of the night. Good times? Hell yes.
Please leave us comments on the YouTube episode page, provide us with a review on iTunes, or be a real stud and do both! All these seemingly small gestures would be greatly appreciated as they let us know exactly what you're thinking about this sweat soaked tidal wave of hardbodied insanity we like to call The Tuesday Night Cigar Club.
Below is tonight's full episode for both your viewing and listening pleasure. Thank you for checking out The Tuesday Night Cigar Club and we'll see you next time when we review another cigar, adult beverage, and film. May the wings of liberty never lose a feather…
Podcast: Play in new window | Download (79.8MB)
Subscribe: Apple Podcasts | RSS