As our audience well knows after five years of listening and watching to us knuckleheads, we try not to get too political here in The Corner Of No Hope. After all we are a party podcast and we like to have a lighthearted good time and share that good time with our followers. But tonight I wanted to talk to someone who has been directly involved in some of this nonsensical social media vitriol and the blatant racism that's recently bubbled to the surface in our beloved premium cigar industry, I wanted to put a human face on it because I think there's a lot of power in that. And I also want us, The Tuesday Night Cigar Club, to be very public about where we stand and on what side of history we want to fall on. It's not just enough to not be a racist right now, ladies and germs, you must be vocally anti-racist. Our interview with Mr. C.W. Harris can be found HERE and it is included in the show below as well.
Size: 7 x 55
Wrapper: Ecuadorian Habano
Binder: Dominican
Filler: Columbian & Corojo tobacco of undisclosed origins
Price: $11.00 MSRP (but as is the case with most Gurkhas, we picked up a five pack for $16.00 which brings the cost down considerably to $3.20 a stick, how's that for unbelievable savings?!?!)
And those details listed above is all the info I've got on this cigar. I purchased these for the show a while back, well before all this horseshit was revealed in the cigar media regarding Gurkha's founder Kaizad Hansotia resigning due to his racially insensitive social media posts. I acquired them because I thought that a "Governor" cigar might just pair well with a movie starring Governor Arnold Schwarzenegger. So, sadly, here we are…
There's the distinct flavor of a chocolate bar, think Hershey's, on the cold draw and some sweetness and fresh-cut hay is present when smelling the foot. Upon lighting the Governor's Private Blend cigar on fire, there's ground black pepper on the retrohale and some black coffee accompanied by an indiscriminate bready component on the draw. To be honest, flavors off the draw are hard to discern in the early goings… but the aroma is very nice.
Throughout the smoking experience, we all agreed that things were pleasant enough but flavor-wise there just wasn't enough of anything for us to latch on to. The draw is slightly more open than we are use to when smoking a premium cigar and I think that extra airflow hurt its overall impression for us. There's hints of graham cracker and earthiness, but those notes are so faint it's hard to define any of them as memorable. You can get these "premium cigars" for around $3 a stick. So yeah… we are gonna skip on rating tonight's cigar because once it was dropped down into the ashtray it was immediately forgettable. Unfortunately Kaizad Hansotia's Facebook comments are not.
Once again folks, usually (before this mini apocalypse was thrust upon all of us) we would carefully – some of you have said "expertly" – pair our evening's beer with the cigar and movie and we'd all drink that same beer and compare notes. But since this whole COVID-19 shitshow has happened, each member of the TNCC is now solely responsible for risking their lives out in the wild and acquiring their own beers for each episode.
Well, we are doing an ARNOLD Schwarzenegger movie tonight so already my amazing pairing talents are justified and confirmed; however, this offering seems to me a case of a brewery doing everything it could to make an IPA not taste like an IPA. There's just not a lot of typical IPA characteristics present here, the listed IBUs are about 20 points higher than I picked up on but it is refreshing and it's 120 degrees here in Central Texas so I didn't bitch too much as it was cold beer and I was able to drink lots of it…
As is to be expected at this point, after the hundreds of beers we've featured on the podcast, The Doctor diagnosed this beer at far less than the advertised 70 IBUs. But, again, he said it would keep him happy and hydrated on the golf course with his fellow doctor nerds so it has that going for it. Floral aroma and easy going, y'all try it and let us know what you think! Plus it has DEEP in the name and we do get into some DEEP discussions tonight so it's definitely a worthy pairing selection… and Arnold goes "deep undercover" in this evening's film so… Way to go Doctor!
Well this beer is outta Chicago so that ties in to tonight's Windy City based movie for sure but, unlike The Doctor's experience with his IPA, Tut thought his listed IBU count of 40 was a bit low when sipping the Next Coast IPA. We never have that happen! A brewery shortchanging their IBUs is unheard of. Or maybe we just might need to loosen the headband on Tut a little bit…
Pairing a Live Oak beer offering with a film featuring The Austrian OAK is solid expert cigar/beer/film pairing stuff, way to go Yaks! Unfortunately, we ended up featuring a cigar that was weak on flavors and paired with a beer that didn't feature much flavor-wise as well… this beer was a big ol' bust.
I was thankful that, after some much heavier conversation earlier in the show, we had such a fun movie to spend the rest of the night talking about. I've always felt that Raw Deal is one of the most underrated (if not the MOST underrated) Arnold films in his entire career. This movie is where our main man didn't play a cyborg or a stripped-down barbarian, Arnold gets to show his natural charisma and his sense of humor for the very first time. And he's supported by a phenomenal supporting cast that helps him and the film's ridiculous storyline considerably along the way.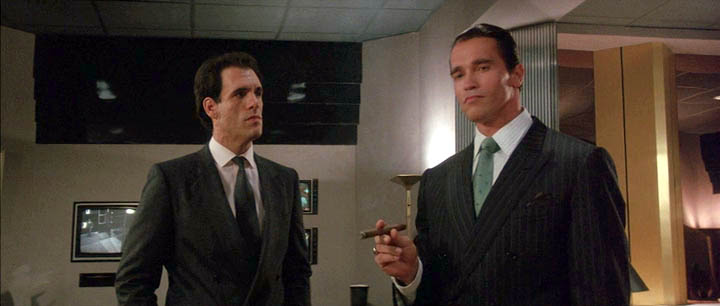 In particular, the always great Robert Davi, the seductive Kathryn Harrold, and genre vet Ed Lauter all really show up and are ready to play. We have an absolute blast talking our way through Raw Deal and I think if you watch or listen to the show below you'll have a blast as well.
Please leave us comments on the YouTube episode page, provide us with a review on iTunes, or be a real stud and do both! All these seemingly small gestures would be greatly appreciated as they let us know exactly what you're thinking about this sweat soaked tidal wave of hardbodied insanity we like to call The Tuesday Night Cigar Club.
Below is tonight's full episode for both your viewing and listening pleasure. Thank you for checking out The Tuesday Night Cigar Club and we'll see you next time when we review another cigar, adult beverage, and film. May the wings of liberty never lose a feather…
Podcast: Play in new window | Download (103.9MB)
Subscribe: Apple Podcasts | RSS