Eddie Van Halen, Sean Connery, and now the creators of our beloved Scooby Doo… will famous people please stop kicking the bucket?!?! Well I assure you that it's not all doom and gloom here tonight in The Corner Of No Hope, folks. Because there's one very simple recipe to help cure the blues: a tasty premium cigar + a boobalicious 90's action flick + a irresponsible amount of craft beers = ALL PROBLEMS SOLVED!
Size: 5 x 52
Wrapper: Connecticut Broadleaf
Binder: Nicaragua
Filler: Dominican Republic & Nicaragua
Price: $10.75 (and remember when purchasing some fine Dunbarton or other premium cigars from FamousSmokeShop.com to use your new favorite promo code TNCC20 at checkout where it will knock $20 off your purchase of $100 or more, there's nothing tricky about that!)
So before Dunbarton's Steve Saka makes his usually snickering remarks about the length of our show, I just want to mention that he makes a 7×64 version of the Triqui Traca that took Charlie over at Halfwheel an average of 4 hours to smoke… I'm just saying Saka could have sent us that big bastard instead and we wouldn't have needed two cigars tonight . In all seriousness though, we featured the Mi Querida Ancho Largo way back on Episode 42 (and named it our #1 Cigar Of The Year back in 2016) and we reviewed the original Mi Querida Firecracker on Episode 76 (and named it our #10 Cigar Of The Year in 2018). So this blend in differing forms has quite a good track record with us obviously. Will that winning streak continue tonight? Keep reading!
The Triqui Traca's toothy-as-hell brown wrapper is rustic yet refined. The broadleaf wrapper gives off a pure leather aroma with some notes of cashew off the cold draw and Tut got some dark chocolate and toffee too, so fuck yeah. Upon setting the cigar on fire, we got very pronounced leather on the retrohale (there was some sharp pepper present but it dissipated quickly) with a heavy leather and chocolate balanced profile on the draw. That lack of spice on the retrohale initially, honestly, threw us all for a loop as we all were expecting a strong spice presence on the nose. There is a nicotine kick here that is undeniable. The big story so far in the early goings is just how damn approachable the Triqui Traca is!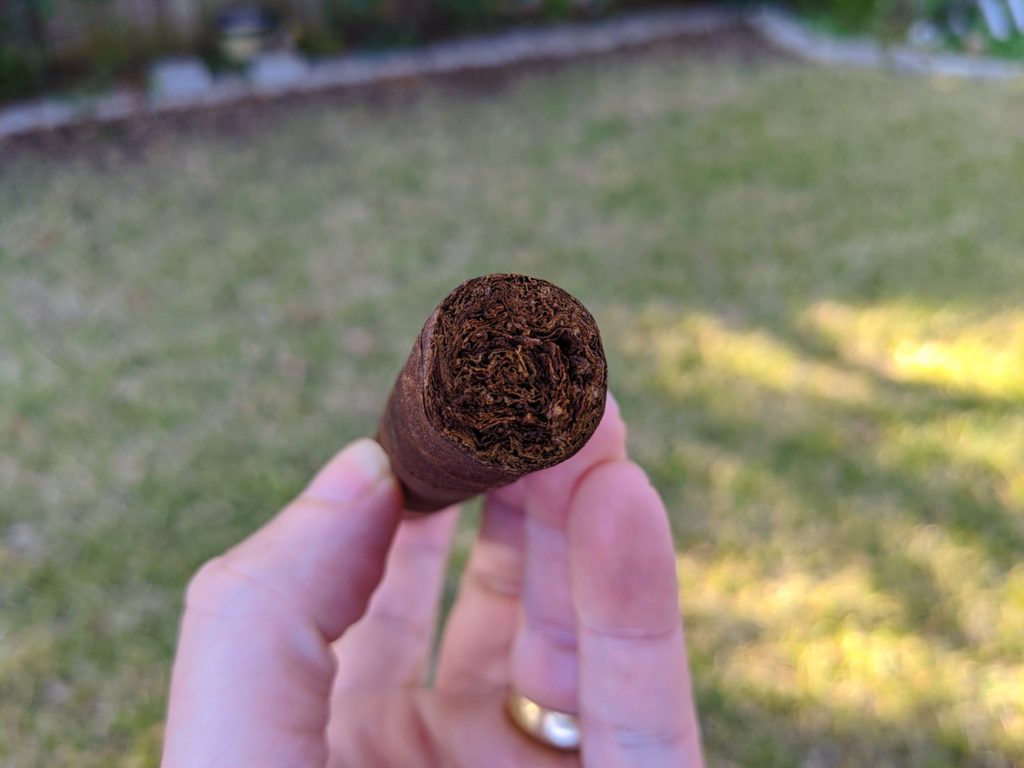 Beautiful smoke pours out of both ends, as construction is simply phenomenal throughout the entire smoking experience. A blast of marshmallow hits right after the first third passes and it is so enjoyable that I visibly weeped when it dissipated quickly. And I sobbed uncontrollably when Tut said he got a hint of dark cherries around that same point and I didn't pick up on it! The black pepper on the retrohale briefly returns around the halfway mark and that was a nice surprise for sure as it melds nicely with the leather. Those flavors on the nose gel really well with the steady chocolate and earth delivered via the draw.
Ultimately the Triqui Traca is a delicious, flavorful, slow-burning cigar that we all enjoyed immensely. Even more so than the similar Mi Querida Firecracker which was a show favorite! Having said that, we're still waiting in that Dunbarton stick to come right out and punch us in the balls with some dominating strength. We had a hunch that this would be the one and it wasn't. But when the cigar is actually balanced and wonderfully blended in a different direction… who are we to bitch? Oh yeah, we're us! We can only hope to get kicked square in the nuts by a Saka stick one of these days and, yes, we realize that's an odd thing to hope for. Maybe smoking the 7 x 64 bohemith version of the Triqui Traca would hit a little closer to what we were expecting? We will seek that sucker out and let y'all know!
* PRODUCTION NOTE: We mentioned on the show that this cigar reminded us of the Southern Draw Brimstone which was another amazing cigar that we felt didn't live up to the marketing hype as far as the strength it would deliver but we misspoke (imagine that after a dozen beers). The original release Jacob's Ladder from Southern Draw is the cigar we were referencing, not the Brimstone which we have yet to review. But we shall on our next episode! So stay tuned…
Once again folks, usually (before this mini apocalypse was thrust upon all of us) we would carefully – some of you have said "expertly" – pair our evening's beer with the cigar and movie and we'd all drink that same beer and compare notes. But since this whole COVID-19 shitshow has happened, each member of the TNCC is now solely responsible for risking their lives out in the wild and acquiring their own beers for each episode…
Who woulda thunk that Australian hops would be so decent considering that Mel Gibson isn't that decent at all? The great thing about the Squirt Gun Juicy IPA is that it's so orange-heavy off the nose that you could drink this for breakfast and nobody would judge ya! This delicious beer features way more darker notes of papaya and thick tropical, dense fruits other than just the typical orange. Australian hops apparently rock and they don't interfere at all with tonight's cigar. Real Ale Brewing has become one of our favorite Texas breweries on the scene as they just seem incapable of making a bad beer…
They tasted like Mexican beer, moving on! Ok ok, tonight's film stars both Eric Estrada and Danny Trejo so I guess it kind works but Tut's whole "these beers chose me, I didn't choose them" is total horseshit. He had them in his fridge.
While there is some coconut present, the mocha flavor in the Coconut Hiwa Porter is what paired very well with tonight's cigar. And as a big chunk of tonight's film takes place in Hawaii… we'll this pairing makes a ton of sense. But, sadly, not as much sense as mine. Cade wins the pairing competition this evening by a long shot… again.
It's so hard to believe Eric Estrada's performance here as the evil "Jack Of Diamonds" armsmonger and that's no slam on Estrada, he's just so damn likable after so many years as the charming CHIPs Officer Frank Poncherello and as the even more likable gay microbrewery owner in King Cobra… I just couldn't buy his attempt at menacing bad guy here.
We felt he should've played with his trademark smile because as Yaks put it "the guy who smiles while menacing bad shit is going down comes across as even more menacing". But, that specific criticism aside, Guns is a lot of fun. Bouncy boobs, bullets, and bombs, this is a a Triple B movie that delivers on every B and then some!
Please leave us comments on the YouTube episode page and subscribe while you're there, provide us with a review on iTunes, or be a real stud and do both! All these seemingly small gestures would be greatly appreciated as they let us know exactly what you're thinking about this sweat soaked tidal wave of hardbodied insanity we like to call The Tuesday Night Cigar Club.
Below is tonight's full episode for both your viewing and listening pleasure. Thank you for checking out The Tuesday Night Cigar Club and we'll see you next time when we review another cigar, adult beverage, and film. May the wings of liberty never lose a feather…
Podcast: Play in new window | Download (69.8MB)
Subscribe: Apple Podcasts | RSS