Cigar: CAO Brazilia Gol (5 x 56)
Company: CAO
Wrapper: Brazilian Arapiraca
Binder: Nicaraguan
Filler: Nicaraguan
Price: $4.00
Acquired: Received with order as part of the free CAO World Sampler from Famous Smoke Shop (2014)
Elements: Back Porch / 1835 Whiskey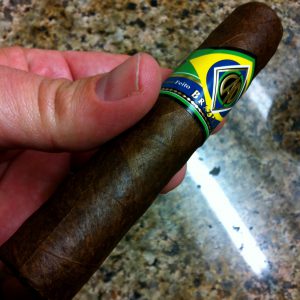 I had my first CAO Brazilia MANY moons ago when I was first dipping my toes into the mysterious world of premium cigars. The CAO America with its barberpole wrapper was one of the initial cigars that opened my palate and my mind to the incredible flavor potential cigars could provide so I immediately kept my eye on Famous Smoke Shop's Cigar Monster for deals on more CAO offerings. Even with such little smoking experience under my belt, I thought I could handle this dark oily beast when it arrived in my mailbox. Long story short – I was a naive little newbie who didn't know any better and this cigar kicked my ass. So here I am five years down the road give or take and I figured it was as good of time as any to face the Brazilian demon once again.


Copious amounts of white smoke billow up from the foot to the head of this oily dark brown robusto. Yeah, I used the "oily" adjective again and it probably won't be the last time. This cigar features a seldom utilized Brazilian Arapiraca wrapper that shines and glistens beautifully as you twirl it in your hand. There's a bit of bold spice early on and the burn line is straight as can be. The spice loses a bit of its initial power but stays prominent throughout the first third of the smoke.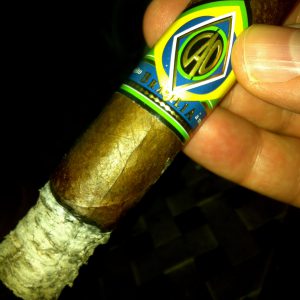 Two thirds of the way in and the 1835 bourbon is playing nice with the spice of the Brazilia. There's not a great deal of complexity at this point (in regards to the cigar and the bourbon) but the CAO is smoking wonderfully with a very enjoyable one-two-punch of strong tobacco flavors and the continued spice. This stogie definitely fits the bill of a full strength smoke, if you're into the heavy hitters you won't be disappointed. After the steak dinner at Clem's I enjoyed a few hours earlier, this stogie is turning out to be a really nice follow up.


The last act of this cigar is interesting. After a consistently full strength and spicy smoking experience, the final third has suddenly surprised me with a slight chocolate malt flavor that I'm really welcoming with open arms (err lips). The mash up of the spice and chocolate is pleasant and I wish it had happened sooner. Unfortunately, the chocolate malt doesn't last long as the spice quickly takes back its spot on the throne. Still, the cigar was highly enjoyable and very compatible with the 1835 bourbon. Construction is just superb, I actually dumped the ash towards the end because it had no intention of falling on its own.
The cigar ended just like it started with top notch construction and lots of pleasurable spice. While not complex, according to my palate, the Brazilia was a damn good smoke and played off the bourbon nicely. I'd pair them together again in a heartbeat. And did I mention just how damn OILY this stogie is?!? There, I told you I'd get that word in there again. I'm glad I revisited this cigar, it just goes to show that sometimes you do get a second chance to make a first impression.