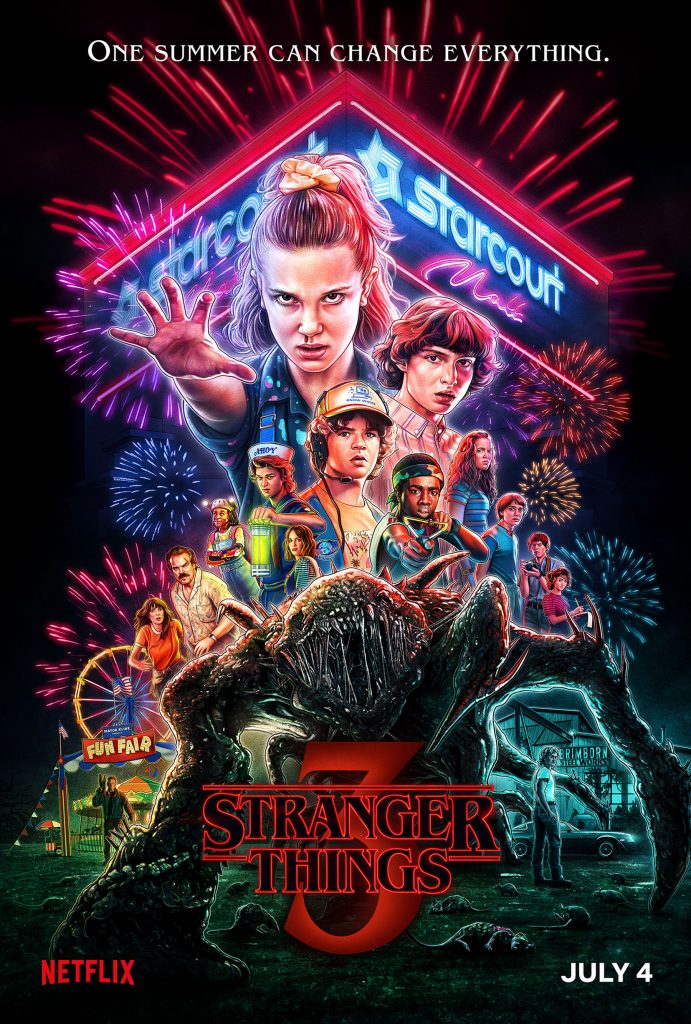 The eight episodes of Stranger Things 3 popped on July 4 and your favorite Doctor couldn't think of a better way to commemorate the anniversary of the moment when our hemp smoking forefathers told the Brits to get lost than by diving in without a paddle. Or floaties. Or a swimsuit, for that matter…
Explaining the impact that Stranger Things had on me when I was first exposed to Season 1 may defy the boundaries of possibility… but I'll try. A story of horror and the supernatural (my favorite themes), taking place during the 1980's (greatest decade ever) in Middle America, with nods to its predecessors and influences (too many to name), a story with the scope and breadth of a great Stephen King novel (Doc's favorite fiction writer), and all wonderfully performed by a talented multi-generational cast? Holy cannoli. Each one of these variables presented the filmmakers with an opportunity to screw something up, and the fact that they refrained from doing so is a scientific feat worthy of The Doctor's appreciation. I loved Stranger Things, and in my esteemed opinion Season 2 only brought more of the same. Speaking of Season 2, it was released back in the autumn of 2017, more than a year after the glorious first season was bestowed upon the world. Then another eighteen months passed. I believe it was Billy Shakespeare who said "Time… thou ceaseless lackey to eternity". Good ol Billy, he knew a thing or two about the trappings of the world. This most recent passage of time caused me to amazingly forget how much I truly loved Stranger Things. I was swiftly reminded.
Why had I not revisited the first two seasons in anticipation of Season 3? Truth be told, I felt a little foolish, not unlike when I finally sat down to watch Season 1 almost a year after it had first appeared on Netflix. How was I going about my daily life and not knowing that this was out there? On the other hand, if I had gone back and watched the first two seasons again sometime in the preceding month, I might have become too keyed up and suffered a gin-induced seizure. The goings-on in the town of Hawkins, Indiana, and its effects upon those who dwell there had mesmerized the good doctor, but time had caused them to slowly recede like a nimbus cloud floating away over the horizon. Fear not, good friends, for Season 3 has finally arrived!
The Doc Goes Back to Hawkins
It is the magnificent summer of 1985. Eleven (Millie Bobbie Brown) has shuttered the door to The Upside Down, although we know from the final scene of Season 2 that the tentacled, multi-limbed bastard known as The Mind Flayer is still lurking on the other side, biding his time. Perhaps the only possible cause for utter mayhem would be if the Cold War-era Soviets have discovered a similar, smaller portal on the far side of the world, and, unable to break through have relocated to Hawkins where the real source of the danger has always resided… but surely that is just the feverish ramblings of The Doctor? Speaking of Eleven, she is now engaging in daily make-out sessions with Mike Wheeler (Finn Wolfhard), much to the consternation of her adoptive father, Chief Hopper (David Harbour). One doesn't need to be a law enforcement professional to know that some serious lip-locking is going on behind closed doors whenever you hear Corey Hart singing "Never Surrender"*.
Young love (and like) in all its wonder and various forms is a theme of Season 3 and the filmmakers and performers treat it with both the seriousness and the silliness that it simultaneously deserves. Dustin (Gaten Matarazzo) has returned from Camp Know Where with even more technological acumen and stories of a girlfriend named Susie whose existence is immediately questioned by all who know him (the fact that Dustin describes her as looking like Phoebe Cates does not lend his story of summer love much credence). The kids are growing up, both on the show and in real life, rendering it even more praiseworthy that the performances remain steadfastly warm, sympathetic, and believable. Teenage and adolescent struggles notwithstanding, this is still Stranger Things, so of course there are rats that behave strangely before exploding and a gelatinous sludge that is either left-over from before Eleven closed the gate or whatever has managed to squeeze through. I was initially nervous that Stranger Things might be entering the phase of "Mo Money = Mo Bad CGI Effects = Mo Problems", but thankfully this didn't turn out to be the case, at least in my professional opinion.
In other developments, the Starcourt Mall has opened on the outskirts of Hawkins, causing the old school downtown to become mostly deserted due to the loss of business, although Joyce Byers (Winona Ryder) is still manning the ship at the general store. Stranger Things once again hits a period-piece home run, this time in the creation of an 80's-style mall complete with Waldenbooks, Sam Goody, and a cramped movie theater playing Day of the Dead. Thus, The Doc almost weepily succumbed to a bout of nostalgia. Orange Julius, anyone? I don't know how much was digitized but according to the good folks over at IMDB, several scenes were shot at the Gwinnett Place Mall in Duluth, Georgia, which opened in 1984… making it entirely possible that we are looking at an actual Wicks N Sticks.
On the adult side of the spectrum, David Harbour and Ryder both continue to shine in their respective roles. Harbour as Chief Hopper is grappling with Eleven's growing maturity on the one hand and his growing feelings for Joyce on the other, all the while trying to keep the town of Hawkins safe from God Knows What. Joining them is none other than Cary Elwes himself, not looking a hell of a lot older than when he portrayed the masked Wesley in The Princess Bride!
And reprising his role from season 2 is Brett Gelman as Murray Bauman, the reclusive conspiracy-theorist with an acidic wit. I enjoyed Gelman in Season 2 but for some reason I really got a kick out of him in Season 3.
The feel of Stranger Things that has been evident from the beginning remains, that of a genuine homage to the decade of the 80's and the horror and sci-fi films of the time while also telling its own original story. Fans will be glad to know that all the principal elements are still very much in play. Who am I kidding, any true fan will have torn through all eight episodes of Season 3 long before my meanderings are on the inter-webs. Everything in Hawkins is still rocking. Once again, the Duffer Brothers give us a world where the sum is as great as its beautifully disparate parts**. Does Stranger Things 3 mark the end? The Brothers themselves have stated otherwise, and actor Noah Schnapp, who plays Will Byers, stated somewhere that Season 4 would begin production at the end of the year. Therefore, no need for tears. Unless, of course, you are going to have repeat viewings of Season 3… and are prone to adopting a certain disposition after too many drinks, in which case you may want to keep a Kleenex handy. As always, dear friends, The Doctor wishes you all a clean bill of health.
* As the Hollywood tale goes, singer Corey Hart allegedly turned down the role of Marty McFly in Back to the Future, a film playing at the Starcourt Mall in Hawkins (and everywhere else) in the summer of 1985. In an 80's footnote to an 80's footnote, nearly a month of footage was shot with Eric Stoltz as Marty McFly before the producers reconsidered. Being that Michael J. Fox seems like such a no-brainer in retrospect, it should be mentioned that Fox was under contract to Family Ties at the time and had to agree to work nights and weekends on Back to the Future while maintaining his television commitment, which even for a twenty-three year old was a significant, sleep deprived endeavor.
** Nothing is perfect. Season 3 has its faults, but these are minor and will mostly be felt on an individual basis. Some people will like things that other people will not. The Doctor had a couple of things that I could have done without – or at least seen truncated – but they are so miniscule on a relative scale compared to everything else that plays out over 8 episodes that I see no point in mentioning them here.