LEAF BY OSCAR CONNECTICUT


Cigar: Leaf by Oscar Connecticut toro (6 x 50)
Company: Leaf by Oscar
Wrapper: Honduran Connecticut Puro
Binder: Honduras
Filler: Honduras
Strength: Mild-Medium
Price: $9
Elements: Back Porch / Organic Love Buzz coffee
Look closely at that presentation in the photo above. Yes, this is the cigar that comes wrapped in an actual tobacco leaf as opposed to the standard cellophane wrapper. Also of interest, the band surrounding the outer protective leaf (as well as the band on the cigar itself) is composed of tobacco stems ground up into a paper like material. That's a real dedication to the "Leaf" concept for sure BUT I didn't just fall off the turnip truck yesterday folks. I've seen countless cool looking cigars come and go over the years that didn't live up to the shiny box they came in, so naturally I was curious if this unique approach to aesthetics was all this cigar had going for it or if there was a real steak of worth under all that flashy sizzle.


I gifted one of these toros to fellow TNCC member Yak Boy a few months ago for his birthday and he absolutely loved it, so much so that he began researching a box/bundle purchase before the cigar was even finished. That's high praise indeed coming from our resident Connecticut fan but I was still a bit skeptical, I've been hurt before and my trust issues run deep…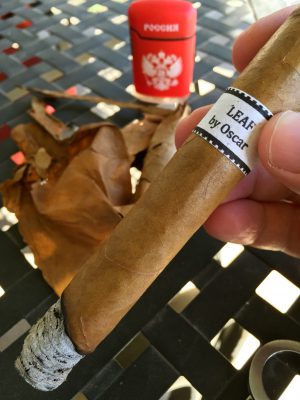 Beautiful construction off the bat with just the right amount of give to the squeeze (not very much), a smooth draw, and a solid perfect ash. The first third of the cigar is enjoyable with subtle notes of vanilla and cream. It's pairing terrifically with my cup of Love Buzz. While I'm not as passionate about Connecticut wrapped cigars as Yak Boy is, I certainly don't dislike them and when I have a window of opportunity in the mornings to enjoy a smoke with my cup of joe a Connecticut is usually the first thing I go digging around in the humidor for.

Towards the beginning of the second third, there's a nice but not overbearing white pepper note that joins the party on the retrohale. This pepper sensation meshes very well with the dominant cream flavor that's still going strong. We are on the mild side of medium in the strength department and straight-up medium flavor territory so far… and I'm liking it.
The last third is more of the same with the pepper taking a back seat to some nice hints of blackberry and a welcome waffle flavor with a mild maple syrup note to boot. That's right, I picked up notes of waffles and maple syrup. And, no, I did not have waffles with blackberries and maple syrup for breakfast prior to smoking this cigar so my palate was not tainted in that direction! If you must know, Mr. Nosey Pants, I had a bowl of Fruity Pebbles with two scoops of protein powder mixed in because I'm a man who likes kid cereals but also recognizes the importance of fueling his freakishly large muscles with the high quality protein his biceps so desperately need throughout the course of the day. Which raises the question of when is someone going to make a Fruity Pebbles flavored cigar
*
? That's a million dollar idea right there!
*© copyright Tuesday Night Cigar Club 2015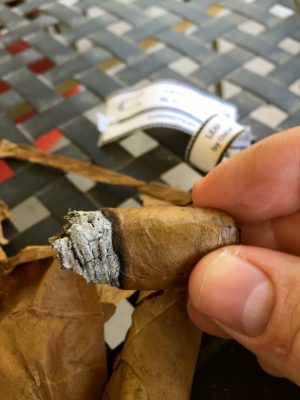 Much like Drew Estate's fantastic new team member The Undercrown Shade, the Leaf by Oscar Connecticut is an impressive early morning cigar for those smokers who look for and appreciate more complexity in their milder, lighter shade stogies. Originally planned as a shop exclusive, the Leaf by Oscar Connecticut is now widely available at over 300 brick & mortar locations nationwide and a variety of online retailers such as Cigar Federation as well. While perhaps a bit too pricey to start your day with every morning, treat yourself to one of these beauties as often as your budget allows. You're worth it dammit.
Team Fruity 4 Life,
CADE