While 2021 may have been a shitshow, it was certainly NOT a shitshow on the premium cigar front. So here it is, the Tuesday Night Cigar Club's "Top Ten Cigars of 2021!" As always, we're not saying these are the best cigars on the market by any means, we are simply saying that out of the cigars we smoked on the podcast this year these were our favorites by a long shot and we think our listeners, viewers, and readers should all go out and grab as many of them as possible because there's not a cigar on this list that isn't special. They're all outstanding smokes, just click on the link for each cigar and it will take you directly to the episode page so you can read our thoughts on it. And, yes, we realize there are thousands of other cigars out there that deserve recognition as well but we only do so many shows AND we can only afford to buy so many cigars AND often the cigars that are submitted to us for review reach the TNCC mailbox very late in the year and there's just no possible way for us to feature them all on the podcast at that point. Make sense? Of course it does. LET'S GO!
"Mineral and cedar enter the party via the retrohale in the second third and they gel expertly with that medium-strength pepper. Construction is beyond phenomenal with a stack-of-nickels ash and a super smooth draw from start to finish. Speaking of the pepper, it ebbs and flows throughout the smoking experience – one moment it's prevalent and strong and a few puffs later it lays low only to pop up again later on – and that complexity in strength is awesome. Me thinks that the strategic Bauhaus-inspired leaf placement (ligero?) is paying off. On the draw we're getting dark chocolate, earth, and mineral – it's simply delicious…"
"As the smoking experience continues, that sweetness alluded to when smelling the wrapper early on begins to shine through on the draw and it pairs beautifully with that primary toasted bread note and the rapidly receding mild earth. That spice ebbs and flows throughout the retrohale ~ sometimes mild black pepper and sometimes medium jalapeño in strength ~ we all appreciated and enjoyed that constant transition in spice strength as it kept things interesting… The Murder Hornet did indeed remind us of some of Matt Booth's earliest Honduran creations as promised and that's high praise…"
"As the smoking experience continues, a marshmallow note evolves on the back end of the retrohale and we were immediately reminded of experiencing that same flavor with the original Sin Compromise No. 5. So the spice/mineral/marshmallow triple threat through the nose is easily the star of the show so far especially as that initial spice strength increases steadily in the final third; however, the draw's combination of warm mineral, bright cedar, and Ritz cracker is no slouch whatsoever. And Tut picked up on a French Roast coffee note late in the game which only added to his enjoyment. The final third is what's going to leave a memory for you, trust us, the Paladin de Saka really sings beautifully in the last act…"
"In the second half, a slight touch of vanilla graces the back end of the retrohale swooping in gently after the medium spice begins to fade. Sweet mesquite, oak, and hickory… French roast coffee… vanilla and spice… phenomenal construction from start finish… the Undercrown 10 is a very worthy cigar to celebrate the anniversary of a true game changer in the history of Drew Estate…"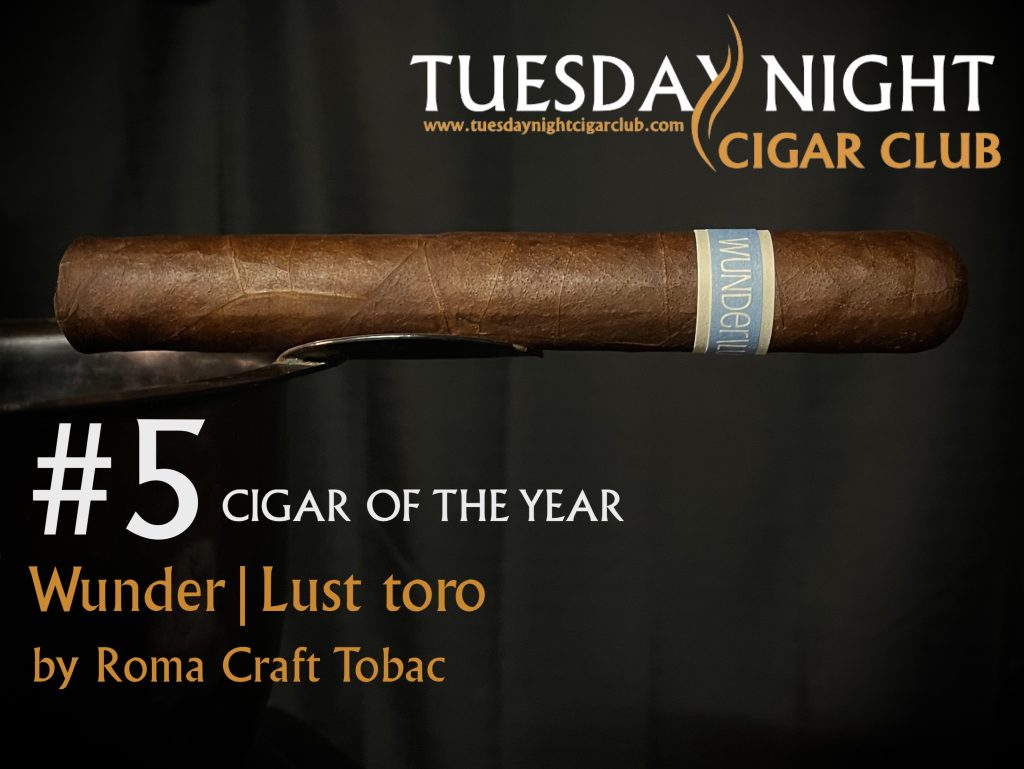 "This is just an incredibly smooth cigar, we all agreed the Wunder|Lust has the smoothest smoking profile in the entire RoMa Craft catalog of smokes. When you combine the spice and mineral expertly blended together on the retrohale with that earthy component and nuttiness via the draw… the results are simply wonderful. I will always remain a diehard Neanderthal cigar fan, it's one of my all-time favorite cigars in all of its vitolas, but I will never turn down the opportunity to smoke the Wunder|Lust. And you shouldn't either…"
"As the smoking experience continues, a vanilla note appears on the backend of the retrohale and it dances perfectly with the leather, cedar, and bright earth still both very discernible on the draw. That vanilla is a signature characteristic of every variation of the Rose Of Sharon to date, so I was waiting for it and the Desert Rose lonsdale didn't disappoint. Oh and it soon gets even better, as a Nilla Wafer cookie flavor begins to develop on the draw at around the one inch mark. These flavors all hold steady until the very end. And while the pepper strength drops down a notch in the middle third it gloriously returns to puff its chest out once again after the primary band is removed. Construction is flawless from start to finish with an impressive burn, perfect draw, and copious smoke production that produced a highly enjoyable aroma…"
"As the smoking experience continues, we picked up pencil shavings and coffee grounds on the draw which played very nicely with the existing cedar and that slowly diminishing almond flavor. The spice, cocoa powder, and mineral remained consistently present through nose. Despite the clownish presentation, this is a legit Nicaraguan puro with impressive construction, copious smoke production, and an admirable complexity to it. We always say 'Don't give us a boring cigar' here on the show and this cigar is far from boring."
"Around the halfway mark a touch of sweetness begins to join the wasabi spice through the back of the nose. I found it to be a flavor reminiscent of vanilla cake icing and, yes, that's as awesome as it sounds. That vanilla note begins to creep in through the draw a little later as well. Speaking of the draw, it remains consistent throughout the smoking experience with its profile of leather and toast. Construction was impressive overall with a smooth draw, healthy smoke production, and The American held a big clunky ash like a true American hero…"
"The Inspirado Green is a medium strength, medium body, highly enjoyable cigar with excellent construction and some really nice pronounced flavors of dark chocolate, oak, leather, and spice. It flirts will full body and full strength in the final third but it doesn't quite get there. The sweetness is always minimal and it certainly comes and goes but, when it's there, this cigar really shines. Especially at this price point!"
"This is indeed a less ballsy, downright mellow at times, lighter broadleaf-centric cigar and that turned to to be just what we needed tonight. Trust us, you'll want pair the Farce Maduro with a citrus-forward IPA as it will really bring out the sweetness in this cigar which otherwise hovers so low on your palate it's almost invisible. This is a very nice addition to the Room 101 catalog of cigars and we encourage you to go out and sample a Farce Maduro for yourself as soon as is humanly possible…"
Congratulations to all this year's manufacturers for making our list! A giant Thank You is in order to everyone who watches or listens to our unique show every other week and joins the party. There's no one else out there doing what we do and we are grateful that you dig it enough to keep coming back for more. With nearly 1.5 MILLION YOUTUBE VIEWS we must be doing something right. Our livers may hate you but our hearts do not. May the wings of liberty never lose a feather, now let's bring another round!
Graphic design provided by KatieAndAmesGames