We're back! You know, it's hard to leave a lasting impression if you never actually leave. So we've been doing a few less shows this year but when we do show up HOT F'N DAMN are the end results something special. Starting with our year-end visit from Steve Saka these latest episodes are all right up there with our most entertaining ever and we're grateful that you keep watching, listening, and partying along with us. Let's do it!!!
Size: 7 x 70
Wrapper: Connecticut Broadleaf
Binder: Nicaragua
Filler: Nicaragua & Dominican Republic
Price: $12.29 (and while these were submitted to us for review by General Cigar Company, you can go right now to FamousSmokeShop.com and grab a box ~ a very heavy box, I imagine ~ of the No. 8 Maduro and by using promo code TNCC20 you'll get $20 off your purchase of $100 or more!)
Released in February of this year, the No. 8 Maduro is something like the one billionth offering from the La Gloria Cubana brand and, hopefully / fingers crossed, it will be the first to impress me. And, in case you folks watching and listening at home were wondering, this is NOT the largest cigar we've ever featured on the show. Way back in March of 2019 on our St. Patty's Day episode, we smoked the 7 x 70 candela barber pole known as The Ogre from Asylum 13. So this giant grizzly bear dick is tied for the largest cigar in TNCC history. And if you TNCC fanatics need any advice or tips on how to hold such a large object in your hand comfortably, I can FaceTime you while I take a whiz to show you how it's done… for a price obviously. But it's free to our Patreon fans so sign up and become a VIP today!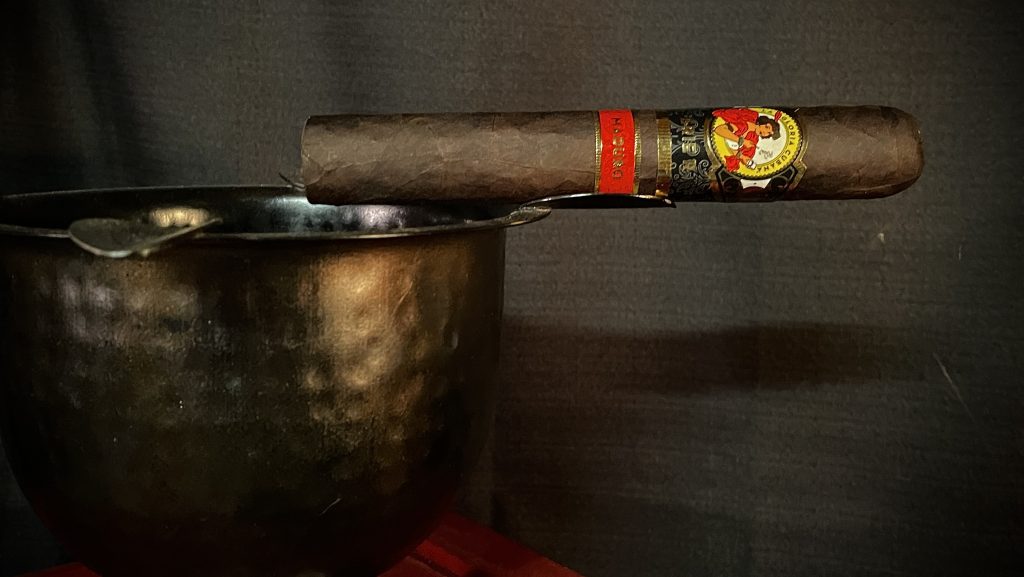 An aroma of rich hickory and a super chewy sweetness is detected upon first sniff when this enormous beast is unleashed from its ten pound cellophane sleeve. Yak Boy detected some barnyard smells off the Serie R No. 8 which led us all to believe that there could certainly be an entire barnyard ecosystem living well within the confines of the big oily sonsofbitches we held in our hands.
Upon ignition, a nice aroma poured off the foot of the Serie R No. 8 and it was immediately followed by a medium-strength burst of black pepper through the nose. The draw's primary flavor profile is of earthiness and woodsy oak. Once we were able to get these giant grizzly bear dicks lit, construction was good with an acceptable draw that produced a stack-o-fifty-cent-pieces ash. There were a few retouches required to keep the burn line in check.
The Serie R No. 8 is surprisingly not overpowering from a strength standpoint and the cigar's body is firmly ensconced in medium territory as well. The only thing scary about this monster is that it features a rather dry backend which requires you to wet your whistle frequently (no problem there for us obviously). Further on, Tut picked up some nuttiness and pine, which is odd because usually you have to be at least a few inches in to something like this before you get nuts in your mouth. I detected some Nica mineral briefly as well…
No shit, this gigantic motherfucker not only had smoke traveling up the length of its body after each puff BUT its mass was so large that it created its own gravitational force which caused the grey smoke to orbit circles around the ash! So if black pepper, earth, some woodsy notes, and putting something big in your mouth sounds like a party to you… seek this one out. Unlike the Bang Bus experience, I'm assuming, there's very little different here between the first inch and the seventh. And, pro tip, if you're buying a box be sure and lift it with your knees NOT your back.
Size: 6 x 52 (toro)
Wrapper: Ecuadorian Connecticut
Binder: Mexican
Filler: United States, Colombia, Dominican Republic, & Nicaragua
Price: $4.99 (and while these were submitted to us for review by General Cigar Company, you can go right now to FamousSmokeShop.com and grab a box of Shady Mooses ~Shady Meeses?~ and by using promo code TNCC20 you'll get $20 off your purchase of $100 or more!)
Back in March, Chillin' Moose and its beefy sidekick the Bull Moose welcomed a Connecticut "cousin" called Shady Moose, a new line of cigars made with an Ecuadorian Connecticut shade wrapper which is a first for the Chillin' Moose franchise. Shady Moose launched as a full-time line with three new sizes, including the first toro for the growing Chillin' Moose trio.
John Hakim, brand manager of Chillin' Moose, has this to say:
"With Shady Moose, we built a great, anytime, anywhere blend that takes the smooth-smoking properties of a Connecticut Shade cigar and amps it up with the right amount of complexity and spice. And we didn't stop there. We added in the cool Moose imagery and locked in an unbelievable price point. Now we're waiting for Shady Moose to take a run at the internet, just like Bull Moose did last year. We're ready for it. The question is…are you?"
I actually am ready for it! I'm a fan of the Chillin' Moose line, it's been one of my favorite budget-friendly smokes since its initial release many years ago. In fact, when the original company that produced it (Foundry Cigars) was shut down I bought up 4-5 boxes of the Chillin Moose as their future was uncertain at that point. They also produced a Chillin Moose Too line which was a broadleaf wrapped version and those I did not care for, so much so that I believe I gave most of what I had to Tut…
The Shady Moose features an aroma of green tea, honey, and raisins prior to lighting. While I didn't get nuts in my mouth with our first cigar like Tut did, the Shady Moose absolutely delivered a nutty experience from the first puff. Creamy peanuts, cedar, and a hint of graham cracker are the superstar notes via the draw in this smooth smoking bastard while a slight spice and a touch of mineral rock the retrohale. At this price point you'd be a damn fool not to give this cigar a shot.
Once again folks, usually (before the mini apocalypse was thrust upon all of us in 2020) we would carefully – some of you have said "expertly" – pair our evening's beer with the cigar and movie and we'd all sit around the table and drink that same beer and compare notes. But since the whole COVID-19 shitshow went down, each member of the TNCC is now solely responsible for risking their lives out in the wild and acquiring their own beers for each episode… usually with very interesting results.
Straight out of Marble Falls TX, this 6% IPA features a noticeably lower bitterness and some citrus forward flavors. Tut reported that it was easy to drink… but what wouldn't go down easy when it's currently 1,000 fucking degrees here in Central Texas? While the Foggy Eyes didn't enhance nor detract from tonight's cigar, it did pair beautifully with our killer bear movie so bravo Tut!
TUT'S PAIRING GRADE = C
At 6.2% and 33 IBUs, this smooth IPA from Dallas TX is a really good "Summertime Beer" according to The Doctor. While Doc wasn't smoking with us this evening, his beer selection did kinda pair with our movie in that several characters indeed lived a "half life"…
THE DOCTOR'S PAIRING GRADE = F+
Coming in at 8% with a peach forward citrusy profile, this beer is enjoyable (and pricey). While there was hope that the immense amount of hops used in this IPA would spark some of the cigar's peppery notes to come alive more… it was not to be.
YAK BOY'S PAIRING GRADE = D
Well folks, we hadn't done a show in a while so I may have gone a little overboard while beer shopping for tonight's epic party. I found FOUR beers that paired thematically with our film so I had no choice but to buy and drink them all!
VOODOO RANGER 1985 IPA by NEW BELGIUM BREWING
New Belgium is making some of the best IPAs on the market right now and the 1985 is no exception. At 6.7% and 70(!) IBUs this sucker is also fruit forward (mango) and while I was hoping it would bring out some sweetness from our cigar it was sadly not to be… nobody and nothing tells this massive cigar what do.
GOOD MONSTER NE DIPA by COLLECTIVE ARTS BREWING
See above. I agreed with Yak's assessment, good beer but it had a neutral effect on my smoking experience.
KICKFLIP IPA by BARROW BREWING COMPANY
Birthed in the greatest village in all of Texas, the Kickflip IPA roars in at 5.6% and 40 IBUS. This is my personal go-to summer beer from Barrow in Salado TX and if you can find a sixer of it on the shelves grab it! Cocaine Bear features a great fight scene involving a skateboard so the pairing element here is off the fucking charts…
HAZY BEER HUG by GOOSE ISLAND BEER COMPANY
From the makers of my favorite airport IPA comes this 6.8% hazy that features a minimal 20 IBUs but delivers a full bodied, delicious swallow. That makes my beer selections 4 for 4 so…
CADE'S OVERALL PAIRING GRADE = A++++


We cover a wide array of topics during tonight's Fire pit session including but not limited to:
Alright, Alright, Alright: The Oral History of Richard Linklater's Dazed and Confused (book)
His Dark Materials (HBO)
FUBAR (Netflix)
Expend4bles 4 (is that too many 4s?, regardless it's coming to theaters soon)
Rogue (Hulu)
Paradise City (Hulu)
Death Wish (2018)
The Old Way (film)
Tonight's film was written by Jimmy Warden and directed by actress Elizabeth Banks who previously directed the latest reimagining of Charlie's Angles and before that the musical comedy Pitch Perfect 2. As an actress she's starred in a ton of comedies over the years which makes her a great fit to direct Cocaine Bear because while it certainly is by definition a creature feature it merely uses that genre outline to deliver a hilarious, over-the-top, ridiculous comedy that caught me off guard by just how goddamn funny it is…
There are also great action sequences throughout Cocaine Bear that makes me wish they had hired Elizabeth Banks to direct the new Expend4bles flick instead of the guy who directed 2014's Need For Speed. But I'm sure it will be great… ugh. Much like Dazed & Confused and another great film starring Elizabeth Blanks Wet Hot American Summer, this movie is cast perfectly so bravo to the casting directors Dylan Jury and Debra Zane for knocking this shit out of the park.
Okay, ladies and germs, even if you watch/listen to our jaw-dropping film analysis and still don't watch this movie, I encourage everyone to at least jump ahead to the 56 minute mark and watch "the gazebo scene". It is the funniest, most brilliantly constructed, well orchestrated comedic scenes that I've seen in years (from a directing, acting, writing, and editing standpoint – it's pure fucking perfection). And a major reason for that is the the performance delivered by veteran actor Isiah Whitlock Jr.
French composer Philippe Leroux says that every great, memorable piece of music needs that one "moment of madness" and I think it's crystal fucking clear that "the gazebo scene" is that moment and it qualifies Cocaine Bear as a pretty great and definitely memorable film… at least for a few more months before I drink enough IPAs and completely forget about it. And as far as taking a true story and creating a crazy entertaining narrative based super loosely around it, I didn't think a movie called Cocaine Bear – a major studio theatrical release at that – could come close to living up to that glorious title but they fucking did it.
Please leave us comments on the YouTube episode page and subscribe while you're there, provide us with a review on iTunes, or be a real stud and do both! All these seemingly small gestures would be greatly appreciated as they let us know exactly what you're thinking about this sweat-soaked tidal wave of hardbodied insanity we like to call The Tuesday Night Cigar Club.
Below is tonight's full episode for both your viewing and listening pleasure. Thank you for checking out The Tuesday Night Cigar Club and we'll see you next time when we review another cigar, adult beverage, and film. May the wings of liberty never lose a feather…
Podcast: Play in new window | Download (106.9MB)
Subscribe: Apple Podcasts | RSS