Cigar: One & Only
Company: La Barba
Size: Toro Extra (6 x 50)
Wrapper: Ecuadorian Habano
Binder: Unknown
Filler: Unknown
Price: $12.50
Acquired: CATS Fest 2016
There's some nights when you find yourself digging through the humidor for something that has slipped through the cracks. A cigar that, for whatever reason, you never grabbed in the previous one thousand trips to the cedar cabinet. Tonight I discovered the La Barba One & Only resting quietly by itself in a dark corner of Shelf #3.
The veiny, milk chocolate brown wrapper gives off a strong aroma of sweet raisins when sniffing the foot. I didn't pick up much of anything on the cold draw except a slight tingling spice on my lips, while airflow appeared to be perfect after barely slicing off the cap.
1/3
Holy shit, that tingling sensation on my lips during the cold draw should've prepared me for the blast of red pepper that hit my throat and nose upon ignition but I wasn't ready. At All. I better start paying attention to these early warnings… stupid beer clouding my… what was I just talking about?
At about an inch in the spice drops a few measures allowing a nice toasted bread note to emerge. The burn line is slightly wavy but nothing too crazy yet and the draw is spot on. Surprisingly a creaminess joins the party towards the end of the first third just as the ash drops.
2/3
The spice is now minimal with the bread and cream joined by a walnut flavor. I'm digging this profile for a bit and then DYNAMITE! the red pepper is back with a vengeance. Sorry about the use of "DYNAMITE" back there, I didn't mean to scare you or worse come off as some sort of halfass cigar blog version of Guy Fieri. It just fit my mindset but I swear to you right here and now that it will never happen again. If I refer to this cigar in my closing statement as "out of bounds" or "lights-out delicious" you have my permission to kick me square in my walnuts.
3/3
I'll be honest, I've always connected La Barba very closely with Caldwell Cigar Company offerings due to their lengthy history together (I believe Caldwell distributed this limited release) but the One & Only is unlike anything I've smoked from the Caldwell catalog. The fluid transitions on display here from powerful pepper to the creamy and nutty flavors are keeping me on my toes and I appreciate it. A woodsy oak note surfaces in the final third that just adds yet another layer of texture. While the burn line was always a bit jagged and I chose to relight once, construction overall was acceptable with a superb draw throughout.
THE NUB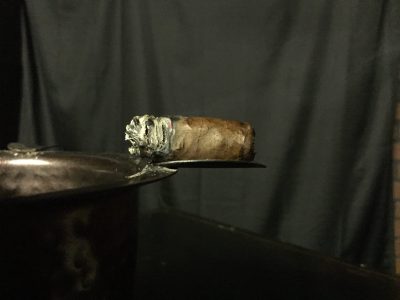 After this impressive initial smoke, I'm definitely looking forward to sampling what else La Barba has to offer. If you're going to put your own image on your cigar band, as Tony Bellatto has done here, it better be good. And, fortunately, the La Barba One & Only is bomb-dot-com tasty! Oh shit, I did it again. My walnuts await your boot dammit.