It's the show you've all been waiting for and just didn't know it! Yes we've finally decided to tackle politics on the podcast; however, we naturally do it in our own special way by featuring a movie starring Captain Kirk and the doctor from The Love Boat. This is how we do and we do it better than anybody else. As has been proven time and time again, smoking a phenomenal premium cigar and pounding down a truly patriotic amount of craft beers makes all of life's problems fade away into the night…
Size: 6.75 x 54 (toro gordo)
Wrapper: Brazilian
Binder: Ecuadorian
Filler: Nicaraguan
Factory: Fábrica Oveja Negra in Estelí, Nicaragua.
Price: $11.00 (and, if you'll let me stand up on my SOAP BOX for a moment, remember when purchasing some fine Dissident or other premium cigars from FamousSmokeShop.com to use your new favorite promo code TNCC20 at checkout where it will knock $20 off your purchase of $100 or more!)
This is our old friend Benjamin Holt's cigar. We first met when he was working at a local cigar lounge many moons ago and, after several years of traveling the South as a sales rep for Black Label Trading Company, he made the bold move to brand owner last year. Ben resurrected the dormant Dissident brand in 2019 and after redoing the three core blends and updating all the packaging he's been off to the races ever since.
The Dissident Soap Box is a very attractive, heavy cigar and the Brazilian wrapper features some sight surface oiliness to it that's super sexy. The cold draw is super rich sweetness, it reminds me of being a teenager and putting a wad of juicy Red Man chewing tobacco in my cheek. Ah summer nights…
Upon ignition, we were all blown away by the majestic aroma pouring off the Soap Box. First impressions were of mineral and earth on the draw and a tingling jalapeño spice via the retrohale. Towards the end of the first third the mineral and earth take a backseat to a stellar creamy coffee note on the draw.
In the second half, a bready toast note joins forces with the jalapeño on the nose and that creamy coffee note is still playing nicely with the earth and mineral on the draw. The final third brings the coffee and earth together equally on the draw for the first time and the spice dies down ever so slightly as the Soap Box crosses the finish line. And there's a touch of that sweetness, finally, on the draw as well. Tut experienced a very nice and welcome nicotine kick at the very end which should also be noted. Tut wished that this cigar would run a few bucks cheaper considering how many of them he smokes and that's high praise, "If you're a cigar lover you simply have to smoke this cigar!" he screamed at the top of his smoke-filled lungs. The Soap Box worked with all our very different beers tonight and that's a testament to the cigar as it's one of the best options out there on the shelf right now. If you're a seasoned smoker you'll dig it and if you are new to the culture this might just be the cigar that gets you hooked…
Once again folks, usually (before this mini apocalypse was thrust upon all of us) we would carefully – some of you have said "expertly" – pair our evening's beer with the cigar and movie and we'd all drink that same beer and compare notes. But since this whole COVID-19 shitshow has happened, each member of the TNCC is now solely responsible for risking their lives out in the wild and acquiring their own beers for each episode…
Seeing as this is our big political episode, I don't blame Yaks for not wanting to wake up alive considering the current state of the U.S. government. And when you add in that this beer is a 10% Russian stout that also adds a political element to it, as those Russkies hate us and our precious democracy. Nice pairing Yak Boy! Also, he reported that it was creamy deliciousness and it paired super well with the creamy delicious cigar so that's important too… (SPOILER ALERT: I checked in with Yaks the next day and he, thankfully, did not wake up dead)
This brew pub creation is relatively new on the scene and Doc enjoyed its light flavors quite a bit. He chose this beer in tribute of the one of a kind, the singular William Shatner who stars in tonight's film. It's a stretch pairing-wise but we like The Doctor so we let him have it.
Tut chose a 10.2% Trappist Quadruple beer which implies a flavor bomb and that's always risky when pairing a beverage with a premium cigar. But thankfully, this one worked! Spencer's Brewing is the only Trappist brewery in the U.S. so, as we are celebrating and discussing all things America tonight, I think this hefty beer made a helluva lot of sense. Especially considering that Tut found it tasty as hell and the heavy malts played very nicely with his cigar.
This New England style IPA has far less hop bite (30 IBUs) and a far lower ABV (5%) than I usually prefer but I did enjoy this beer far more than the Voodoo Ranger Juicy Haze IPAs that I was drinking during our preshow shenanigans. There's a mild citrus aroma and the beer itself has some nice, subtle flavors that didn't interfere at all with my cigar. And the beer has "American" in its name so I get a gold star pairing-wise as always…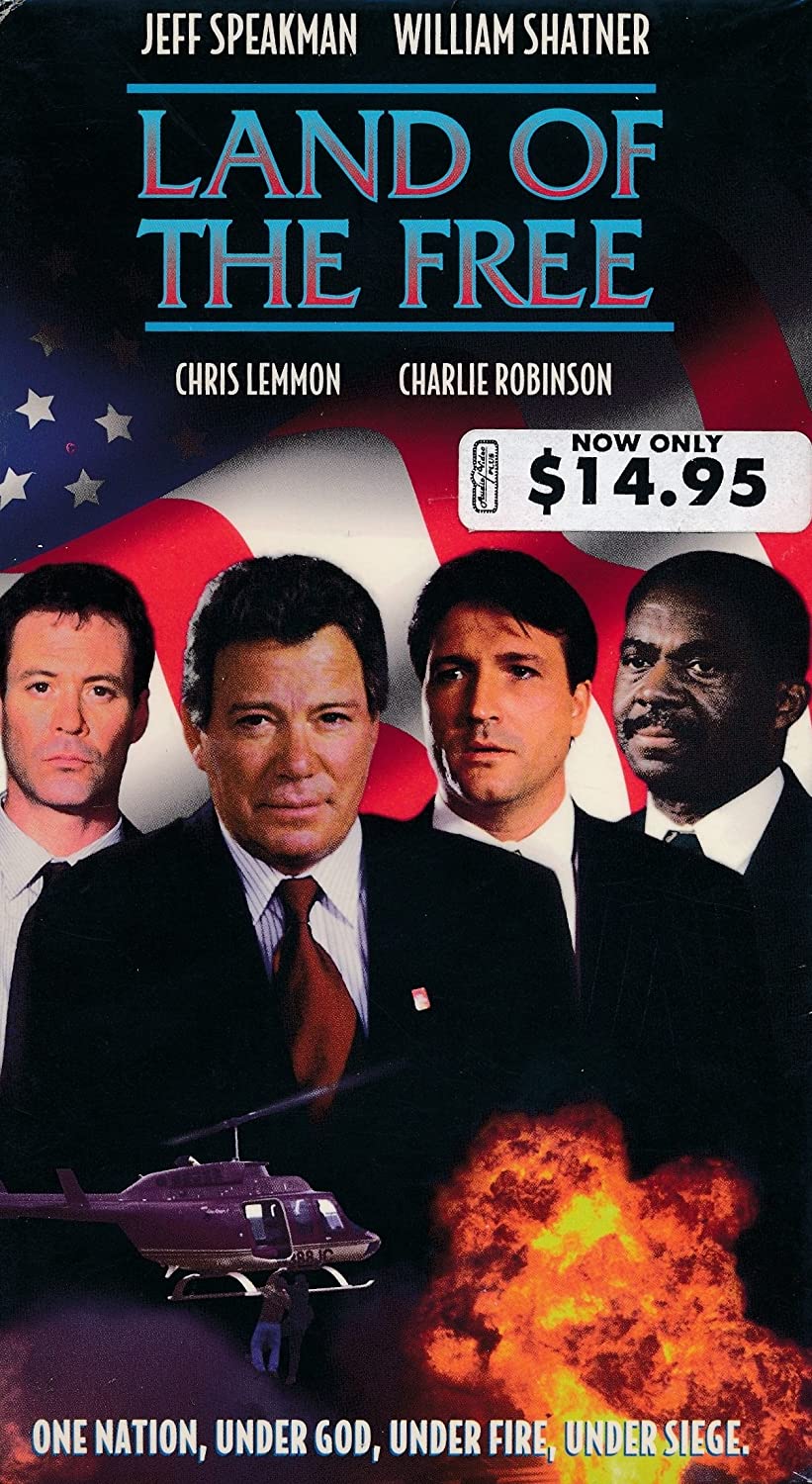 From the writer of the slapstick comedy Busted starring The Two Coreys and Ron Jeremy and the director of one episode of Jake And The Fat Man we have before us tonight Land Of The Free! We thought the opening credits of this movie were the cheesiest thing we'd ever seen BUT that was before I came across the video box art above. Holy shit that's terrible! I believe this is our first political thriller featured on the podcast, maybe? Who knows… but after tonight I doubt we'll discuss another one anytime soon. Yes folks, it's that bad but, as always, we make it fun and elevate the material above and beyond anything that it deserves.
I picked tonight's film because I saw quite a few similarities between William Shatner's senatorial candidate character and former president Donald Trump and while that led to some great conversation it also was a classic case of "too soon" as our presidential election had just taken place 24 hours earlier and we all know what a giant fucking mess that turned out to be. Still, we're a party podcast and we found a way to have fun and party until we were physically unable to feel real feelings any more. Mission accomplished. So tune in by clicking the links below and JOIN THE PARTY! Let us take your minds off the giant shitshow for a few hours!
Please leave us comments on the YouTube episode page, provide us with a review on iTunes, or be a real stud and do both! All these seemingly small gestures would be greatly appreciated as they let us know exactly what you're thinking about this sweat soaked tidal wave of hardbodied insanity we like to call The Tuesday Night Cigar Club.
Below is tonight's full episode for both your viewing and listening pleasure. Thank you for checking out The Tuesday Night Cigar Club and we'll see you next time when we review another cigar, adult beverage, and film. May the wings of liberty never lose a feather…
Podcast: Play in new window | Download (56.4MB)
Subscribe: Apple Podcasts | RSS