I always tell people when they ask about what we do here at the TNCC that each episode we take you through a film scene-by-scene like an old-timey radio play and this evening our show actually sounds like an old-timey radio play due to some occasional audio static that pops up unfortunately. I mean that static was intentional, totally intentional. I should have fucking known when Tut pulled out a White Claw hard seltzer from his fridge that tonight's show was going to go south quickly. Regardless it's a fun time as always so just close your eyes, imagine it's the 1930s, and JOIN THE PARTY!!!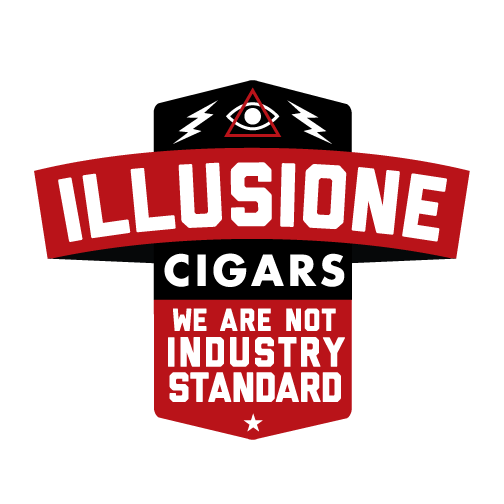 Size: 5 1/2 x 52 (robusto extra)
Wrapper: Nicaraguan Corojo
Binder: Nicaraguan
Filler: Nicaraguan
Price: $14.66 (And please remember when purchasing some fine Illusione cigars from FamousSmokeShop.com to use your new favorite promo code TNCC20 at checkout where it will knock $20 off your purchase of $100 or more)
Blended in 2016 to celebrate the tenth anniversary of Illusione, Dion Giolito created the Haut 10 utilizing a Nicaraguan cafe claro AAA grade wrapper with a blend of Nicaraguan criollo 98 and corojo 99 tobaccos within it. Our main character in tonight's film is living an illusion, his entire life is an illusion to those around him, so I thought it only fitting to use this opportunity to finally dip our toes in to the world of Illusione cigars. I actually did a written review of the Illusione OneOff cigar a long time ago so you can check that out HERE if your curious heart desires.
The Haut 10 features a goddamn beautiful silky wrapper, it's just majestic from the initial appearance and the way it feels in your hand. The cold draw showcases a light sweetness, some chocolate, and a little bit of earth. Upon ignition, there's a super sharp jalapeño spice that overwhelms the nostrils but it quickly dies down within the third or fourth puff. On the draw we got some cream, bold cedar and earth, some faint mineral, and that floral element that was alluded to on the cold draw shows up later via the retrohale as well. That cream is undeniable… unless you're Tut of course (the Haut 10 has a wonderful flavor profile but Tut's super strong beer robbed him of all of this awesomeness).
This is a delicious cigar with an incredibly pronounced creamy draw and a consistent spice on the retrohale that balances the core earth and cedar flavors very well. Speaking of the retrohale, if you're not blowing smoke out of your nose with this cigar you are truly missing out on some very unique tea and floral notes that you just don't find everyday in most premium cigars.
Once again folks, usually (before the mini apocalypse was thrust upon all of us in 2020) we would carefully – some of you have said "expertly" – pair our evening's beer with the cigar and movie and we'd all drink that same beer and compare notes. But since this whole COVID-19 shitshow went down, each member of the TNCC is now solely responsible for risking their lives out in the wild and acquiring their own beers for each episode… until this evening when I informed the crew that they could drink whatever the hell they wanted, no longer limited to craft beer for the night. And here's what they came up with…
The Doctor drank Bombay Blue Sapphire Gin tonight and he thought that, after a hectic day at the office, this was the perfect cure for what bothers ya. He also thought that Snoop Dogg was full of shit as gin should be paired with a sparkling soda or water and NOT juice. So please direct that drive-by to the Doctor's office and not where the rest of us are currently…
DOC'S PAIRING GRADE = D+
Yes, our resident beer expert just chose to drink a bunch of beers that he had left over from some previous shows. I swear the laziness on display with our crew tonight is pathetic… even for us.
YAK'S PAIRING GRADE = F-
At 8.3% this beer, inspired by strong Russian imperial stouts, totally overwhelmed Tut and it killed anything he could have possibly experienced with tonight's cigar. Despite us having a bunch of Russians in tonight's film, this pairing failed because all of the subtle flavors we got in tonight's cigar he did not get to experience. Halfway through the show, Tut switched to one of his wife's raspberry White Claw hard seltzers which delivered notes of both sugar and shame in equal amounts AND STILL completely washed out the cigar.
TUT'S PAIRING GRADE = D
The Simple Life cabernet was tasty, it's smooth, and the knowledgable wine steward at the CVS Pharmacy thought that it would bring something out of the cigar featured tonight… just kidding. While super pungent on the nose and reeking of sweetness, this bottle thankfully settled down and proved to be a really good cigar pairing wine which ~ no surprise here as I'm one of the world's most respected pairing experts ~ I knew it would.
Also a 2018 vintage like my earlier fine wine, the Steak And Potatoes cabernet sauvignon is far drier and less sweet than my previous selection and it paired much better with tonight's cigar. Dark cherry and blackberry notes rule this wine's flavor profile and given the extremely affordable price point ($15) you'd be a damn fool not to try pairing this bottle with some cigars for yourself. And, our hero in tonight's film craves a simple life and we get to see him enjoy a steak and potato dinner so…
CADE'S COLLECTIVE PAIRING GRADE = A
To say we were divided on the film Nobody would be a major understatement. Some of the boys really dug seeing comedy legend Bob Odenkirk perform his best John Wick impression and then there was yours truly who thought this film had a ton of potential to do something unique and special and it completely missed the mark.
Having said that, we all agreed that Odenkirk's costars RZA and Christopher Lloyd stole the show, so let's hope for a sequel with just these two going off on their own violent adventures! Anyhoo we have a lot of fun digging in to Nobody so click the links below and join the conversation!
Please leave us comments on the YouTube episode page and subscribe while you're there, provide us with a review on iTunes, or be a real stud and do both! All these seemingly small gestures would be greatly appreciated as they let us know exactly what you're thinking about this sweat-soaked tidal wave of hardbodied insanity we like to call The Tuesday Night Cigar Club.
Below is tonight's full episode for both your viewing and listening pleasure. Thank you for checking out The Tuesday Night Cigar Club and we'll see you next time when we review another cigar, adult beverage, and film. May the wings of liberty never lose a feather…
Podcast: Play in new window | Download (60.3MB)
Subscribe: Apple Podcasts | RSS