WE'RE BACK! After a long trip to San Antonio for the phenomenal yearly cigar event known as CATS Fest (and an even longer recovery period) we have finally rested our poor livers, dusted off our beloved pint glasses, and settled back in The Corner Of No Hope to rock your fucking socks off. Did you miss us?


Boy oh boy, when our illustrious announcer Keith Howell suggested that we discuss tonight's film on the show I truly had no idea what my crew and I were getting ourselves into. I hope you enjoy the lively and very topical conversation this evening, as always I encourage you to leave us a review over on iTunes or drop a comment on the YouTube page of tonight's episode. You rock baby!!!

As you may have sensed, tonight is all about rock and roll. Japanese rock and roll to be exact. Are you ready to rock? Are you sure? OK, let's rock.

The presentation on the Room 101 Namakubi Ecuador Ranfla is impressive to say the least. Underneath two decorative paper wrappers lies a perfecto cigar that's draped in an oily gorgeous Ecuadorian Habano wrapper. The cold draw reveals cinnamon and nutmeg so I prepare myself to spend the next two hours smoking a Christmas cookie. Across the table from me, Tut reports that he's getting notes of oregano and thyme so he's ready to set fire to a delicious pepperoni pizza. Somewhat sadly, upon toasting the foot of the Namakubi those holiday and pizzeria spices are nowhere to be found.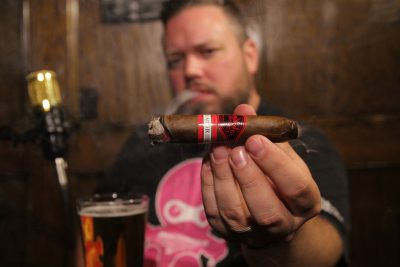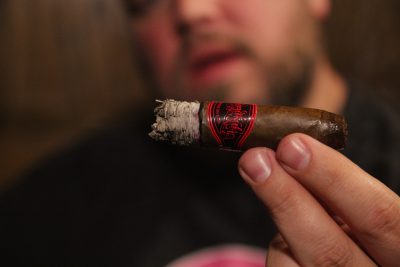 Leather, faint cedar, and light coffee notes are all present throughout the duration of the smoke but the Namakubi is defined by a very pleasing tobacco flavor that trumps all the other subtle elements going on. This cigar is definitely not one whose complexity is its strongest attribute. No, the Namakubi is a straight-ahead really enjoyable cigar that has a primary flavor of extremely delicious tobacco and that's just fine by me. It reminded me quite a bit of the Daniel Marshall Red Label in that regard, one of my favorite cigars of last year. Draw and burn were right on the money from start to finish as well. If you're looking for a nice, slow smoking, relaxing experience get your ass over to Famous Smoke Shop and pick up a fiver or a box (it's a beautiful box) of the Room 101 Namakubi Ecuador Ranfla.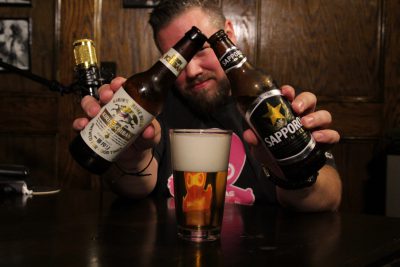 While both of these fine beers pair exquisitely with Japanese cuisine, I was curious which one would compliment tonight's cigar better. Turns out the answer is… well, there is no definitive answer. Tut preferred the Sapporo for its clean taste and Good Lord does it go down smooth. The Sapporo pints also didn't compete with the flavors of the cigar whatsoever but on the flipside the pints didn't necessarily help out the stogie either. Cody and I voted for the Kirin Ichiban. It featured a sharp crispness and maltiness to it that the Sapporo lacked and we felt that complexity really worked well with the cigar. Of course after drinking 7-8 of these Japanese brews over the course of the show I decided to use my amazing brain and combine the two beers together. How was it? Beats me!
Our avuncular announcer Keith Howell submitted this skillfully written introduction to tonight's film:
"Not only one of the finest examples of the uniquely Japanese take on the whole Elvis-zombie-rock&roll-alien invasion-warrior woman romcom trope, Wild Zero provides a sweet, surprisingly nuanced portrayal of a sensitive social issue that is roiling American politics now, 20 years after the film's release."
Rock and roll,
real rock and roll
, has a lot in common with underground filmmaking. The best ones doing both you've probably never heard of and they like it that way. Both are a way of life. And somehow, despite a minuscule budget and a everything-but-the-kitchen-sink batshit crazy plot,
Wild Zero
brings these two artistic worlds together and it rocked our collective asses off. We all loved it and it might very well be my favorite "message movie" of all time. That's all I'm going to say about it here, you should just hit play on the YouTube clip below or listen to the audio stream underneath it and join in the fun.
THE NUB
It's hard to believe that in our brief history we've already done two Japanese themed episodes (also check out Episode 17, it's a goodie). Both shows have been a lot of fun, I really dig Japanese culture and I think with the aide of some completely inaccurate subtitles they'd really enjoy The Tuesday Night Cigar Club podcast.
We'll see you next time when we review another cigar, adult beverage, and film. May the wings of liberty never lose a feather…

Podcast: Play in new window | Download (212.1MB)
Subscribe: Apple Podcasts | RSS