Two types of absinthe, a bottle of cognac, a vanilla porter of some sort, and pint after pint after pint of ale… OH WHAT A NIGHT! Yes folks, it's our big absinthe infused episode of The Tuesday Night Cigar Club and I have a feeling you're going to have a lot of fun with it. You'll learn a lot, you'll laugh a lot, you may even cry a little. Did your favorite podcast heroes break down and cry at some point during the recording of tonight's four hour boozefest? I'll never tell…
Tonight we set fire to the Alpha Absinthe Infused Claro cigar. The 5×50 robusto (hand-rolled in Tumbril, Dominican Republic) is comprised of an attractive San Andres wrapper with chocolate absinthe liqueur gently infused into the binder leaves. The Claro featured excellent construction with a smooth draw, straight burn lines, and ample smoke production. The cigar is medium strength with a rich tobacco flavor that's accompanied by a ligero presence that gives you a pleasant kick on the back end. This nice spice and a woodsy oak component are the dominating notes throughout the duration of the smoke.
In a surprising twist, none of us at the table picked up on any of the chocolate infusion featured in the cigar. Like, at all. We searched high and low but were unable to find a single trace of either the chocolate absinthe or a traditional absinthe flavor. BUT, having said that, when a long draw is taken off the stogie after sipping some absinthe the smooth smoke of the Alpha cigar immediately coats your palate and cams things down. Both types of absinthes we indulged in tonight paired extremely well with the Alpha Claro, the cigar envelopes your taste buds and steers you to a happy place.
While I am admittingly not a fan of infused cigars, I enjoyed the Alpha Claro but I truly wish we had picked up on more of the chocolate component. That aside, the cigar makes for a fantastic pairing with several varieties of absinthe and when it was all said and done we easily gave the Alpha Absinthe Infused Claro three thumbs up.
BUT FIRST…
PERNOD ABSINTHE
This traditional absinthe features wormwood, anise, fennel, and some other culinary herbs that are often found in absinthe offerings. But the total lack of sugar in absinthe requires the use of ice water dripping out of an ornate glass fountain directly down onto carefully placed sugar cubes and when those sugar cubes dissolve into the green absinthe — IT'S GO TIME!!! What can you say about absinthe, it tastes like black licorice. While it's not something I have the urge to indulge in very often, I do like the occasional glass especially when visiting New Orleans where the local establishments have really embraced the absinthe culture.
LA MAISON FONTAINE CHOCOLAT ABSINTHE LIQUEUR
Now this is a completely different take on absinthe and goddamn is it ever sweet, yikes! So incredibly sweet in fact that we all agreed it would be much better poured over a chocolate cake than sipped straight up. I had the brief urge to slightly dip the head of my stogie in the chocolate absinthe just as an experiment but I chickened out…
HYE-BISCUS ALE
This Texas beer is infused with the hibiscus flower and it shows. The ale pours pink into the glass, it almost looks like strawberry milk at first. If you're curious about what a beer brewed with flowers tastes like – seek this puppy out. I'll be honest with you, while I'm a big fan of Twisted X's Chupahopra IPA but this pink hued curiosity just wasn't for me. Or Tut. But Yak Boy enjoyed it, so one out of three knuckleheads aint so bad.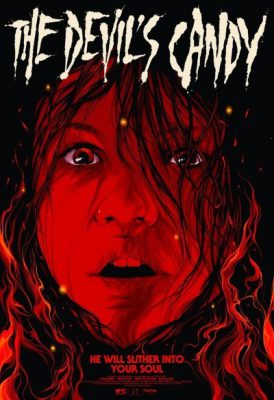 As usual, I'm not going to get into our film discussion too much here on this episode page. I want you to watch/listen to the show below because we REALLY FUCKING DIG IN to this impressive movie. I also want you to rent The Devil's Candy so you can join the party and see if you agree with our expert analysis. I'm sure you will.
Ok ok, we really liked The Devil's Candy. There I said it. Wonderful performances, an economical screenplay accompanied with intelligent direction… it's so damn good. But that's all I'm gonna say! Now watch the damn show below, what are you waiting for?!?
THE NUB
I don't think we've ever featured so many different spirits on one show before. But then again if we did do this on some earlier episode, would I really stand a chance of remembering it? Of course not. OH WHAT A NIGHT!
Please leave us comments on the YouTube episode page, provide us with a review on iTunes, or do both! All these seemingly small gestures would be greatly appreciated as they let us know exactly what you're thinking about this sweat soaked tidal wave of hardbodied insanity we like to call The Tuesday Night Cigar Club.
Below is tonight's full episode for both your viewing and listening pleasure. Thank you for checking out The Tuesday Night Cigar Club and we'll see you next time when we review another cigar, adult beverage, and film. May the wings of liberty never lose a feather…
Podcast: Play in new window | Download (107.3MB)
Subscribe: Apple Podcasts | RSS