Cigar: Amazon Basin (6 x 52)
Company: CAO
Wrapper: Ecuadorian Sumatra
Binder: Nicaragua
Filler: Dominican Republic, Colombian, Brazilian Braganca
Price: $10
Acquired: Habana House, Round Rock TX
Elements: Corner Of No Hope / a big fucking bottle of Cabernet Sauvignon
From the CAO website: "CAO Amazon Basin tastes as exotic as the tropical rainforest from which it originated. Grown in a remote region in the Amazon Rainforest, CAO Amazon Basin uses a rare tobacco called Braganca that is organically grown on unspoiled tropical land and harvested only once every three years. The Braganca leaf is thoughtfully surrounded by tobaccos from five different countries, giving you a smoking experience unlike any other."
If that description doesn't get your attention I don't know what will! As lovers of the leaf we are always on the hunt for something innovative, a rare tobacco experience that breaks new ground. On paper, the CAO Amazon Basin certainly fits the bill so let's get to it. There's the sexy aroma of sweet wet tobacco off the foot of the cigar, it reminds me of my brief chewing tobacco days as a youngster. They're good memories, mostly, of a young Cade shoving copious handfuls of REDMAN into his inner cheek and floating around on a raft in a friend's swimming pool all summer long without a care in the world…
…until young Cade swallowed a giant brown load of that shit and hurled all over that same pool causing a "CODE BROWN" situation that was met with many disappointing stares and judging giggles. But I digress. There's smooth airflow on the cold draw but no discernible flavors of note prior to lighting.
1/3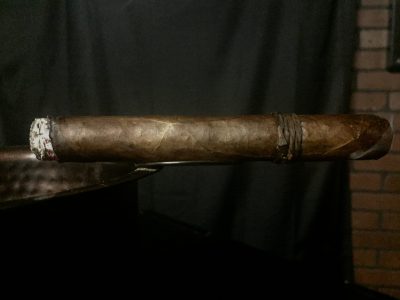 Given this cigar's backstory, I'll admit I was expecting ultra-exotic flavors upon ignition: notes of severed monkey tail with a slight hint of Tarzan's nutsack. Alas, there is nothing of the sort to be found here. A spice is present but it is far from overpowering and it's immediately accompanied by a dark woodsy tobacco note (think wet mesquite).
Smoke production is impressive and the draw is as open as the predraw suggested it would be. The burn line is a bit wonky but nothing too crazy and the ash is holding on through the first two inches.
2/3
The ash fell soon after the second third began. I'm picking up on a slight metallic taste so I purge (blow out into the cigar rather than sucking in) and it seems to lessen a bit. This metallic note doesn't bother me as much as I believe it does others though so it's not a complete negative by any means. At this point that rich earthy tobacco note is the predominant force here without much in the way of complexity or variations from that core flavor. It's also getting slightly harsh around the midway point and I'm having to correct the burn line a bit with my lighter to regain some sense of decorum.
This is a very popular cigar amongst my fellow online social media guys and gals and, I have to admit, I'm still waiting for something special to appear… I also have to decide rather soon whether to smoke through the band or remove it. I've heard folks approaching this both ways… Shit! What do I do?!?
3/3
Cigars can be funny creatures. In the final third the burn line magically straightened itself out and the flavors started to finally impress. The woody mesquite was joined by a dark chocolate note and this puppy really smoothed out. The harshness was gone and I really started to enjoy the Amazon Basin.
Smoking through the vine band was interesting (it's actually a braided strand of tobacco which resembles a vine). I had to torch the shit out of it to keep the stogie burning but eventually I was greeted by a completely unexpected floral component. It was like I was smoking a rose bush and I liked it. God forbid any of the other members of The Tuesday Night Cigar Club would ever send me flowers anymore… All the flavors that preceded the floral band made an appearance as well and the cigar finished strong.
THE NUB
The CAO Amazon Basin sounded so damn interesting when it was originally release back in 2014 (and it was selling out so damn quickly) that I scooped up a box of that release and I haven't touched it. That's right, I'm currently staring at a full box containing 18 of these well-aged cigars and I'm tempted to pull one out and see how it compares to the 2016 rendition reviewed above. I'm sure some deep sleep in the humidor has probably eased whatever harshness was once present in the blend… but I've held off on digging into these for so long… then again you can't be buried with your stash, they're made to be smoked… but then again I suppose I could request that my cigars be cremated with me so that my so called friends don't get their grubby little mits on them… how amazing would the crematorium smell that day?… fuck I'm so torn… I could smoke a 2014 and do a companion review to see how it stacks up against the 2016, that might be interesting… or I could auction off the box for a profit and buy some cigars that I know I like… maybe another glass of wine will help me figure things out…
Will I drink more wine?* Will I finally break open the box of original Amazon Basins? STAY TUNED!
*The answer is yes, I finished the bottle.