Well here we are folks, Episode 50! Although, when you really think about it, the average boring American podcast runs approximately 1 hour in length where as the TNCC averages well over 3 hours of hysterical side-splitting entertainment per episode… so really this is our 150th Episode Celebration & Drinking Extravaganza!!! There's a part of me that simply can't believe we're still alive.
Speaking of being alive, we are alive dammit and tonight we welcome our brother Fritz Beer to help us party our faces off. If you listen to the show regularly then you are no doubt familiar with Fritz's music and he brought a much needed fresh voice to the table (especially considering the fact that we started out with five men and then 3 cases of beer and a bottle of whiskey later we were down to only three survivors).
That's our beloved Yak Boy passed out on the table. I promise you he was breathing when we crawled out the door at dawn. As far as The Doctor is concerned… it's far too early to tell.
Without question, All Out Kings is one of the most anticipated cigar releases of 2017. We first discussed this collaboration between Drew Estate and Caldwell Cigar Company when interviewing Jonathan Drew and Robert Caldwell at CATS Fest last year (get your tickets now!). Originally slated for release in November 2016, master blender Willy Herrera decided these puppies needed a little more aging so they've just now hit the shelves of our local brick and mortar shop.
Upon ignition there's a black pepper spice that hits you hard but almost immediately settles down. The Foreverlast (6.5 x 54) features a beautiful, perfectly square ash and it produces copious amounts of that Liga Privada signature smoke which rolls up the body of the cigar like a thick fog creeping over the horizon. The first third is dominated by strong leather and an earthy mineral component up front. There was disagreement within the group as to whether the milk chocolate flavor that a few of the boys picked up on was actually coming from the cigar or, rather, our palate was being heavily influenced by tonight's beer (it's brewed using cocoa nibs, whatever the hell those are).
That leather note rolls steady along throughout the second third. There's no real complexity on display here, at this point the All Out Kings Foreverlast's main selling point is that it is pairing absolutely perfectly with tonight's beer. Fritz, who as our guest admittedly wasn't all that comfortable speaking to specific notes and flavors while surrounded by highly respected professional internet cigar experts such as ourselves, simply offered up "I'll just say this, I really like this cigar" over and over again.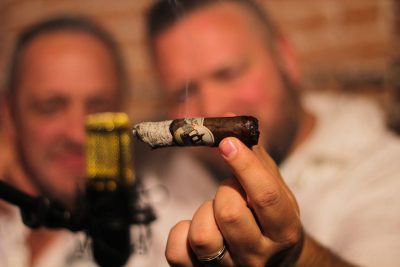 At around the two hour mark we all had either dropped our nubs into the stinky ashtray or were close to bidding adios to the All Out King. Leather, earthiness, milk chocolate, it was a good cigar and as a pairing partner with a coffee and chocolate infused beer it was tremendous. However, we all agreed that the price point of $15 doesn't fit the experience. It was good, not great. And there are a lot of great cigars one can find out in the wild for well under $15. Have you smoked one yet? We're always interested in hearing what others think about the libations we enjoy on the show, so let us know!
This interesting Kolsch style ale is murky as fuck. Seriously, there's static bubbles that just don't go anywhere once poured into your pint glass. It's like looking deep into a lava lamp or a jar of honey with its tiny suspended bubbles. In fifty episodes we had never experienced anything like it. Coffee bean is very present but not in your typical American Stout kind of way, it has a light body and a crispness to it that we all found unique and highly drinkable. Finally, somebody made a "summer time stout"! It should be noted that The Doctor initially did not care for the heavy coffee presence in the beer ("this tastes like it should be served on tap at Starbucks" he grumbled) BUT when he lit up the All Out Kings cigar he found that it mellowed out the beer amazingly.
There is also a subdued floral note that provides a nice softness which counteracts the coffee and chocolate expertly. A coffee stout in a blonde format, who would've thunk it? The Double Bean is a truly unique ale, a dense anomaly, and hats off to the brewers who concocted it. But much like tonight's cigar, I believe THE KEY to really enjoying this special beer lies with THE PAIRING. The cigar and the beer both elevated their dancing partner to a much higher level above where they would have ever reached on their own.
Oh and on top of two cases of the Double Bean, we also drank an 18 pack of Stag beer and an entire bottle of Jameson whiskey. I know it sounds like a lot but please remember that we're highly respected professional internet drinking experts. We know what we're doing folks.
That's right Brothers and Sisters Of The Leaf, tonight's show is almost five fucking hours long. So, needless to say, there's nothing I can mention here that isn't covered much better and far more extensive on the show below. What I can say is this – when the drinks you're chugging and the company you're surrounded by are equally enjoyable time has a way of just zipping by – especially when you're discussing something as complex and powerful as the almighty Road House. Don't think Road House is complex, eh? Well just watch/listen to the show below and let us open your eyes. Do it right now or I'll punch you square in the balls motherfucker!
Seriously, it's a fun show and we dig in to tonight's film like an Alabama tick. Road House is a rocking' movie and our special guest Fritz provides us with some unique musical insight throughout the discussion that we've never had on the show before (unless you count Tut's countless stories about his stint on the Travis Tritt tour but after 50 episodes worth of strong booze I'm not even sure that really happened). All I do know is that we suffer for our art, we drink for your pleasure, and the end result is more nights than not some of the best film analysis you'll ever stumble across. For example, did you know that Road House is the first film ever to feature a leading man and a leading woman with almost the exact same identical hairdo?
How's that for critical analysis? You're welcome.
THE NUB
Fifty fucking episodes and somewhere along the way you found us. And some of you even stuck around! So thank you.
Please leave us comments on the YouTube episode page, provide us with a review on iTunes, or be a real stud and do both! All these seemingly small gestures would be greatly appreciated as they let us know exactly what you're thinking about this sweat soaked tidal wave of hardbodied insanity we like to call The Tuesday Night Cigar Club.
Below is tonight's full episode for both your viewing and listening pleasure. Thank you for checking out The Tuesday Night Cigar Club and we'll see you next time when we review another cigar, adult beverage, and film. May the wings of liberty never lose a feather…
Podcast: Play in new window | Download (126.5MB)
Subscribe: Apple Podcasts | RSS