QUICK DRAW HABANO by SOUTHERN DRAW CIGARS
Cigar: Quick Draw Habano (petite corona)
Company: Southern Draw
Wrapper: Ecuadorian Dark Habano
Binder: Cuban seed Nicaraguan
Filler: Cuban seed Nicaraguan
Strength: Medium
Price: $22.98 per 5-pack on www.southerndrawcigars.com
Acquired: CATS Fest 2015 VIP Dinner
Elements: Back Porch / Cabernet
The handsome toothy wrapper feels slightly soft to the squeeze. The pig tail cap twists off nicely and with only a small touch up with the scissors the cigar was ready to go.
1/3
The closed foot, of which I'm a big fan, ignited beautifully and instantly produced a very pleasing aroma as the cigar was enveloped in dense smoke.
Early on there's heavy spice on the retrohale. The draw is open and smoke production is impressive for such a small cigar.
I paired the cigar with a Cabernet as recommended on the Southern Draw website and the wine is bringing out a nice natural sweetness from the cigar, it meshes nicely with the dominant spice note. The burn line is razor sharp leaving a beautiful solid ash through the first third.
2/3
The ash drops at the beginning of the second third. The softness of the cigar has not been a concern at all, the Quick Draw is not under filled by any means. It feels good in the hand and is not burning hot in the slightest.
The spice has died down a bit towards the halfway mark and the cigar has slowly grown stronger. I'd like to try pairing this with bourbon but the sun is still out and rules are rules… The sweetness lingers and is now joined by a cocoa note, similar to powdered chocolate milk which is obviously a welcome sensation. Show me the man who doesn't like chocolate milk and I'll show you a damn liar. The ash holds on steady until I reach the band.
3/3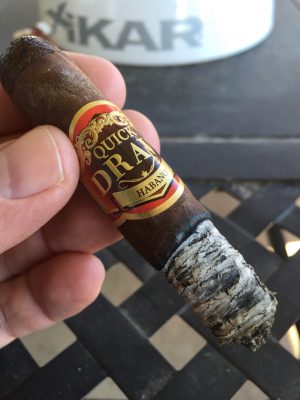 In the final third, the spice is back with a vengeance and the cocoa flavor sadly retreats a bit. The Quick Draw finishes nicely with the same spice and sweetness I experienced early on.
I've been on the hunt for some really good short smokes for the last few weeks as the Central Texas weather has finally taken a seasonally appropriate turn. At under $5 a stick on the Southern Draw website, I highly recommend giving the Quick Draw Habano a shot (see what I did there?). It's more than worthy of 45 minutes of your valuable quick "me time".