I've said many things in the early episodes of the podcast that I've come to either rethink or flat out totally regret. I suppose that's to be expected somewhat when your podcast involves drinking your face off in the name of scientific pairing research. Look at me Mom, I'm a scientist! But more specifically, I distinctly remember stating on our premiere episode almost a year ago (a year already??? how the hell did that happen?!?) that we'd never rate cigars (so far we haven't) and I faintly recall laughing off the notion of the TNCC doing a "Best of" list at the end of the year. "Who are we to tell anybody what's best in life?" I shouted between copious gulps of Chupahopra IPA as I beat both Mense and Cody in arm wrestling at the SAME damn time. They were whimpering like little babies as they pleaded for Cade's mercy… well that's how I remember it anyway. But here we are at the end of the year and I've come to accept that our crew has smoked a bunch of really exceptional cigars here on the show and it actually makes sense to highlight the ones that impressed us the most. Keep in mind that these are the "best" of what we reviewed on the podcast, I've excluded the countless other cigars that we sampled outside The Corner Of No Hope. So out of the cigars we featured on The Tuesday Night Cigar Club Podcast in 2015, here is our Top Five!
This year's winner was unanimous – The Sobremesa simply impressed the hell out of us. Featuring an ultra unique flavor profile that can be enjoyed equally with either morning coffee or midnight scotch (or both, Cade style) this cigar is a testament to a master blender at the top of his game with access to some of the world's most interesting tobaccos. My number one rule on the show for both cigars and beer is that they don't be boring and the Sobremesa passed this stipulation with flying colors. I encourage you to read our episode page to get my full extensive thoughts on this cigar and, in addition to that, here's an interview we conducted with Dunbarton's Steve Saka where you can learn everything you've ever wanted to know about the Sobremesa from the man himself…
The group was split on this year's runner up. Technically speaking, there couldn't possibly be two more diverse cigars than these two exceptional stogies yet we all drooled over them EQUALLY. So it's a tie and that's that. I was curious if our Connecticut wrapper fanatic Yak Boy would be repelled by the dark oily monster that is the Neanderthal HN – he was not. In fact not only was he not overwhelmed by the cigar, he walked away impressed by both its complexity and its careful strategic use of strength and intoxicating full flavors.
On the flip side of the coin, I couldn't help but wonder what impression the Connecticut wrapped Undercrown Shade would make on the crew. We are all fans of both the original bold Undercrown line as well as the spicier Corona ¡Viva! version, so the idea of a more gentle Undercrown raised some collective eyebrows for sure. Well those eyebrows were quickly lowered into resting position once we set fire to this beautiful silky cigar. Notes of salted cashews, cream, and subtle vanilla combine with a natural slight sweetness that pushes this sucker over the edge into box-purchase territory. A nice cedar note also poked its head in the door briefly right before we all nubbed the Shade and dropped its tiny beautiful corpse gently down into our stinky ashtrays. Willy Wonka-Herrera has worked his cigar magic again.
I apologize for a lack of a better photo on this one but, truth be told, we got a little hammered on this particular episode. Nonetheless, we knew we were smoking something special that night. After reviewing several spicy cigars on the last few prior episodes, the Daniel Marshall Red Label was a superb change of pace. As Tut said on the show, "with all the craziness in life, this cigar is a breath of ahhh, smooth, and calm". With zero spice or pepper present, the Red label has an understated elegance throughout the smoking experience. This well aged stogie features a delicious natural sweetness from start to finish and the construction is flawless throughout.
Speaking of spice! After an initial blast of nostril scorching spice that gave all our taste buds a swift kick in the ass, the Emilio AF1 almost immediately down shifted into solid medium strength territory. The construction was impressive with a straight burn line throughout the duration of the smoke and, trust me here, this sucker produced A TON of smoke. Cody said "copious amounts of smoke" and after consulting my dictionary when I got home he was absolutely correct, the AF1 produced COPIOUS amounts of smoke that poured out of the foot, traveling up the body of the cigar where it then met with the white smoke drifting out of the head of the cigar to complete a magical flowing loop… just perfect. I love a smoky cigar, with my beloved Liga Privada 9 being a prime example, and the Emilio reminded me of that. That's high praise.
On Episode 19 we smoked the Carnavale Trabajdor double robusto (5×56), a nice looking box-pressed cigar with a creative band that resembles a Mardi Gras mask that's had the typical feathers replaced with tobacco leaves. The three of us at the table all picked up on a prominent raisin note on the cold draw before lighting up and I don't think we've ever been in agreement to this degree on identifying a flavor before. Cody yelled out, "Welcome to Raisin Country!". No no, he didn't yell that out but I got the sense that he wanted to. I personally hate raisins but this early taste sensation was exceptional, I almost didn't want to light her up in the fear that it would go away. The raisin did fade away quickly upon ignition but fortunately it was followed up with a delicious chocolate note and a rich sweetness that would prove to be the dominating flavors throughout the duration of this highly enjoyable smoke.
THE NUB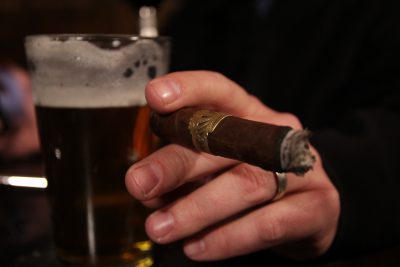 A special thank you is in order to all the manufacturers who submitted cigars this year for us to review. I realize that we are relative newbies on the scene and it gave us a real boost of confidence to receive such a warm welcome straight out of the gate. And on that same note, if you'd like us to discuss your cigars on the show ad nauseum in 2016 please hit us up at the contact link above. It was a hell of a first year for The Tuesday Night Cigar Club podcast. Reactions to the show have been encouraging to say the least, so we shall push forward with the hopes of doing what we do well even better and doing what we do poorly a lot less. Thank you everyone for your support, we absolutely appreciate it.
May the wings of liberty never lose a feather. Now let's bring another round!