The TNCC crew has hustled their collective asses off to get this special Saint Patrick's Day Drinking Extravaganza to you just in time for the holiday! I'm going to be super short and sweet on this page, much more so than usual, in an effort to get this episode out and into your earholes as quickly as possible. I may come back and elaborate on tonight's subjects more if time and memory allows… oh what a night! To make up for it, here's a video of the first hour of the show including our interview with Mr. Casey Aldulaimi of Alec Bradley to discuss tonight's cigar…

Easily the best version of the seasonally released Filthy Hooligan yet. This year's Filthy Hooligan, wrapped in the barber pole style with a combination of bright green Honduran Candela and dark Nicaraguan Jalapa leaf, is a heavy well-constructed cigar that's full of nice natural sweetness and rich leathery notes. It has a very meaty body with very little of the grassiness we've come to expect from Candela wrapped stogies. If you'd like to learn how Alec Bradley achieved that just watch the interview above. The main large band was easily removed but the secondary smaller band had to be smoked through, unfortunately, as the glue was too strong and the band was just on too damn tight to remove.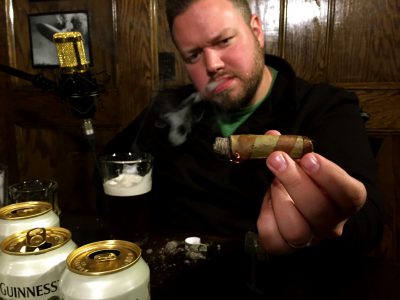 The construction, smoke output, and the burn line all impressed us and we unanimously agreed that this year's Hooligan rose high above the ranks of the previous versions of the cigar.
We didn't like this beer. We felt misled by the manufacturer calling this an "IPA" when there was no trace of bitterness to be found. Except in our hearts that is. Tut's the world's biggest Guinness fan so I know it pained him to dislike this beer as much as he did. I understand that this isn't meant to be a West Coast crazy bitter IPA, it's done in the English style but that doesn't make it any less boring. On the plus side, it's a beautiful pour as should be expected and the taste profile is creamy as hell but that's about it. As a beer to pair cigars with it's not ideal, perhaps it works best as a palate cleanser when smoking a darker strong cigar. As I say on the show, "It's a really good beer if you solely want to focus on the stogie you're smoking." We give them some good-natured shit on the show but we still love you Guinness. Maybe too damn much…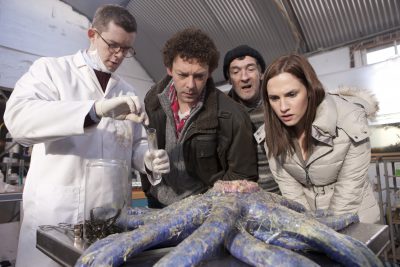 It's a film about an alien invasion and the only way to survive the viscous creature attacks is to remain shitfaced at all times. And it's got a hero who looks like a burned out alcoholic Greg Brady. How could this film not be right up our alley?!? Well, we should have liked this film more but it certainly had it's fun moments and the cast was overall top notch. Once you get past the first thirty cliche filled minutes and once we got past the first 3-4 pints of the show, things seemed to pick up nicely (imagine that). That's all I'm going to say about it here, get your Lucky Charms lovin' ass over to iTunes or click the link below to listen to the show.
THE NUB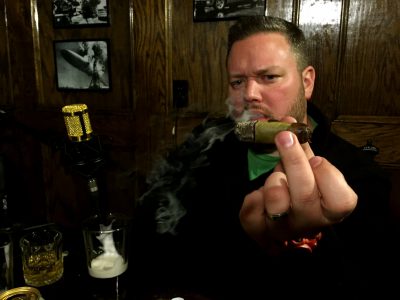 We drank, we learned, we laughed, we loved, and then we drank some more… I think you'll have fun with this one, lads and lassies! Thank you for checking out The Tuesday Night Cigar Club and we'll see you next time when we review another cigar, adult beverage, and film. May the wings of liberty never lose a feather…
Podcast: Play in new window | Download (296.1MB)
Subscribe: Apple Podcasts | RSS