We haven't had an episode that felt this good in some time. Don't get me wrong, each show is entertaining and noteworthy in its own way but sometimes we walk away from the table knowing in our guts that we not only did our job but that we recorded something special. This was one of those weeks. And when I say "walk away from the table" you can clearly see from the image below that nobody walked away from that table. Summer nights…
Tonight we are reviewing the Last Rites robusto from Black Label Trading Company. The dark rich brown Ecuadorian maduro wrapper is aesthetically very pleasing to the eye and there's a noticeable spice on the cold draw.


While Tut and Yak Boy picked up on a woodsiness early on, both The Doctor and I got overwhelmed by a chocolate note or more specifically a hot cocoa mix flavor that was really nice. This cigar is FULL FUCKING STRENGTH. I rarely get kicked hard by nicotine in a cigar but this one delivers a swift nicotine boot straight to the nuts. The draw is open and overall the construction is impressive as we've come to expect no less from James Brown's Fabrica Oveja Negra.


Flavors of oak, leather, and delicious chocolate bar ride this cigar to a nice finish. There may have been some other notes in the mix towards the end but you'll have to watch/listen to the show below for that analysis as my memory is a little fuzzy for some reason or another. Full strength. Full flavor. Full awesome. Full fucking metal. In other words, we liked the cigar a lot.

This was a first for us on the show. As I attempted to start off the night with my usual spot-on wit and hilarious anecdotes, I noticed some specks of… something floating in my pint glass. The others voices at the table quieted down (not necessarily a bad thing, mind you) as they noticed the sediment swirling around their glasses as well. We had never encountered a mystery such as this on the show before, so we decided to error on the side of caution and we poured the remaining 20 cans out in the sink and called it a night. Safety and health first, folks, always.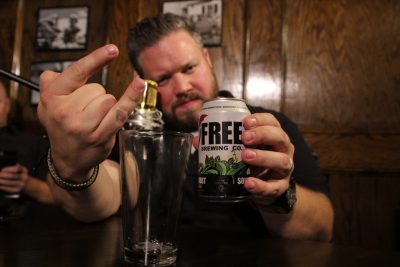 JUST KIDDING!!! Cmon, you know us better than that by now. Despite the presence of the mysterious sediment in our beer we drank the shit out of it. All of it. The Stephen King short story "Grey Matter" did pop up in my head at one point early on as I took a generous swig of the Soul Doubt IPA but I just killed that train of spooky thought with more alcohol. I'm a professional beer podcaster after all, I know what I'm doing. At 70 IBU the beer doesn't come across as overly bitter, it's hoppy but smooth. There's notes of citrus and pine but again neither flavor overwhelms. Hmmm maybe those are chunks of shredded pine cones floating around in there? Regardless, it turned out to be a highly enjoyable beer and it paired very well, maybe it even propelled, tonight's cigar. You can't ask for much more than that.


First thing you need to know is that you must always spell DEATHGASM in all caps. Because lower case is for pussies. The second thing you need to know about this fantastic film is what you're told in a lengthy voiceover from our reluctant hero narrator who starts off the story by telling us that he's balls deep in this mess because his meth addicted mom tried to suck off a Santa Claus at the local mall and so she got thrown in a mental ward… In other words, this film wastes absolutely no fucking time setting the tone and what a fun, endearing, entertaining tone it is.


Watch/Listen to the show below because we really dig deep as usual and have a lot of fun with this one. As in most memorable genre films, the cast is this DEATHGASM's greatest asset even though it certainly fell well below the special effects line item in the budget. And those mostly practical special effects are phenomenal by the way. It's a film about music and our relationship to it. It's also about friendship, killing demons with dildos, and ultimately it's about this crazy little thing we call life. Highly recommended.

THE NUB

This show just felt so damn good. The right movie paired with the perfect stogie and beverage. It doesn't happen like this every time so when it does… there's nothing like it. We're pretty fucking good at what we do sometimes.


Please leave us comments on the YouTube episode page, provide us with a review on iTunes, or do both! All these seemingly small gestures would be greatly appreciated as they let us know exactly what you're thinking about this blood soaked tidal wave of hardbodied heavy metal insanity we like to call The Tuesday Night Cigar Club. Hail Satin!


Below is tonight's full episode for both your viewing and listening pleasure. Thank you for checking out The Tuesday Night Cigar Club and we'll see you next time when we review another cigar, adult beverage, and film. May the wings of liberty never lose a feather…

Podcast: Play in new window | Download (315.1MB)
Subscribe: Apple Podcasts | RSS