Holy shit it's our 3rd annual (we got drunk and forgot to do it our first year on the air) Saint Patty's Day Drinking & Chugging Beer & Drinking Extravaganza!!! So after filling The Boot Of Remembrance for Luke Perry, we all get drunk and talk like 90210's Dylan McKay a bunch tonight. If you have a problem with that, well, that's on you and we will wish you happy trails. I mean, Jesus, everything ends badly otherwise it would never end. That's a Dylan McKay quote. Get used to it.
Size: 5 x 52 (robusto)
Wrapper: n/a (Nicaraguan habano tip)
Binder: n/a
Filler: n/a
Price: $7.95
From the Espinosa website we get this:
"Wasabi is not your grandfather's candela, this medium to medium full cigar provides a spice note throughout reminding you it's an Espinosa cigar. The box-pressed robusto blend manages to hide the candela's grassy notes, showcasing a combination sweetness and spice, that makes this cigar a unique smoking experience."
The candela wrapper reeked of freshly cut hay and upon ignition we all got a blast of pepper through the nose that lingered between our eyeballs (much like wasabi itself, which is a hurdle we'd have to overcome when reviewing this cigar – to not got to the "we're picking up a wasabi presence" just because of the name of the fucking cigar). Name recognition aside and potential bias recognized, there's a light woodsiness and mild earth on the draw and that black pepper (not wasabi) on the retrohale is indeed potent. Tut also picked up on a toast flavor early on. The Wasabi cigar wasn't acting in the early stages like a typical candela cigar, so much so that we thought maybe they just spray painted a traditional Nicaraguan cigar green.
Usually we check out early on candela cigars as there's not a lot of variations or complexity to them but this little robusto changes things up. The toast, earthiness, mineral component, and a late entry of a French roast coffee note all combine together to raise the Wasabi up a notch. After the Oscar Barber Pole this might just be the best green cigar we've ever featured in the show…. four thumbs up!!!!
TNCC FINAL SCORE: 90
At 7.5 ABV and around 60 IBUs this is a slight but worthwhile variation on the ever popular Guinness Extra Stout that you get at your local pub and while the changes involved with this beer are just barely noticeable, they are oh so highly enjoyable. To be accurate it's not, in fact, a new strain of Guinness by any means. This particular style of Guinness was originally conceived in the early 1880s for the African and Caribbean markets. Lucky them.
The stronger hop presence certainly works in its favor, that bitter dark chocolate bite is something new in the Guinness world and we all dug it. The beer paired extremely well with tonight's cigar and where we can drink regular Guinness for days at the pub, this baby definitely brings a little more welcome punch to the pint glass. We also drank the 200th Anniversary Guinness and it was weak sauce cigar-pairing wise, not enough umph. So find yourself a Foreign Extra Stout pronto, light one up, and thank us later.
I didn't know this was a SyFy original movie going in to tonight's show but while I was saddened upon seeing the SyFy logo as that let me know it was a given that we wouldn't be viewing any sorority girl boobies this evening, my hopes were somewhat elevated knowing that the director of Leprechaun Returns co-directed The Void which we reviewed back on episode 51 and the TNCC raved about its practical special effects. Sadly though, while this film does feature some good effects work and some classic kill scenes it's BY FAR not enough to rise above a horrendously amateurish, shitty screenplay that sinks this lumpy potato into the bog almost immediately.
There's a lot of parallels to make between Halloween 2018 and this latest Leprechaun reboot and we probably are the only ones to make them. Much like Jamie Lee's triumphant return to the franchise she helped create, Mark Holton once again squeezes into his painter overalls and steals the show as Ozzie (one of the original 1993 film's heroes).
And boy oh boy were we glad he shows up because every other character in this flick is either an absolute moron or a total shithead. Having said that, we have an absolute and total blast talking our way through Leprechaun Returns tonight but don't take my drunken word for it, click on the links below and join the party!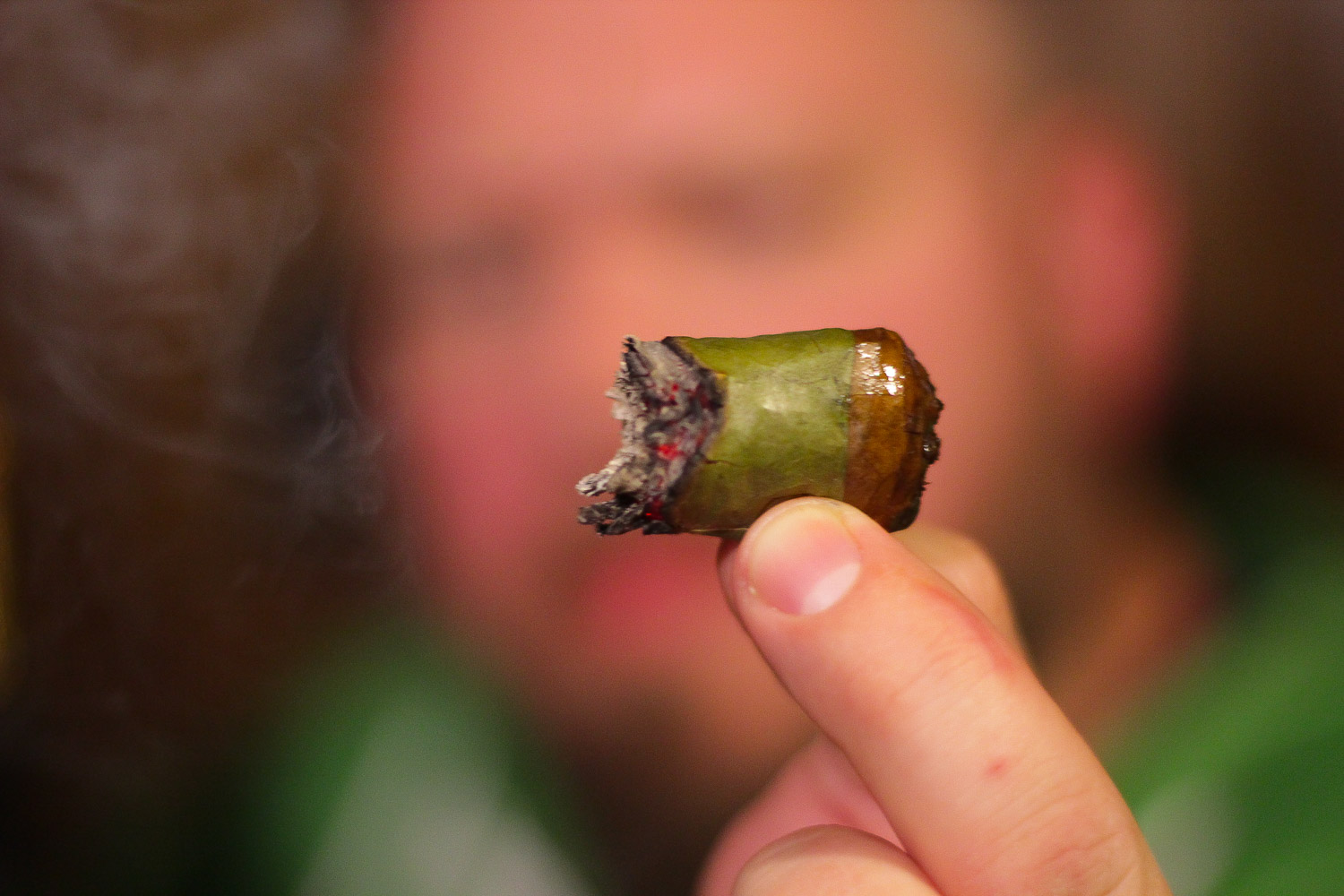 Forget the green beer, never mind the fish and chips. The only St. Patty's Day celebration you need this year is coming to you right now courtesy of your friendly neighborhood Tuesday Night Cigar Club.
Please leave us comments on the YouTube episode page, provide us with a review on iTunes, or be a real stud and do both! All these seemingly small gestures would be greatly appreciated as they let us know exactly what you're thinking about this sweat soaked tidal wave of hardbodied insanity we like to call The Tuesday Night Cigar Club.
Below is tonight's full episode for both your viewing and listening pleasure. Thank you for checking out The Tuesday Night Cigar Club and we'll see you next time when we review another cigar, adult beverage, and film. May the wings of liberty never lose a feather…
Podcast: Play in new window | Download (71.4MB)
Subscribe: Apple Podcasts | RSS