What's getting three big thumbs down from the TNCC crew? The cigar? The beer? The highly popular new Halloween movie? Well I guess you're just going to have to click on the video or audio link below and find out for yourself! Yes boys and ghouls, it's our epic Halloween Bootacular and Horrific Drinking Extravaganza!!!
Size: 6.5 x 52 toro
Wrapper: Ecuadorian Habano
Binder: Nicaraguan
Filler: Nicaraguan
Price: $13.00
The Michael is the 10th release in Tatuaje's Monster series of cigars. Every year the company releases a new monster upon the premium cigar world. Last year was The Krueger and before that we had such familiar names as The JV13, The Mummy, The Drac, The Face (short for Leatherface of course), and so on and so forth. This year's release The Bride just hit store shelves a week or two ago and it is allegedly the final Monster cigar release. So if you were waiting anxiously for The Pinhead or The Madman Marz cigar it looks like you're shit out of luck. But I think we've all seen enough horror films to know that true Monsters never truly die. Well, as a giant manchild whose greatest passions in life are cigars and horror films y'all can imagine what a fan I am of all this. Pete Johnson, the madman behind Tatuaje, releases only 666 "dress boxes" of each cigar annually to the "Unlucky 13" chosen cigar shops and then ships somewhere around 5,000 plain boxes of the cigar to other retailers. Being a diehard lifelong Halloween fan, I've been tempted to chase down some of the other dress boxes over the years but it wasn't until this one that I just had to have it.
If you'd like to get the TNCC's thoughts on some of the other Monster releases, The Doctor and I did a collaborative series back in 2016 where we paired each of the previous Monsters with a film review of an entry from that cinematic franchise. But tonight, tonight we are all about The Michael.
The wrapper is super silky to the touch. We all got chocolate and a French roast coffee note immediately on the draw upon torching the foot and a surprising lack of strength upfront considering the Nicaraguan fillers. For a cigar named after the slasher of all slashers, this sucker is surprisingly tame (mild side of medium in strength). There's also earthiness and a graham cracker presence, but that bold flavor of coffee is just impossible to ignore early on… It's hard to divorce yourself from the assumptions of what this cigar should be based on its name but, as highly regarded cigar experts, that's the mission here. It's so weird to say that a Michael Myers cigar is a great "breakfast cigar" but that's exactly what it is in the early goings!
In the second half the strength steadily builds, as does the spice on the retrohale, and that classic Nicaraguan earthiness and the accompanying mineral note begins to build as well. In the final third (which we all agreed was the best segment of the cigar by far), leather joins the party and the strength skyrockets even more. The Michael finishes strong both figuratively and literally.
TNCC FINAL SCORE: 89
I though that tonight I'd choose a beer that Tut couldn't probably have an issue with after episodes 80 and 81, it's a straight forward IPA that delivers some hops (but the bitterness is far from overwhelming) and a wealth of flavors to accompany that never-intrusive bite. But whereas the other 3 of us could appreciate this everyday IPA for what it is (delicious) this motherfucker still didn't get his beer itch scratched – that's on him, not Barrow Brewing.
Barrow has made a tasty everyday IPA that worked perfectly with tonight's cigar and Tut is just going to have to live with the shame of his poor palate… The Evil Catfish has a slightly malty presence that isn't going to offend those of us who dislike malts in our IPAs and it brings a fresh profile aside of the malts and hops that is sure to appease almost everyone (except Tut)…
I wasn't scared by seeing Danny McBride's name in the opening credits of Halloween (2018) as a screenwriter on the film because, frankly, I've never found Danny McBride all that funny so maybe he's been waiting all these long years to create something of worth in a genre outside comedy. Nope. Turns out the guy isn't funny AND he can't write horror movies either. I think you can see what direction my option of this movie is heading but, as always, I highly encourage you to watch the show because NOBODY dissects films the way we do. If you're looking for a lively discussion about the new Halloween, if you're looking to laugh and laugh hard, if you're looking to experience a unique brand of film analysis that's unlike any other CLICK THE LINKS BELOW!!!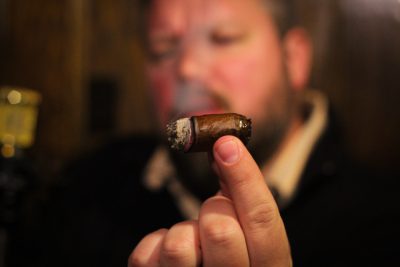 This was our first attempt at broadcasting the show live over on the Facebooks. Thank you to everyone who watched, commented, and joined the party. It was a fun night! Maybe we'll do it again some time, maybe we won't, much like Michael Myers himself we're a bunch of unpredictable assholes.
Please leave us comments on the YouTube episode page, provide us with a review on iTunes, or be a real stud and do both! All these seemingly small gestures would be greatly appreciated as they let us know exactly what you're thinking about this sweat soaked tidal wave of hardbodied insanity we like to call The Tuesday Night Cigar Club.
Below is tonight's full episode for both your viewing and listening pleasure. Thank you for checking out The Tuesday Night Cigar Club and we'll see you next time when we review another cigar, adult beverage, and film. May the wings of liberty never lose a feather…
Podcast: Play in new window | Download (78.0MB)
Subscribe: Apple Podcasts | RSS