Size: 6 x 52
Wrapper: Ecuador
Binder: Dominican Republic
Filler: Nicaragua & Dominican Republic
Price: $19.50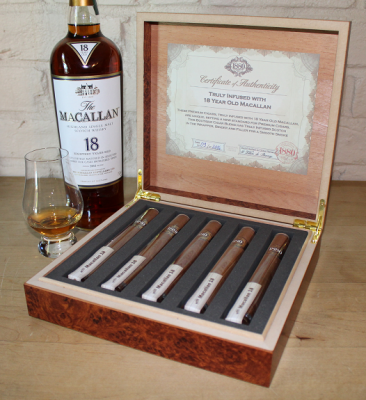 From the 1880 website, "Our proprietary method blends premium single malt scotch or single malt whisky, with each element of the cigar, the filler, binder and wrapper. The tobacco is aged and then hand rolled in the true Cuban style with a traditional triple cap. The result is a unique smoke that captures the distinctive flavors of this 18 year old scotch, providing a one of a kind experience as well as a smooth clean draw from start to finish."
Here we go folks, this is our first infused cigar in The Corner Of No Hope! Well that's not entirely true, we featured an absinthe infused cigar back on Episode 48 and I reviewed the legendary Kuba Kuba cigar recently, but we don't feature them often. The M18 is infused with Macallan 18 at that and blended/rolled at the famed El Titan de Bronze factory in Little Havana, so expectations were high. Tut and I both picked up a sweetness on the cold draw that reminded us distinctly of grapes. There's a slight woodsiness on the palate upon torching the foot with a little pepper on the nose. Smoke production is plentiful, burn line is straight as can be, and construction overall is top notch.
There's no hint of the scotch infusion early on… or really at any point other than the ONE BRIEF MOMENT I thought I got a hint of peatiness on the retrohale but the other gents at the table assured me that it was indeed coming from the actual scotch we were drinking and not the cigar. So black pepper on the nose and woodsiness with a slight sweet factor is where we're at with the M18. Those flavors are consistent and don't vary throughout the smoking experience.
THE NUB
The M18 Premium Toro by 1880 International is an extremely well constructed cigar that delivers a nice flavor profile NONE OF WHICH is scotch. We just didn't get the damn scotch. So the price point here is steep to say the least, which we will do for once… say the least that is.
TNCC FINAL SCORE: 85