Welcome everybody to The Tuesday Night Cigar Club's first annual 4/20 Hemptastic & Drunktasticer Fucked Up Extravaganza! Episode 39! Or 93. It all depends on how you look at the numbers man…
Size: 4.5 x 48
Wrapper: Ecuadorian Connecticut
Binder: Indonesian
Filler: Nicaraguan fillers from Jalapa and Estelí
Price: $12.00
The first premium cigar that provides 20mg of Hemp-derived CBD, lab-tested and certified. Jas Sum Kral has developed a proprietary solution with a laboratory that is said to be effective in absorption at the buccal mucosa (that means "inside of the mouth" for you noobs). Once the cigars are manufactured and banded in Nicaragua, they're then shipped to a lab in Colorado where "3 lab scientists" begin the infusion process. Nuggs contain 100% industrial hemp derived CBD with 0.00% THC. Each and every batch of cigars released will come with a QR Code on them to provide the consumer with the 3rd Party lab results of the solution used in the cigar. In case your curious if we could be in some kind of trouble here by smoking these on the show, the 2018 Farm Bill was signed into law back in December 2018 effectively legalizing hemp at the federal level by removing it from the federal list of controlled substances and classifying it as an agricultural commodity. As a result, CBD from hemp is legal nationwide. Of course I got that info from a Jas Sum Kral press release for the Nuggs so, you know, I'm sure it all checks out…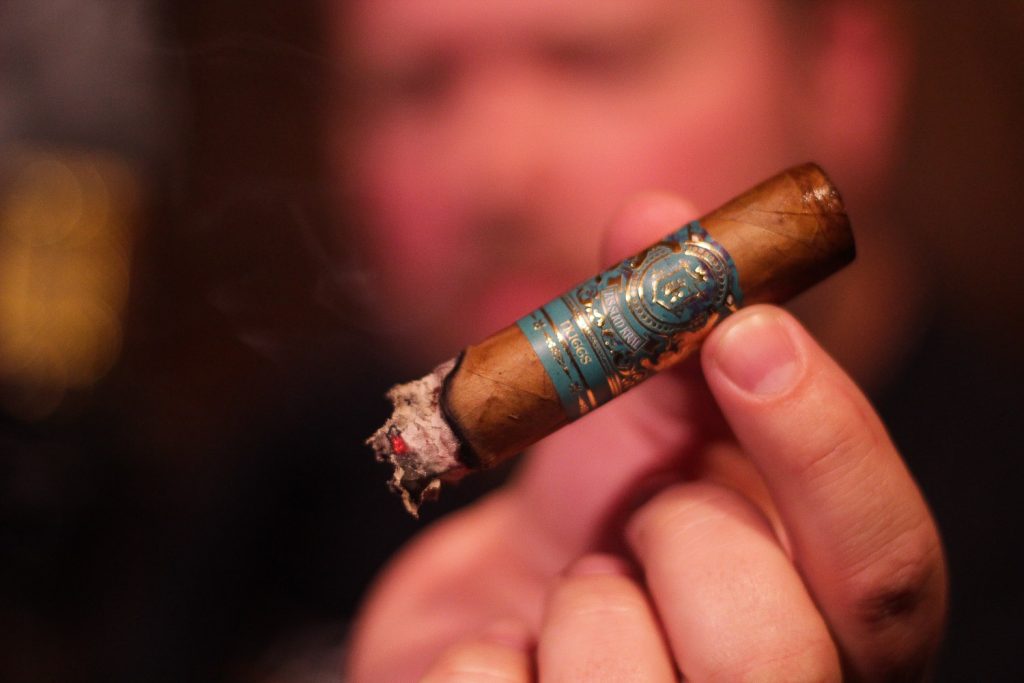 We all picked up on an uncommon citrus note on the cold draw and that lemon zest flavor immediately appeared on the palate after lighting up. The lemon is joined by notes of earth and mineral with a very nice leather presence on the retrohale (Tut picked up pepper on the nose around the midway point while Yak Boy and myself did not). Construction on all three samples was top notch with a smooth draw and straight burn lines all around.
It's hard to say if the CBD oil in the cigar lessened our anxiety at all because our anxiety levels always drop when we drink six or eight beers and smoke a few premium cigars. Regardless, the Nuggs is a smooth, highly enjoyable smoke. We dug it, man!
TNCC FINAL SCORE: 91
Size: 5 x 50
Wrapper: Mexican San Andrés
Binder: Indonesian
Filler: Nicaraguan mixed filler (Estelí and Jalapa regions)
Price: $6.00
There's also a Habano version of the Toothpick available as well. I asked brand owner Riste which one he suggested following up the Nuggs with and he suggested the maduro so that's what we're doing… The Maduro Toothpick features a rustic, attractive dark Mexican wrapper. There's tons of sweetness on the cold draw, rich juicy tobacco sweetness reminiscent of Red Man chewing tobacco so that's a blast from the past for sure. And sadly, that's where the smoking experience pretty much ended for two of us. While Yak Boy got full notes of chocolate and earth, with some barnyard hay and a hint of leather in there (he even called it a "fantastic bargain smoke"), Tut and I didn't get to experience really anything due to a draw so tight that we soon gave up on it altogether…
This is one dank skunky sonofabitch and we all liked it. The 420 Strain G13 IPA (named after a famous government created strain of weed) is very viscous and surprisingly low on bitterness but the hop flavors that are present combined with a nice grapefruit citrus component won us over, especially considering the rising temperatures in Central Texas these days.
This is a refreshing beer that I could see pairing well with just about any cigar, even those not infused with CBD oil. Oh and by the way, the TNCC has trademarked the band name "The Dank Hops" for a future musical project we're planning so don't even think about using it…
We were all expecting camp here. "4/20 Massacre", campgrounds filled with horny lesbians smoking weed, etc… Boy were we wrong. Thanks to a mature screenplay (that becomes more and more mature and craftfully developed as the film rolls along), a serious tone that respects the horror slasher genre rather than poking fun at it, and a talented cast of very screen-comfortable actresses that live and breath their roles with believable accuracy – this movie pleasantly surprised the hell out of us.
Props to filmmaker Dylan Reynolds and his cast for delivering an authentic, believable film when every impulse must have been to go in a more over-the-top, easy direction. And we never once felt like we were watching five women recite dialogue written by a man. It all just comes across as natural and real and that ain't easy folks. And they created a slasher with a truly believable mythology that really served the story well and it FUCKING WORKED!
4/20 Massacre is fun, it's engaging, and we all gave it three big thumbs up which doesn't happen very often in The Corner Of No Hope!
Plugged cigars happen, folks, it's a handmade product. And we weren't about to let a little thing like that get in the way of our good time. Especially when the first cigar was so damn good, the beer was tasty, and the film conversation was fucking awesome. I can't wait to see what we roll up for next year's second annual 4/20 Hemptastic & Drunktasticer Fucked Up Extravaganza!
Please leave us comments on the YouTube episode page, provide us with a review on iTunes, or be a real stud and do both! All these seemingly small gestures would be greatly appreciated as they let us know exactly what you're thinking about this sweat soaked tidal wave of hardbodied insanity we like to call The Tuesday Night Cigar Club.
Below is tonight's full episode for both your viewing and listening pleasure. Thank you for checking out The Tuesday Night Cigar Club and we'll see you next time when we review another cigar, adult beverage, and film. May the wings of liberty never lose a feather…
Podcast: Play in new window | Download (57.2MB)
Subscribe: Apple Podcasts | RSS