And that quote above could just as well apply to us here at the Tuesday Night Cigar Club, we thought our weekly gatherings at our beloved pub where we drank and smoked and talked about movies into the wee hours of the night WAS the greatest thing ever and we've worked hard to bring that concept to you, the masses, our loyal listeners, for 94 episodes now. But just like putting avocado or hash browns or mozzarella sticks on a burger, I'm not all of a sudden going to start adding a segment where we talk about sailboats on the show. We've got our core three things, enough is enough already. And speaking of those three things, let's get to them shall we?
Size: 5 7/8 x 52 (Canonazo)
Wrapper: Connecticut Broadleaf
Binder: Ecuadorian Sumatra
Filler: Nicaraguan
Price: around $9.00 (but, of course, you can always find them cheaper at Famous Smoke Shop using promo code TNCC20)
From our good friends over at Famous Smoke Shop, I learned this backstory on tonight's cigar:
"In the epicurean spirit, Le Carême cigars take their name after renowned 1800's chef Marie Antoine Carême, made famous for popularizing the soufflé. Ernesto Perez Carrillo cooked up this culinary masterpiece with a complex flavor profile that brings chocolate soufflé, sweet cocoa, and rich tobacco to the palate. Le Carême comes garnished with a luscious Connecticut broadleaf Maduro wrapper, complimented by Ecuadorian Sumatra binder and Nicaraguan filler – this cigar is truly the crème de la carème."
The fantastic aroma that comes off of Le Carême's wrapper makes this BY FAR the best smelling cigar we've featured on the podcast in quite some time. Damn this sucker smells amazing! Yak Boy picked up some faint chocolate on the cold draw and then we quickly proceeded to set fire to Le Carême.
We immediately picked up jalapeño pepper on the nose (although not enough to kick you in the balls) and rich dark chocolate with a tinge of Nicaraguan earth on the draw. It's a thick, chewy smoke that fills your mouth and lingers making itself at home and kicking out any previous occupants. This smoke is Dense, it coats your fucking throat. Oh, and there's marshmallow too. Combined with the always present dark chocolate it's almost s'mores-like. And with the leather aroma that introduces itself off the wrapper in the final two thirds… hell yeah buddy.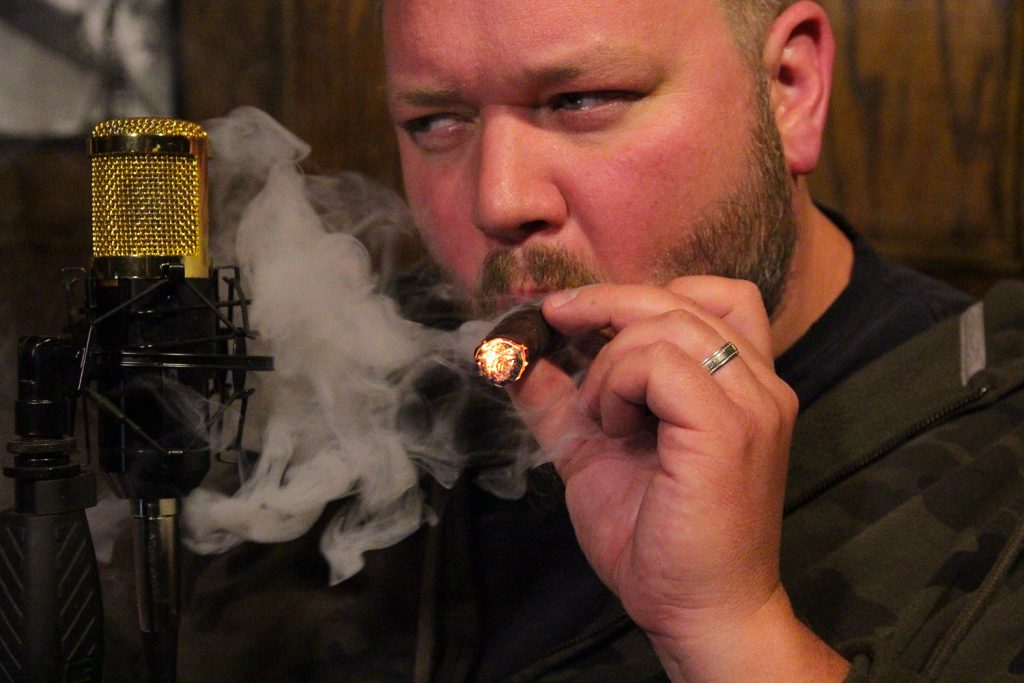 Full bodied combined with the upper tiers of medium strength, Le Carême's smoke profile is beautiful and construction is wonderful throughout the duration of the smoke. And if you watch the show on the YouTube link below you'll see for the first time ever a cigar ash drop into my shirt sleeve… it's an intense moment and I still have no idea how it happened or how that's even possible. Back to business, this is a cigar that features extremely refined flavors – every flavor is meant to be exactly where it's at and we all really enjoyed it. Three Thumbs Up for Le Carême!
TNCC FINAL SCORE: 92
Baked Goods is an American Pale Ale featuring Columbus, Mosaic, El Dorado, Idaho 7, Azacca, and Centennial Hops. What about the IBUs, you ask? Clown Shoes has stated 50. And I'm stating, fifty IBUs my sweet big ass! We've seen some outrageous IBU claims here on the show over the years but there's no way in Hoppy Hell that this puppy comes in nearly that high. With a very low bitterness (obviously as you can tell by my angry last two sentences) and a ho-hum ABV of just 5.5%, I don't know why anybody would reach for the Baked Goods American Pale Ale as it doesn't really deliver anything discernible flavors to counteract the low ABV and a total lack of bite.
Yeah, there's a little citrus component to it but for utilizing over 6 (?) different strains of hops I'd expect more different FLAVORS other than just "beer flavor". "It took us this many ingredients to make a beer where none of those ingredients stand out!" – ok. Baked Goods pours very murky, very viscous, and the end result is very boring. BUT, it was indeed better than the last Clown Shoes beer we reviewed on the show so there's that…
Tonight we take a big ass, greasy, overdue bite into Hamburger: The Motion Picture and I'm so happy we finally savored this juicy, cinematic masterpiece. It truly is burgertastic! First off, the film features a cast of characters that is so well constructed it stands right beside (if not above, in my opinion) that of Revenge Of The Nerds. That's right, I said it. The students of BusterBurger University all fill their roles perfectly but the real juices come from the supporting players…
AND the film also features some of the greatest music composed for the silver screen ever (ok ok, late night 1980's HBO). I can't express to you just how much I love this film. Oh wait, I actually can and I do, right here, TONIGHT! So click the links below and let us tell you of a glorious, simpler time when movies had boobs galore and the burgers didn't have fried eggs on 'em and donut buns.
You see A Star Is Born, THAT IS HOW YOU WRITE MUSIC FOR A FILM. Seriously, where is Hamburger: The Motion Picture's Academy Award nomination? Oh right, thanks "society".
If the podcast ended abruptly right now I'd be ok with it because we finally got to dissect, discuss, and fall in burgertastic love with Hamburger: The Motion Picture all over again. And we got to smoke a fine cigar while doing it. Two out of three aint too shabby! I sincerely hope you have as much fun listening or watching to tonight's show as we did making it.
Please leave us comments on the YouTube episode page, provide us with a review on iTunes, or be a real stud and do both! All these seemingly small gestures would be greatly appreciated as they let us know exactly what you're thinking about this sweat soaked tidal wave of hardbodied insanity we like to call The Tuesday Night Cigar Club.
Below is tonight's full episode for both your viewing and listening pleasure. Thank you for checking out The Tuesday Night Cigar Club and we'll see you next time when we review another cigar, adult beverage, and film. May the wings of liberty never lose a feather…
Podcast: Play in new window | Download (62.6MB)
Subscribe: Apple Podcasts | RSS