Yes folks, it's our big Fourth Of July Freedom Spectacular & Drinking Extravaganza!!! Or something like that. And in typical Tuesday Night Cigar Club fashion it's airing several weeks after the actual holiday so, if nothing else, we are incredibly consistent. But, and this is a big BUT, for all you TNCC followers out there who have been clamoring for a shorter episode of the show your prayers have been answered. Tonight we feature a super short cigar which led things down the road to it being a super short show so I'm going to keep things shorter than usual here on this page as well to keep everything copacetic. But don't get used to it, we'll be back real soon with a five hour podcast to right the ship!
Size: 3.5 x 50
Wrapper: Connecticut Broadleaf
Binder: Nicaraguan
Filler: Nicaraguan
Price: $6.99 (Two Guys Smoke Shop, NH)
An oily, chewy, classic "Steve Saka Broadleaf" wrapper which has an amazing aroma you can pick up on without even getting your nose up close to the cigar. Upon ignition there's a nice ligero kick immediately, this little sucker is strong as a motherfucker twice its size!, and the classic Mi Querida espresso coffee note is front and center reporting for duty. It's a slow burning smoke and construction was fantastic on all four samples.
The Firecracker definitely has more punch throughout its duration than the original Mi Querida we reviewed way back on Episode 42. And the prominent chocolate flavor we all loved in that cigar back in 2016 is completely absent in this new variation of the blend. Delicious coffee, rich earth, and lots of strength is what this little guy delivers. If you're a ligero lover, like our boy Tut here on the show, you'll love this little powerhouse. And if you're in the mood for a high-quality, knockout-punch cigar but don't have ninety minutes or two hours to commit (especially in this scorched earth summer we're having) you'd be hard pressed to find a better option at a better price point than the Mi Querida Firecracker.
FINAL TNCC SCORE: 90
Wow, tonight we drank a beer featuring holy water as an ingredient and none of us burst into flames. It's a miracle! And a very pricey miracle at that! With a cola like appearance in our pint glasses and flavors of hickory and a super heavy maltiness… perhaps this was the wrong beer to select on a night where Central Texas temperatures were still teetering around 115 degrees Fahrenheit.
Final verdict: Yes it was the wrong beer and as professional internet beer scientists we should come back and re-evaluate this dark beverage in six months time. You win some you lose some, folks, but the important thing is (as is usually the case around here) we didn't learn a damn thing.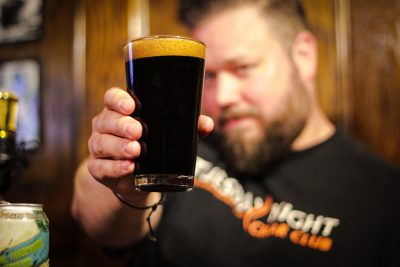 If you aren't familiar with tonight's movie – WATCH IT AS SOON AS IS FUCKING POSSIBLE. Not only is it one of the Top Three zombie films of all time but it's also the best Fourth Of July film ever made. What's wrong, don't you like America? Don't you like freedom? Don't you like zombie boobs???
Seriously everybody, Return Of The Living Dead has one of the best casts ever assembled and some of the most fantastical special effects ever committed to celluloid. We have a total blast talking you through this masterpiece so what are you waiting for? Click on the links below to watch or listen to the show right now! It's Party Time!!!
Two hours of nonstop entertainment for free! You can't beat that shit. And now that we've triumphantly returned from Vegas (more on that later) the episodes will start rolling out like clockwork. What could possibly get in the way of that plan?*
Please leave us comments on the YouTube episode page, provide us with a review on iTunes, or be a real stud and do both! All these seemingly small gestures would be greatly appreciated as they let us know exactly what you're thinking about this sweat soaked tidal wave of hardbodied insanity we like to call The Tuesday Night Cigar Club.
Below is tonight's full episode for both your viewing and listening pleasure. Thank you for checking out The Tuesday Night Cigar Club and we'll see you next time when we review another cigar, adult beverage, and film. May the wings of liberty never lose a feather…
*BEER, beer could potentially get in the way of that.
Podcast: Play in new window | Download (43.5MB)
Subscribe: Apple Podcasts | RSS