I imagine there's a lot of podcasts out there that have interviewed Willy Herrera over the years. But how many of them have done it while chugging copious glasses of rum and doing Miami Vice Shots? That's right folks, only your friendly neighborhood Tuesday Night Cigar Club. And remarkably the Master Cigar Blender seemed to have a good time right along with us! What can I say, we're pros. And we gave away a fucking amazing piece of original artwork from Subculture Studios during our Willy interview on Facebook Live, so if you missed this opportunity to win some cool shit don't sleep on us next time. Now on to the party…
Size: 6 x 50 (toro)
Wrapper: Mexican San Andrés
Binder: Honduran
Filler: Nicaragua (Estelí & Jalapa)
Price: $8.00
This fantastic cigar was Willy Herrera's second release after being named the Master Blender for Drew Estate. Norteño, meaning "northerners" in Spanish, was chosen as the name due to people from Estellí (where the Drew Estate factory is located) being referred to as "Norteños". So it's like American southerners calling people from up north yankees. Which makes me think of the song Yankee Rose. Which makes me happy.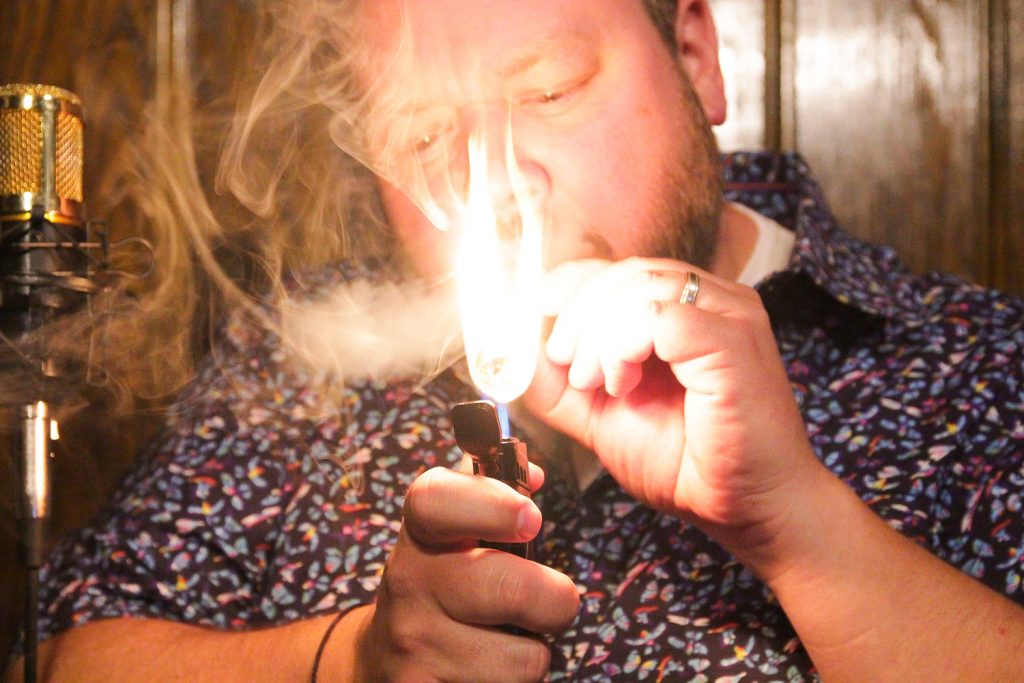 The earth and sweetness on the cold draw are undeniable. And then there's an immediate spice from the San Andrés wrapper that just smacks you across the face upon torching the foot. We all experienced cedar on the front end of the palate and leather on the back, with spice consistent through the nose. The Norteño produces a stack-of-quarters ash and construction all around is perfect.
The Norteño is a full strength, delicious, highly consistent cigar (we smoke a shitload of them) and if you don't run out and try one soon then you are truly missing out on one of the best offerings produced at La Gran Fabrica Drew Estate.
TNCC FINAL SCORE: 92
While the 4 Year Añejo Oro may not be the most expensive bottle of rum to come out of the historic Flor de Caña factory, it certainly is tasty. Yes, we mixed it with Diet Coke, so sue us. The rum was still sweet and smooth going down and got us all feeling good. That's all that matters, right?
Oh, and I've still got Diamond Dave's Yankee Rose playing in my head as I type this. I'm telling you, if this had been released as a Van Halen song everybody and their big-haired mother would've called it a classic.
There's no poster that can do Miami Connection justice. This sucker has a little bit of everything and, somehow, it's also missing a lot of key ingredients. But when you have heroes who rock the Miami nightclub stages at night while battling ninja bikers all day, can you really complain?
The answer is no, if you nitpick this film you are an asshole. Just sit back and watch this long lost gem or, better yet, hit the links below and let us tell you the story of Miami Connection. We get drunk and possibly sing you some of the amazing Dragon Sound tunes from the movie… did I mention these musicians kick major ninja ass too?
What a fun night! I want to thank Willy Herrera for joining us, we all look forward to hanging out with him and the rest of the Drew Estate team at this year's Barnsmokers and learn even more about the fascinating world of premium cigars. If you attend one of these amazing events be sure to come find us and we'll do some Miami Vice Shots together!
Please leave us comments on the YouTube episode page, provide us with a review on iTunes, or be a real stud and do both! All these seemingly small gestures would be greatly appreciated as they let us know exactly what you're thinking about this sweat soaked tidal wave of hardbodied insanity we like to call The Tuesday Night Cigar Club.
Below is tonight's full episode for both your viewing and listening pleasure. Thank you for checking out The Tuesday Night Cigar Club and we'll see you next time when we review another cigar, adult beverage, and film. May the wings of liberty never lose a feather…
Podcast: Play in new window | Download (56.7MB)
Subscribe: Apple Podcasts | RSS