It's our last show of 2017 and Oh Holy Shit is it ever a doozy! Tonight we're tackling a double-feature of incredibly entertaining films, a double-feature of impressive new cigars, and pint after pint of a very ho hum average beer. Well folks, four out five aint too shabby… So watch or listen below and join in on our 3rd Annual Company Christmas Party & Drinking Extravaganza!!!
SIZE: 6 x 48
BLEND: Ecuadorian Habano wrapper with filler tobacco coming entirely from one farm in Jalapa, Nicaragua (Steve Saka is not disclosing the name of the farm)
Price: $15.95
Originating from a small unnamed farm (much like TNCC's very own Jason Tuttle) the Muestra de Saka Nacatamale features an oily beautiful wrapper that's slick to the touch with minimal veins. The cigar is packed firmly with just a slight give when squeezed between two fingers. I'm not sure about prelight aromas due to me taking too much beer up my nose… you'll have to watch or listen to the show for that to make any sense. Upon ignition we experienced immediate sensations of cinnamon (Cade), gingerbread (Tut), "baking spices" (Yak Boy), and French vanilla (The Doctor). I swear I handed out cigars to the boys and not Christmas cookies… at least I think I did. Again, way too many beers up my nose to be certain.
The Nacatamale produces a stack-of-dimes ash and construction-wise it performs perfectly. There's a rich mocha flavor on the draw while the retrohale continues to deliver cinnamon and spice. As the first half progresses that mocha evolves into a chocolate malt nougat note, I swear it's like you're smoking a fucking Milky Way bar (which is as awesome as that sounds). It's worth mentioning that I've never witnessed the TNCC crew having such a hard time identifying flavors in a cigar that they were all highly enjoying. Two members were both extremely frustrated in their inability to pinpoint a distinct consistent flavor and it drove them nuts… bush league folks, Bush League.
In the second half, milk chocolate, graham cracker, toast, earthiness, and a natural sweetness all make appearances on the draw while the retrohale goes back and forth between pepper and a now much more subtle cinnamon. Having said that, the triple action of spice, chocolate, and earth in the last few minutes is a work of beauty that must be experienced before you die – wow. Tut summed it up by saying "You're smoking a cigar here that was obviously blended by a true craftsman, there was a lot of thought that went in to this product and I can feel the intent in this cigar" and in an age where the term craft gets thrown around way too loosely we all concurred with his assessment. While the crew may have disagreed on what flavors we experienced while smoking the Muestra de Saka Nacatamale, we all agreed that it was a complex, delicious, extremely unique blend worthy of a 95 rating.
A Nicaraguan puro, the name of the cigar is Spanglish for Todos Los Dias which translates to "All The Days"
SIZE: Double Wide Belicoso (4.75 x 60)
WRAPPER: Sun Grown Cuban seed capa
BINDER: Nicaraguan
FILLER: Jalapa and Estelíano tobaccos
PRICE: $12.45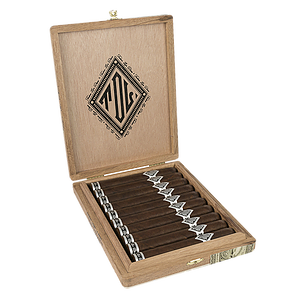 We loved the band on the Todos Las Dias, a very intricate classic cigar band very much aligned with the impressive work on display with Dunbarton's Sobremesa brand – small details matter and are much appreciated. A dark brown glistening wrapper greets us upon removing the cellophane and I mean that literally – there is glistening crystallization occurring on this impressive wrapper when held up to the light just right. It sparkles like a disco ball. Sniffing the foot we picked up the aroma of barnyard hay and sweetness. The size of the cigar is instantly recognizable to any diehard Joya de Nicaragua Antaño 1970 fan like myself, as the JdN factory has let Steve Saka use their Gran Consul molds to create this cigar and it's one of my all time favorite vitolas. The draw and airflow with this size is spot on, for a ring gauge this big you don't feel like you're sucking through a garden hose, and it just feels fantastic in your hand (that's what she said).
Upon ignition the dark cherries and not-so-overpowering spice were on display first and foremost. The earthy aroma was dynamite. In Saka's description of the cigar that we read aloud on show (in my best Trace Atkins voice as you'll get to bask in as you watch or listen below) he mentions dark cherry and I make a strong case for why it's not weird that we immediately pick up on that note where as in most cases the manufacturer's product description lays out flavors that are often unobtained by the consumer. 64 episodes into this TNCC experiment and 8 or so years as regular cigar smokers, we find ourselves naturally gravitating to blenders whose palates are similar to our own. Whether it be Steve Saka, RoMa Craft's Skip Martin, or recently Southern Draw's Robert Holt, it makes perfect sense if we consistently like a certain blender's cigars that we will pick up on similar flavors that they do while making it. The first third is ruled by a red pepper on the nose and a very tasty earthy tobacco on the draw. Unlike the Nacatamale, the dark white smoke does indeed travel up the body of the Todos Las Dias and lingers there…
The red pepper on the retrohale is surprisingly forgiving and there's an unexpected creaminess that's present that none of us saw coming (and which Señor Saka didn't reveal in his description, so there!). It is a nicotine heavy cigar, the strength is definitely there, but the notes of dark chocolate and earth stand toe to toe with it. Construction is fantastic with a strong ash and, as I said, ample smoke production. In comparison to the Nacatamale (which you have to factor in as we smoked them back-to-back) there's not a great deal of complexity present here. Cream, earth, and just an overall pleasant tobacco taste – that's it. Tut stated that this is one of the best draws from a cigar he's ever had, and I'd agree with that statement, especially factoring in the 60 ring gauge and that's what makes it so impressive. While we're not getting the complexity or flavor transitions that we experienced with the Nacatamale, this stogie is performing from a construction standpoint amazingly. If you're looking for that singular profile, that classic Nicaraguan taste, then the Todos Las Dias fits that stereotype so damn well. I could and would smoke these All Day Long if I could. Are there other quality Nicaraguan puros out there at a cheaper price point? Yes. Do I wish this double wide belicoso was slightly less expensive? Yes. But, having said that, I want to smoke another of THESE tasty fast-burning bastards right now.
Sometimes, sadly, the only nice thing you can say about a beer is "it's a beer!" So we shall just leave it at that.
The Rahr & Sons Winter Earmer is an English dark ale that is indeed a beer.
Actually that's not factually correct at all. Where No Contest failed us in the nudity department, Skyscraper OVER DELIVERED by about twenty or so pounds of womanly flesh. It's all about balance folks… yeah, that's the ticket. As usual, I'm not going to go into our thoughts on these two films here on this episode page at all as I want you to experience things the right way by watching or listening to the show below. But, just in case you need a little encouragement to hit that play button, here's the poster for Skyscraper…
And our other movie up for discussion stars Andrew Dice Clay, Shannon Tweed, and Rowdy Roddy Piper! Take that Die Hard! I promise that your yearly holiday movie marathons are never going to be the same. Now you're welcome!
Well other than our yearly "Best Cigars Of 2017" list which will be unleashed in a few days, this will be the last you hear from us until January. It's been a fantastic year full of great smokes, big laughs, and 2018 looks to be even better. Stick around!
Please leave us comments on the YouTube episode page, provide us with a review on iTunes, or be a real stud and do both! All these seemingly small gestures would be greatly appreciated as they let us know exactly what you're thinking about this sweat soaked tidal wave of hardbodied insanity we like to call The Tuesday Night Cigar Club.
Below is tonight's full episode for both your viewing and listening pleasure. Thank you for checking out The Tuesday Night Cigar Club and we'll see you next time when we review another cigar, adult beverage, and film. May the wings of liberty never lose a feather…
Podcast: Play in new window | Download (201.7MB)
Subscribe: Apple Podcasts | RSS