Every year I lament on just how difficult it is to compile this list of the best cigars we've smoked on the show over the last 365 days. This year was exceptionally tough, so much so that we've expanded from a Top Five to a Top Ten list. The good news is that this change is a direct reflection of what a fantastic year it was to be a premium cigar smoker. As far as our process is concerned, we also took a different approach this year in that we all came to the table with our own individual top ten lists, we assigned a numerical value to each ranking, and then tallied up each cigar's accumulative point total and used that data to make the Top Ten list you see below. Look at us all scientific and shit! In the event that two or more cigars had the same ranking we battled it out with each man dead set on convincing the others why his palate was superior to their own… it was brutal. So the TNCC "Top 10 Cigars of 2017" isn't a reflection of my personal favorites or any one member's choices but the crew's consensus as a whole (in fact I have some major issues with our rankings but my hands are tied).
As always, to be qualified for our "Top 10 Cigars of 2017" list the cigar had to be featured and reviewed on the Tuesday Night Cigar Club podcast. Cigars that received only written reviews on the Beyond The Pod section of our website or stogies that the four of us smoked separate from the show entirely were not eligible. So without further ado, here's the very best of the best! Click on the cigar's name and you'll be taken to its original TNCC review: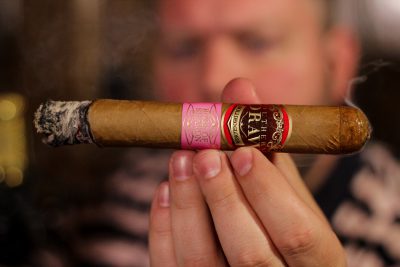 …The woodsiness kicks in more as the smoking experience continues. A vanilla latte, creamy coffee note is by far the superstar of the middle section of the Rose Of Sharon but the pepper on the nose (retrohaling is a must) makes things extremely interesting. I like that ying and yang at play quite a bit. This is a complex multi-layered Connecticut cigar for sure that not only fits in but stands at the forefront of the new "reimaginings" taking place in the world of Connecticut cigars…
…Tut summed it up by saying "You're smoking a cigar here that was obviously blended by a true craftsman, there was a lot of thought that went in to this product and I can feel the intent in this cigar" and in an age where the term craft gets thrown around way too loosely we all concurred with his assessment. While the crew may have disagreed on what flavors we experienced while smoking the Muestra de Saka Nacatamale, we all agreed that it was a complex, delicious, extremely unique blend worthy of a 95 rating…
…The Cro-Magnon Knuckle Dragger has a gorgeous oily black-as-night wrapper that feels like velvet in your hand. There's hay/barnyard on the preflight sniff and if you put the foot of the cigar to your nose you'll sense a sweet tobacco aroma that'll instantly give you a cigar boner*… Earth, mineral, espresso, and spice, this cigar is absolutely delicious. While there aren't a ton of transitions per se, the flavors that are continuously present rock the fucking house…
…The Pappy Van Winkle Tradition features a beautiful Ecuador Habano Oscuro wrapper, you can barely make out the seams upon initial inspection. Sweet earthiness on the cold draw and upon torching the foot we all experienced a quick blast of spice immediately followed, or rather enveloped, by a smooth creaminess that overtook our palates…Tut said "There's a subtleness here in this blend that I haven't seen in a Willy Herrera blended cigar. This cigar is phenomenal." and, for once, I have to agree with him…
…The red pepper on the retrohale is surprisingly forgiving and there's an unexpected creaminess that's present that none of us saw coming. It is a nicotine heavy cigar, the strength is definitely there, but the notes of dark chocolate and earth stand toe to toe with it. Construction is fantastic with a strong ash and ample smoke production…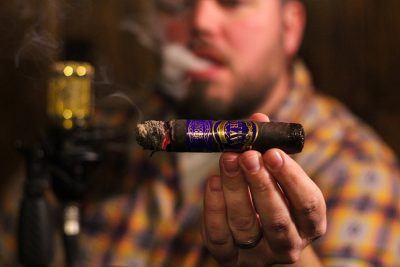 …There's a sweetness present that reminded us of dried fruit (cranberry perhaps? we narrowed it down to that little brown tasty chunk you find in your trail mix but you can't figure out what the hell it is. now THAT is critical cigar analysis at its finest, folks). While the Jacob's Ladder does punch you in the mouth right out of the gate, it frequently grants you a moment to regain your composure and enjoy that unique sweetness and bold meaty tobacco flavor. Construction is superb but watch out for that heavy ash to drop every inch or so…
…Halfway through the smoking experience, the smoked almond flavor is ruling supreme. The oak note is still there but the coffee has faded away… Complex, flavorful, damn near perfect construction, the Sobremesa Short Churchill is a grower not a shower in that it grows into an exceptional smoking experience that not only does the Sobremesa name proud but it then takes it to another level. It's a goddamn great cigar…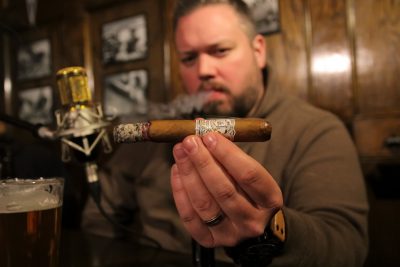 …The cigar features a beautiful light brown Ecuadorian Connecticut wrapper with minimal veins, minimal seams, and it even has a little sparkle to it. Factoring in the appearance and the enticing smells coming off this sucker, I can't remember when all four of us were this enamored with a cigar before we even set it on fire… A strong pepper blast on ignition was quickly followed by bready toast note. Smoke production is plentiful and within minutes a nice creaminess presents itself. While the pepper remains only on the retrohale, the toast and cream are the dominant flavors in the first half. I also picked up a unique mint note and coffee flavor before the end of the second third…
…The rustic cigar is firm to the squeeze with just the right amount of give and everyone picked up an unsweetened ice tea flavor on the cold draw. Tons of smoke pours off this sucker upon ignition but it calms down a bit once the burn line finally meets up with the receded wrapper. Speaking of the burn line, despite the loose shaggy foot the cigar maintains a razor-sharp burn line, a perfectly uniform ash, and construction as a whole is fantastic… Green tea, cedar (which joins the party immediately when the Mexican San Andres wrapper catches fire), cream, and cinnamon are all present from the early goings…
…Notes of graham cracker, subdued cedar, and milk chocolate swarm your palate early on. It's like you're smoking one of those delicious Little Bucket Parfaits the cold heartless bastards at KFC decided to discontinue for some stupid reason several years ago… fuckers… This is one tasty, nuanced cigar and if Willy Herrera and the factory floor cigar wizards at Drew Estate were looking to fill the void between the dark Undercrown Maduro and the light Undercrown Shade then I say it's mission accomplished…
…In conjunction with the cedar and cream, a leather presents itself on the draw and some pepper appears on the nose around the halfway mark… It was a weird occasion in that we all experienced the same flavors but mostly at different times during the smoking experience, that's a first and I think it's kind of a cool first. The Oscar Habano keeps you on your toes, it's a delicious interesting cigar – seek it out!
HONORABLE MENTIONS:
…As I lit up the Bellas Artes short churchill (6 x 48) from AJ Fernandez my eyes lit up as well. This cigar makes a wonderful first impression both from a taste and aroma perspective… There is orange peel on the retrohale. As the smoking experience continues, flavors of cashew, salty caramel, and a floral component also present themselves. Construction remains impressive throughout…
…An incredibly strong blast of spicy pepper greets you on the retrohale upon toasting the foot of the Blue Label with a leather note coming through on the draw. Earth, spice, strength, if you blindfolded me and gave me three guesses as to what country this cigar originates from I'd only need one – this baby has Nicaraguan puro written all over it…
THE NUB
There are some major announcements on the horizon as far as the Tuesday Night Cigar Club is concerned so stay tuned as 2018 is looking to be the biggest year yet for us. A giant Thank You is in order to everyone who watches or listens to our unique show every other week and joins the party. There's no one else out there doing what we do and we are grateful that you dig it enough to keep coming back for more. Our livers may hate you but our hearts love you all.
May the wings of liberty never lose a feather. Now let's bring another round!
* "cigar boner" © copyright 2017 Tuesday Night Cigar Club