Well this was a fun one! You'll have to forgive me once again, as you loyal TNCC fans know by now the month of October is my favorite time of year and we tend to go a bit crazy around now. I love horror films, I've made a few horror films, and nothing makes me happier than sitting around my favorite table with my favorite crew of numbnuts and talking our way through a classic horror film as only we can. Add a phenomenal cigar and tasty adult beverage into the mix and you've got The Tuesday Night Cigar Club firing on all cylinders. So watch/listen to the show below and join our Oktoberfest 2017 Drunk Fest & Drinking Extravaganza!!! And, yes, I'm still working on that name…
Size: 4 3/4 x 48
Factory: Fabrica de Tabacos Joya de Nicaragua S.A.
Wrapper: Ecuador La Meca Ecuador Habano Grade 1
Binder: Mexican Matacapan Negro de Temporal
Filler: Nicaraguan (GK Condega C-SG, Pueblo Nuevo Criollo, La Joya Estelí C-98, ASP Estelí Hybrid Ligero) & Pennsylvania Broadleaf Ligero
MSRP: $10.45 (Boxes of 14, $146.30)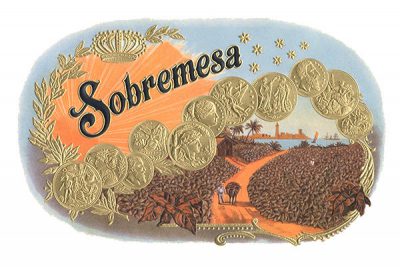 Speaking of our loyal fans, if you've listened to the show from the beginning you're well aware that the Sobremesa line from Steve Saka holds a special place in our collective humidors. Steve launched Dunbarton Tobacco & Trust in 2015 shortly after we began the podcast and later that year we named the Sobremesa El Americano our #1 Cigar of 2015 and the Sobremesa Elegante en Cedros was our #4 Cigar of 2016. So it goes without saying (but I'll go ahead and say it) that our expectations were sky high as we slid the cellophane off the Sobremesa Short Churchill. There's chocolate on the cold draw (some said dark, some said milk) and a raisin-like fruit aroma on the nose.
A strong peppery spice sensation on the retrohale immediately makes its presence known upon toasting the foot. "HERE I AM YOU SONSOFBITCHES! WHATCHA THINK?!?" There's that chocolate we were expecting and the familiar Sobremesa cedar note on the draw and mixed in with that powerful pepper note it all makes for a fantastic first impression. The boys also picked up a freshly roasted coffee bean note early on as well. A stack-of-dimes ash quickly starts forming and that's a hint that construction on this puppy will be perfection throughout. A nuttiness also soon emerges, think almonds, and it compliments the chocolate and the woodsiness (now oak) beautifully.
Halfway through the smoking experience, the smoked almond flavor is ruling supreme. The oak note is still there but the coffee has faded away. The Doctor boldly confessed that "much like I tell my prospective dates, don't let the size fool you as this baby can last for a considerable amount of time" and he's right, for a small cigar the Sobremesa Short Churchill burns slowly and lasts well over an hour. Tut then blurted out that this was "his favorite incarnation of the Sobremesa blend" and I tend to agree. It has most of the elements of the original blend with the amped up profile of the Elegante En Cedros but it's more disciplined and completely refined. Complex, flavorful, damn near perfect construction, the Sobremesa Short Churchill is a grower not a shower… in that it grows into an exceptional smoking experience that not only does the Sobremesa name proud but it then takes it to another level. It's a goddamn great cigar, four big thumbs way up. Now that our in-depth study of the various Sobremesa blends is complete we can hopefully move on to the latest Steve Saka creation very soon!
The Shiner Oktoberfest is a traditional Märzenq-Style ale the likes of which you see many folks slurping down every year come Oktoberfest. Malty, bready, yada yada yada, are any of these descriptors ringing any bells? No? Well they didn't to us either… at first.
I'd say a little more about the Shiner Oktoberfest but what's the point, here's a video teaser of what went down on tonight's episode as far as the beer is concerned –
Yep, it finally happened folks. To learn more about what your favorite crew of drunken idiots thought about the Shiner Oktoberfest, read my original review when we drank it for the FIRST TIME ON THE SHOW way back in Episode 19. I'd say it's mindboggling that we discussed the same fucking beer twice for hours on end without any of us catching on but, honestly, it's probably a small miracle that it didn't happened sooner…
Tonight we sadly filled The Boot Of Remembrance once again. Back on July 16th the world lost one of the few true masters of horror when George A. Romero passed away at the age of 77. Romero, of course, went from running a tv commercial production company in Pittsburgh to INVENTING the walking dead genre with 1968's Night Of The Living Dead and he'd go on to write and direct other horror classics such as The Crazies, Martin, Dawn Of The Dead (the greatest zombie film ever made), Day Of The Dead, and then he closed out his career with a second trilogy of undead films as well.
Tonight's film Creepshow is a career highlight and I believe it's the only film Romero directed that he did not write the screenplay for himself (it was in fact written by his close friend Stephen King). Romero was a master at allegorical horror. He was never afraid to inject racial politics when it was taboo (Night Of The Living Dead), make damning statements about consumerism without audiences even realizing what he was up to (Dawn of The Dead), ol' George was a crafty storyteller in that he did everything with a mischievous twinkle in his eye and he put loads of subtext in his films without it ever getting in the way of the driving action and most importantly the fun. That's why I chose Creepshow to discuss this evening, it's just so much damn fun.
By all accounts George Romero was a terrific father and a loyal friend, The Doctor and I had the pleasure of meeting him back in 2010 and while our conversations were brief he exuded a real genuine warmness that you just can't fake. His presence is already missed.
THE NUB
Well despite the fact that we ignorantly reviewed a beer that we had previously reviewed years ago (it's almost like we've been under the influence of some potent substance that fogs the mind and wipes memories clean… a sudsy delicious substance perhaps) this show was one for the books. So find yourself a Sobremesa Short Churchill, pour a beer into your favorite ridiculously oversized glass, and watch/listen to the show below!
Please leave us comments on the YouTube episode page, provide us with a review on iTunes, or be a real stud and do both! All these seemingly small gestures would be greatly appreciated as they let us know exactly what you're thinking about this sweat soaked tidal wave of hardbodied insanity we like to call The Tuesday Night Cigar Club.
Below is tonight's full episode for both your viewing and listening pleasure. Thank you for checking out The Tuesday Night Cigar Club and we'll see you next time when we review another cigar, adult beverage, and film. May the wings of liberty never lose a feather…
Podcast: Play in new window | Download (110.2MB)
Subscribe: Apple Podcasts | RSS