Cigar: Intemperance Whiskey Rebellion 1794 Washington (5 1/2 x 54)
Company: RoMa Craft Tobac
Wrapper: Ecuadorian Habano
Binder: Indonesian Besuki
Filler: Dominican and Nicaraguan
Price: $7.85
Acquired: Purchased five-pack from Famous Smoke Shop
Elements: Corner Of No Hope / Imperial Java Stout by Santa Fe Brewing Company / a big fucking bottle of Cabernet Sauvignon

I had such high hopes for reviewing this cigar on the Tuesday Night Cigar Club Podcast back in December of 2016 but, as you loyal viewers and listeners are well aware, I came down with some very serious throat issues (keep your jokes to yourself please) and we were unable to record our last show of the year. So we did a little something different than our usual Beyond The Pod web reviews, the TNCC crew and I sat down in The Corner Of No Hope and we all lit up the Intemperance Whiskey Rebellion 1794 Washington cigar while each of us recorded highly detailed notes of the smoking experience based on our expert observations (keep your jokes to yourself please). I even passed out pens and little note pads, that's professional level shit right there. I then went on to smoke 2 more of the Washington vitola over the next few weeks, so the review below is based on a compilation of all of our individual experiences but mostly mine. Just the way it should be.
There were a few very minor soft spots on the Whiskey Rebellion when gently squeezed much like myself at times. The beautiful, oily, dark brown wrapper is just slightly recessed back away from the binder and filler at the base of the foot and the prelight sniff reveals dark raisin and sweet tobacco.
I clip the head of the torpedo with my scissors and we're off (that sweet tobacco was present on the cold draw as well). Did you know that George Washington, our great nation's first president, was a cannibal? True story folks, he picked his wooden teeth with the bones of the children he ate.
1/3
A nose tingling spice immediately hits upon ignition. That peppery spice very quickly vanishes into thin air at almost the exact moment when the burn line first reaches the recessed wrapper. Coincidence? I don't think so. Cigar blending wizardry at play? In my expert opinion, I believe that to be the case.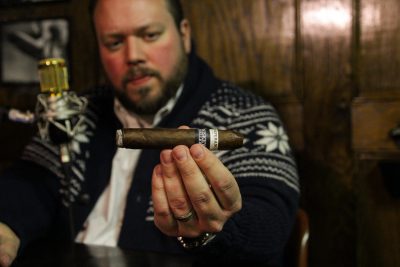 The spice is now relaxed with a deep woodsy oak note and a unique mineral earthiness that I haven't experienced in a cigar for a very long time. It's a flavor that first came across my palate with a Joya de Nicaragua Antano 1970 Gran Consul (the short & stocky delicious fatsos) back in 2011 and I've been hunting it down like a deranged madman ever since.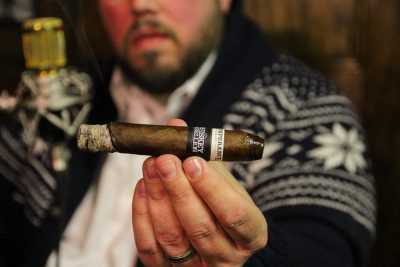 And then a creaminess joins that earthiness. This mix of cream and dark Mother Earth dominates throughout the first third.
2/3
What's surprising me most here so far is how much milder the Whiskey Rebellion is compared to the rest of the Intemperance line of which I'm a big fan (it was our #3 cigar of 2016). Don't get me wrong, she ain't mild but she certainly seems calmer and more restrained than her sisters. But this cigar's flawless construction falls right in line with her predecessors – perfect draw and a dead even burnline which produces a thick strong ash that doesn't fall until the halfway mark.
Flavor wise, the second third continues the nice balance of cream, oak, cedar, and mineral. Really fucking smooth.
3/3
Slight but welcome notes of coffee and milk chocolate creep in right as the strength creeps up a notch. That oak and cream still rule the day however.
Towards the end, the creaminess disappears and we are in full-on strong woodsy mode the rest of the way but it's an extremely tasty mode so I'm not complaining one bit.
THE NUB
Interesting pairing note – I smoked three of the Intemperance Whiskey Rebellion 1794 Washingtons for this review. Two I paired with an inexpensive Cabernet Sauvignon (California) and one I paired with the Imperial Java Stout by Santa Fe Brewing Company. It feels weird to say, knowing who blended the cigar and his personal drinking preferences, but I much preferred the wine to the beer. The cheap hooch really seemed to accent the cigar's flavors and not compete with them in the slightest. On the flip side – the beer definitely drew out the coffee and chocolate aspect to the Whiskey Rebellion if that's what you're wanting to focus in on, and who the hell is going to bitch about that?
I really enjoyed this cigar and I'm going to push for us to revisit it on a future episode on the Tuesday Night Cigar Club podcast so everyone can get another round with it. Seek it out and let us know what you think! You know, looking at those two pics above of my fellow TNCC members facing off, it reminds me of the classic bit "Count Pointer Count" from one of my favorite films of all time 1977's The Kentucky Fried Movie. So I'll leave you with this video below, isn't it funny how movies can indeliberately predict the future sometimes? Well maybe funny isn't quite the right word these days… Until next time friends!!!