Happy New Year!!! Yeah, whatever. I hate new years celebrations, I loathe them actually, but to say that I was excited to see that calendar flip so the crew could get back in the Corner Of No Hope and do what the Tuesday Night Cigar Club does best… well that would be a giant understatement. Despite us having to start the proceedings off by filling the ceremonial Boot Of Remembrance, I think we've got a fun show for you tonight. All the elements were present, everything lined up perfectly, to start the year off just right. Now speaking of those elements…

We here at the TNCC have been big fans of the Leaf by Oscar cigar series for quite a while now, so we were all a little antsy to try out one of the latest offerings from that same manufacturer Oscar Valladares. The 2012 Rebirth series has been created to celebrate Oscar's 5 year anniversary in the industry and I chose the Connecticut model for us to obsess over tonight. The box pressed toro cigar was wrapped in a beautiful Connecticut Honduras wrapper that almost sparkled in places when twirled in the hand. Tut picked up on some raisin and fruitiness on the cold draw while I immediately commented on the smooth open draw and intense smoke production unleashed upon torching the foot. First flavor impressions made were a woodsiness (cedar) and a nutty component (almond).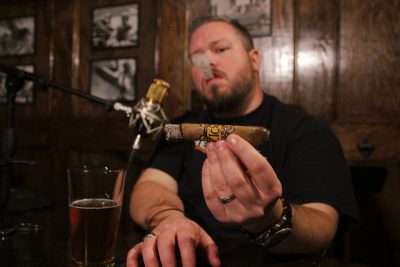 I wouldn't classify the cigar as mild in strength at all, it's got a little force behind it for a Connecticut. The early notes of cedar and almond continued on throughout the remainder of the smoke with few deviations. We all continued to remark on the fantastic construction. I only had to relight mine a few times but only due to me running my big mouth so much which is a given on any Tuesday night. The 2012 Connecticut by Oscar, Rebirth Edition is a very different cigar than the Leaf by Oscar Connecticut which is a testament to the manufacturer. Oscar Valladares could have stuck with what worked and copycatted a winning formula but instead he has created a different cigar with a fairly singular profile (that cedar and nuttiness) and that singular profile is highly enjoyable. At a reasonable price point of $8.50 I recommend you pick one of these for yourself and let us know what you think!
If the blonde ale is truly "the light beer of ales only more flavorful" as our resident beer expert Yak Boy described it, then the Ski Boat Blonde Ale almost fit that definition to a tee. The beer poured amber in color and the first few sips revealed some really nice citrus notes and a noticeable happiness with zero bitterness. You can taste the hops without it biting back which I guess is ok for all you anti-IPA guys and gals out there… silly wimps.


Tut fought tooth and nail tonight, as you'll see/hear on the show below, that this wasn't what he expected from a blonde ale and I believe that to be a good thing. And more importantly than whatever Tut thinks about anything, the beer let tonight's cigar be its own entity without impeding on it all while still bringing something cool to the table. The Ski Boat Blonde Ale accomplishes its goal – we'd drink the hell out of this beer while hanging out on the water with the sole mission of drinking a shit ton of flavorful beers and forgetting our troubles. And, most often, forgetting our names…

I suppose you're thinking right about now that you know everything about South Beach Academy just by looking at the awesome poster above. I suppose you think you're better than South Beach Academy don't you, you uppity arthouse prick? Well you're right on the first part (the poster pretty much sums the entire film up nicely) and completely wrong on the second (but I'm sorry for calling you a prick). As you diehard TNCC fans know, we like to start off the new year with a good ol' fashioned T&A flick and South Beach Academy did NOT disappoint us.


Yes, the film stars Corey Feldman and we go into great detail on the show discussing not only his performance but his entire catalog of craptastic movies and occasional oddball "musical performances". But more importantly the film stars one of our favorite thespians of all time – Mr. James "Lo Pan" Hong!


And that leggy babe tied up on the bed is none other than Elizabeth Kaitan of Friday the 13th Part 7 fame!


Sorry about the choice of photo, for some reason the only still pic I could find of the lovely Ms. Kaitan from tonight's film had her holding that ridiculously large cell phone to her ear. I swear there's scenes of her without the phone or anything else on for that matter! Look, you know we're going to have fun with this flick so why don't you just watch or listen to the fucking show below already. What are you waiting for dudes? Let's get this party started!!!
THE NUB

If tonight's episode is any indication, it's going to be a good year for us here at the Tuesday Night Cigar Club. With all the scary bullshit out there in the world, all the negativity you can't help but encounter at every turn these days, I want our show to be an escape from that. Until, that is, we get hammered in Hour 3 and start talking politics and throwing pint glasses at each other. But just let those first two hours be your happy place…
Please leave us comments on the YouTube episode page, provide us with a review on iTunes, or do both! All these seemingly small gestures would be greatly appreciated as they let us know exactly what you're thinking about this sweat soaked tidal wave of hardbodied insanity we like to call The Tuesday Night Cigar Club.
Below is tonight's full episode for both your viewing and listening pleasure. Thank you for checking out The Tuesday Night Cigar Club and we'll see you next time when we review another cigar, adult beverage, and film. May the wings of liberty never lose a feather…
Podcast: Play in new window | Download (81.6MB)
Subscribe: Apple Podcasts | RSS