Tonight's show is a fun one. We discuss fandom a lot this evening ~ whether it be in the world of Hollywood celebrities, premium cigars, or even spin bikes. It's fascinating what people will become passionate about to the point of obsession, isn't it? Well, on that note, Southern Draw Cigars is passionate about its devoted fanbase and to celebrate the holidays and make a few folks at home very happy they've passed along some very cool swag for us to giveaway to you!
So here's the deal. You must follow the Tuesday Night Cigar Club on Facebook, Instagram, and YouTube to be eligible to win. Find the social media post for this episode on either Facebook or Instagram and leave us a comment telling us what your favorite Southern Draw cigar is and WHY. The WHY is the crucial part we're looking for, we want to know why you love the cigars that you keep going back to time and time again. We will give it a few days and then pick some winners to receive some fantastic Southern Draw swag! We've got t-shirts, we've got beanies, we've got glassware, BUT you've got to follow us and leave comments to have a chance to win! Oh, and we also have two other prizes…
For your chance to win either the 64 oz RTIC thermos engraved with the Southern Draw logo OR the super impressive custom made Southern Draw ashtray (both pictured above) you must listen or watch the show below and answer the 2 trivia questions that we ask during the episode. There's two questions hidden somewhere in the podcast and once you've got your answers all you have to do is send us a direct private message on either Facebook or Instagram to be eligible to win. Both these prizes are amazing but you gotta press play to play suckas!!!
Size: 5 1/2 x 52 (belicoso fino)
Wrapper: Ecuadorian claro
Binder: Nicaragua
Filler: Honduras & Dominican Republic
Price: $11.99 (Famous Smoke Shop currently has them on sale for $107.99 for a 10 pack so if you apply promo code TNCC20 that's $87.99 which drops the price down to $8.79 a stick! That's over $3 less, holy shit!)
This should be very interesting as the original Rose Of Sharon which we reviewed way back on our "Pretty In Pink" episode was a huge hit with us, so much so that we named it our Top Cigar of 2017, #1 cigar of the year! We loved the ying and yang of the original Rose Of Sharon, that woodsiness and the creamy vanilla latte coffee note danced expertly with the pepper on the nose (retrohaling is a must with that cigar). Southern Draw's boss lady Sharon Holt is on record as stating that the "Desert Rose has a heartier wrapper and is a more robust version of our original blend" (and she should know as the cigar is named after her).
A beautiful silky wrapper revealed a very distinct sweetness, think English Breakfast tea with honey, and hay on the cold draw. There is slight white pepper and some Nicaraguan mineral on the retrohale upon torching the foot and a nice cedar flavor presents itself immediately on the palate. There's also that tea note present on the draw as well.
We loved the original Rose Of Sharon because it was a complex, somewhat masterfully complicated cigar that expertly danced around with some more delicate subtle flavors and the Desert Rose retains that profile while having a bit more presence to it. We attributed that to the standout feature of more Nicaraguan mineral earthiness on the nose that was not found at all in the original blend and it works so well with that tea. But overall it retains that medium strength coffee/tea component (way more black tea than coffee this time around) presence on the draw that is the Rose signature, this new variation doesn't betray that aspect one bit. Tut said it was a nice twist on the "well constructed jazz", to use a musical analogy, of the original and we agreed with him for once. Phenomenal construction, new nuances, and I did get that original vanilla note in the final third, THREE BIG THUMBS UP!!!
TNCC FINAL SCORE: 93
Size: 6 1/8 x 52 (piramides)
Wrapper: Connecticut USA
Binder: Peru
Filler: Nicaragua
Price: $6.39 (Famous Smoke Shop currently has them on sale from $63.90 down to $57.99 so that drops it down to $5.79 a stick and if you order two bundles of ten and apply promo code TNCC20 that'll get you this cigar for $4.79 per stick. Pure Insanity!!!)
300 Hands, or 300 Manos if you want to get fancy with it, refers to the 300 hands of various workers from the tobacco fields, to the rolling tables, and everywhere in between and after – that are all involved with the making of a single premium cigar. Each bundle comes with an trading card of an actual worker, a craftsman, and it tells you a little bit about who they are and what their personal message is to the end consumer. Over the years, Robert and Sharon Holt from Southern Draw have met and interviewed literally hundreds of workers in Nicaragua and listened to their challenges and daily needs and they decided this was a unique way to both give these individuals some much deserved exposure and help them out. How do they help out, you ask? Well Southern Draw donates 25% of all profits from the 300 Hands line to local charities. That's awesome! We're talking medical services, education, rebuilding churches, and worthwhile things such as that. So smoke one of the 300 Hands for a great cause and you might just come back to it again and again because it's a fine cigar – I say that based on the Habano and the Maduro offerings that I've smoked plenty of over the last year and also on tonight's Connecticut blend (featuring bready and woodsy notes) which we all really enjoyed as well.
Against The Grain's website offers this description of tonight's beer:
"Dark roasted malt and bittersweet cocoa and coffee flavor and aroma burst from this pitch black milk stout. The full body and sweetness are derived from the addition of lactose (aka milk sugar) which is not fermentable by beer yeast. A healthy dose of English Kent Goldings hops provides a counterpoint to this ale's rich and complex maltiness."
AND they pretty much nailed it! I think the milk sugars used in their brewing process might tone down slightly the heavy fucking coffee presence that usually turns me off to most stouts. As a non-stout guy, I truly enjoyed the hell out of this smooth beer. There's just a tinge of hop bitterness that works super well with the maltiness and usual stout flavors to rise this beer to the upper echelon of my favorite darker beers we've featured on the show in recent memory. The 35K truly does go against the grain! Ugh, sorry, it was too easy…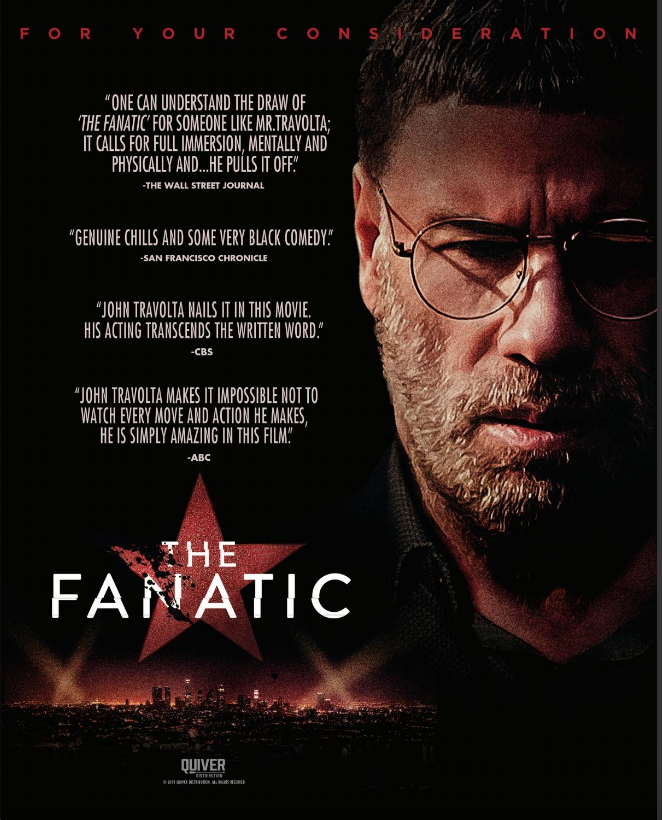 Yes, the above image is a promotional "For Your Consideration" ad wanting Academy Award voters to nominate John Travolta for his portrayal of "Moose" in tonight's film The Fanatic which is written and directed by Fred Durst, the lead "singer" for the "band" Limp Bizkit. And… wait for it… the Tuesday Night Cigar Club couldn't agree more.
Simply put, Travolta crafts a truly amazing, highly unique character that you can't take your eyes off of in what is essentially a Lifetime Channel movie of the week. While the plot is all too familiar (as well are ALL the stereotypical supporting characters surrounding him), Travolta's Moose is unforgettable and that is only due to a veteran actor putting in the work and delivering the goods. It just would have been nice if Moose appeared in a better film…
Well ladies and germs, we have one more show to release on you before the end of the year and then that'll be it for your favorite crew of drunken numbnuts. Just remember – we may drink a lot and use a lot of naughty words and we may drink a lot – but we love our fans. Please leave us comments on the YouTube episode page, provide us with a review on iTunes, or be a real stud and do both! All these seemingly small gestures would be greatly appreciated as they let us know exactly what you're thinking about this sweat soaked tidal wave of hardbodied insanity we like to call The Tuesday Night Cigar Club.
Below is tonight's full episode for both your viewing and listening pleasure. Thank you for checking out The Tuesday Night Cigar Club and we'll see you next time when we review another cigar, adult beverage, and film. May the wings of liberty never lose a feather…
Podcast: Play in new window | Download (79.1MB)
Subscribe: Apple Podcasts | RSS