It's summer time baby! Ugh just kill me now, it's so fucking hot and miserable outside… Anyhoo, it's been a while since we seduced our way in to your eye and ear holes and a major reason for that was your favorite podcast host finally got Covid after all this time. So that took forever to bounce back from, actually I think I may still have it… that shit lingers boys and girls. Covid's like genital herpes only there was absolutely no fun involved with catching it. However, after watching tonight's movie multiple times while bedridden and ill, I think I may have been misdiagnosed and I actually had the Hot Moves instead!
Not to sound like yet another crazy conspiracy guy in the cigar industry but I couldn't help but notice that the government didn't send us any free home testing kits for the Hot Moves. Just sayin… And the only known cure for the Hot Moves is? Thankfully there is no cure for the Hot Moves. So let's go!
Size: 6 x 52 (box pressed toro)
Wrapper: Mexican San Andrés
Binder: Nicaraguan (Jalapa)
Filler: Nicaraguan (Estelí corojo & Jalapa corojo)
Price: $10.00
Villiger has contributed a limited edition cigar to the Tobacconists' Association of America's Exclusive Series for 2022 with a portion of the proceeds going to benefit the industry organization. This is the third year that Villiger has created a special blend specifically for the TAA, a group consisting of 80+ retailers across the United States. When I decided to feature a classic 80's T&A movie tonight, it only made sense to take things up a notch pairing-wise with a T&A&A cigar. That's double the ass and that's how it is done, folks.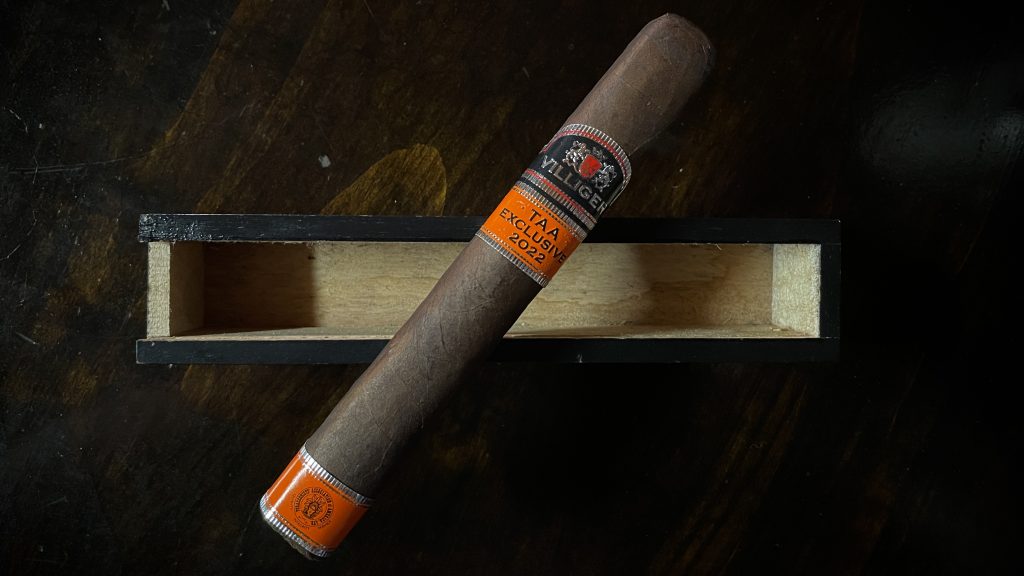 The Villiger TAA 2022 is a very attractive cigar and the black/orange color combination on both the primary and foot bands visually pops. There's dried fruit and a hickory aroma detected straight off the Mexican San Andrés wrapper and a strong Jalapa sweetness joined by some barnyard is detected when sniffing the foot of the Villiger TAA 2022 directly.
After experiencing a cold draw that was loaded with sweetness ("Sweet raisins!"), we put flame to foot and while Tut picked up on primarily bold leather and earth via the draw as opposed to Yaks and I experiencing more woodsy hickory flavors with the earthiness being a side note WE ALL couldn't deny the unrelenting black pepper spice flooding our nostrils.
Around the fifty yard line, the Villager TAA 2022's smoke production becomes copious just as a lighter roast coffee note joins the profile and the Jalapa sweetness has now transformed in to a more chocolaty dessert type of sensation… if that sounds good it's because it is. Construction overall was very good with a smooth draw and a satisfactory burn from start to finish. Full body and damn near full strength throughout the duration of the smoking experience, the Villiger TAA 2022 somehow comes across as aggressive yet totally approachable. We enjoyed the cigar's power as well as its core flavors quite a bit.
Once again folks, usually (before the mini apocalypse was thrust upon all of us in 2020) we would carefully – some of you have said "expertly" – pair our evening's beer with the cigar and movie and we'd all sit around the table and drink that same beer and compare notes. But since this whole COVID-19 shitshow went down, each member of the TNCC is now solely responsible for risking their lives out in the wild and acquiring their own beers for each episode… usually with very mixed results.
The Doctor couldn't join us in smoking tonight's cigar but we were still hoping he'd find a clever way to tie his beverage selection to our film discussion this evening – SPOILER ALERT – he did not. For some reason Doc chose the 5.2% 40 IBU Swifty American Pale Ale and to say his beer paled in comparison with the ones we all chose would be an understatement. Having said that, he enjoyed the Swifty's crisp tasty nature and reported that he could easily down a cooler of these out on the golf course. So there's that.
THE DOCTOR'S PAIRING GRADE = F
Our film tonight does indeed take place on a beach so choosing a selection from Sun Lab Brewing makes sense… yes, it's a somewhat loose and lazy pairing but at least it's better than The Doctor's choice of beers. This 7% ABV double dry hopped hazy IPA features s shit ton of hops (Citra, Cashmere, Chinook, and Azacca) dosed with some blood orange. That citrus pulled the cigar's natural sweetness out of the shadows and Yaks found the overall experience to be delicious on all fronts.
YAK BOY'S PAIRING GRADE = C+
This 6.7% 30 IBU mango heavy IPA is equal parts refreshing and tasty. Whether you're trying to cool down in the 115° Central Texas heat or looking for a fruit-forward beer to (much like Yak Boy's hazy IPA) bring out the sweetness in your cigar – you can't go wrong with the 1985… and so that my beer selection makes sense, our film Hot Moves may have come out in 1984 but it wasn't until 1985 that it was nominated for a much deserved Peabody Award when it unfairly lost out to the television special "The Hollow Victory: Vietnam Under Communism" thanks to that lame ass nerd Ted Koppel…
CADE'S PAIRING GRADE = A
This 4.5% 15 IBU Mexican pilsner-style beer is usually paired with tortilla chips and queso around these parts but Tut had the notion that it could possibly pair well with a cigar also. Was he right? Well, speaking of lazy, you're just going to have to watch or listen to the show in order to find out! Let's just say that the Pacifico did nothing to help bring out the cigar's underlying sweetness unlike my expertly chosen IPA. And, yes, our movie takes place along the Pacific Ocean so… way to go, Tut?
TUT'S PAIRING GRADE = C-
Now this classic came out in 1984 which is one year after the release of two Porky's flicks, the fantastic Spring Break, Hot Dog: The Movie, and Screwballs. Man, 1983 was a killer year to be a young horndog who's parents had HBO… But then the calendar flipped to 1984 and we got Up The Creek, Bachelor Party, Revenge Of The Nerds, Hot Moves, and fucking Harbodies! I may have only been in elementary school at the time but I knew something special was taking place in the world of T&A cinema, I could sense it in my rapidly developing balls… I just knew it! It's worth mentioning that one year later in 1985 we also got both movies Hot Resort and Hot Chili which I almost chose to feature tonight but there'll be other TNCC summertime fiestas I suppose…
First off, if you don't care for multiple montages of hot chicks in string bikinis rollerskating then Hot Moves may not be the film for you. Also, if you don't care for multiple montages of hot chicks in string bikinis rollerskating then perhaps the Tuesday Night Cigar Club podcast isn't for you either.
We've all got the Hot Moves baby and tonight's film discussion is full of fun, laughs, and ultimately an assload of pure sexiness. It's honestly the only way we know how to be. Hot Moves does the "four white dudes in search of parties and poontang" genre proud, that's for damn sure. And you'll learn all about what Tut refers to as the "Dance With The Hillbillies" which may or may not be another scintillating tale from his time on the Travis Tritt tour which may or may not have ended up with him having a sad cause of whiskey dick… SO click the links at the bottom of this page and join the party NOW!!!


Please leave us comments on the YouTube episode page and subscribe while you're there, provide us with a review on iTunes, or be a real stud and do both! All these seemingly small gestures would be greatly appreciated as they let us know exactly what you're thinking about this sweat-soaked tidal wave of hardbodied insanity we like to call The Tuesday Night Cigar Club.
Below is tonight's full episode for both your viewing and listening pleasure. Thank you for checking out The Tuesday Night Cigar Club and we'll see you next time when we review another cigar, adult beverage, and film. So I know this was our big T&A party episode but as I prepared myself to say my signature closing catchphrase at the end of the show, I realized that I'd be sticking my head in the sand if I didn't at least recognize what the fucking clown car we call the Supreme Court just did to the women and young girls in this country. Former Wyoming senator Alan K. Simpson once said "There is no slippery slope toward loss of liberty, only a long staircase where each step down must first be tolerated by the American people and their leaders"
Y'all quit tolerating this bullshit and start electing some sound-minded leaders who actually give a fuck about what we – the vast majority of Americans living and breathing in the MIDDLE of the political spectrum – think about shit. And I'm talking to both sides here. Enough of these fringe-pandering mental midgets, dickless psychos, and woke jokes – let's get tough, all of us, and take this country back from the abyss before it might be too late. You've got the Hot Moves America, now fucking act like it. And, more importantly, vote like it. May the wings of liberty not lose any more feathers…
Podcast: Play in new window | Download (58.7MB)
Subscribe: Apple Podcasts | RSS