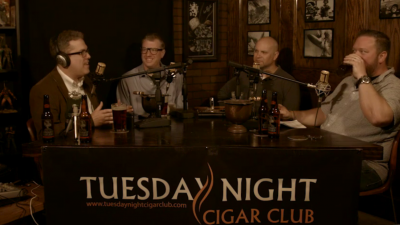 I heard the quote above from iconic musician Mike Patton (Faith No More, Mr. Bungle, Fantomas) on a BBC interview this morning and it reminded me SO MUCH of our attitude here at the TNCC. Here we are 30 episodes into this crazy thing and we are still so fucking different than anything else out there and we're still confidently diving off cliffs blindfolded every night we turn on the mics. That's not to say we don't prepare, that we don't hustle our asses off, and that we don't care if our work finds an audience. Nothing could be farther from the truth. What it does mean is that we are not concerned with fitting into any molds or templates of what a "cigar podcast" or a "film podcast" should be and our growing audience numbers reveal that you appreciate that we're doing something unique out here on the fringe. So thank you.
The La Gloria Cubana Serie RF is the latest exclusive from Famous Smoke Shop following in the footsteps of the other exclusive lines that we've reviewed recently on the show (Joya de Nicaragua's Merciless and Cunning). Famous Smoke Shop got wind of what the TNCC was up to and they submitted this week's cigars for our expert analysis and evaluation. What's so funny? We are experts, the internet says so. Stop laughing! The bright yellow and red band really pops visually on the cigar, contrasting nicely with the dark natural Ecuadorian Habano wrapper. There's a pleasant aroma immediately unleashed upon torching the foot and we all experienced a nice spice of medium strength right out of the gate.


Throughout the duration of the smoke, the crew all commented on the top notch draw of the cigar which allowed flavors of coffee, cream, cedar, and finally a pleasant leather note to swirl around our palates. The unobtrusive spice came and went but was never overpowering. This cigar ended on the mild side of medium strength and flavor wise had something for everybody. I'm curious if we'd have a somewhat different experience with the cigar if it was paired with a different beverage than we chose tonight but luckily at this price point (just shy of $7 and possibly cheaper if you keep an eye on Cigar Monster) there will be plenty of opportunities to experiment down the road. There were lots of things going on with the pairing in this episode and much more revealed about the smoking experience so, as always, I encourage you to click PLAY below or head over to iTunes to listen for yourself!
The hops in this beer are deliciously THROUGH THE FUCKING ROOF. Stone Brewing doesn't reveal the IBU of their beers (which kind of makes them arrogant bastards, am I right?) but I'm going to guess it's around 1,000,000. Which for a bitter bastard like me is pure heaven. There's a nice smokiness on the front end before the hops jump in and take the driver's seat. We all really enjoyed this ale BUT as a beer to be paired with a cigar I would highly recommend avoiding the this bourbon-barrel aged bad boy. The hoppiness of the Arrogant Bastard just killed the mild/medium cigar. The word overpowering is an understatement. This is a "stand up and look at me!!!" beer and the backwash totally eliminates the pleasant flavors of the cigar. PAIRING FAILURE. Once we decided as a group to give the beer and cigar a little space away from each other we began to appreciate them individually a lot more both for what they are and for what they are not.

Let me tell you something brother, tonight's discussion is pure Tuesday Night Cigar Club at its absolute best!


We begin with a highly opinionated debate over Hulk Hogan's recent court victory over Gawker Media concerning his leaked sex tape and then we hold our noses and dive right in to the craptastic dookie fest that is Hogan's box office blunder No Holds Barred. Here's a little taste to wet your chops, brother!

It's pretty clear after watching this film and dissecting it scene-by-scene, as only the TNCC can do, why exactly The Hulkster never became a movie star. On the surface it seems as though his many years of wrestling showmanship in the ring could only aid him in playing anything from…

to…
…but, alas, he's just terrible at everything. Like really really terrible. But all is not lost! As is often the case around here, a bad movie leads to an amazing Tuesday Night so make yourself a drink, light up a stogie, kick your size 17 yellow wrestling boots up and get busy listening to the show. RIP EM!
THE NUB

There's a masochistic part of me that likes it when occasionally our films and libation pairings turn out to be duds. It causes us to look at each cigar and beer differently and explore other potentially suitable pairing partners for them and when a film stinks it naturally leads the conversation to interesting areas we may not delve into otherwise. I hope you dig this episode as much as I do. We are going to take a very brief hiatus here in The Corner Of No Hope (our first break ever!) to welcome a new little addition to the TNCC family but we shall return in May with more entertaining goodness for your earholes. May 13, 2016 to be exact. Wait, why that's a Friday the 13th…

Thank you for checking out The Tuesday Night Cigar Club and we'll see you next time when we review another cigar, adult beverage, and film. May the wings of liberty never lose a feather…
Podcast: Play in new window | Download (278.2MB)
Subscribe: Apple Podcasts | Android | RSS