TRICK OR TREAT MOTHERFUCKERS!!! As you loyal listeners know by now, October is a very special month here in The Corner Of No Hope. We all love Halloween and we've rushed liked a bunch of crazed psychos to get this episode into your earholes just in time for your favorite spooktacular festivities. So, bearing this mad rush in mind, I'm going to be forced to keep this episode page much shorter than usual. There will be some questions left unanswered, there will be dramatic cliffhangers, there might – just might – be a lover's quarrel that ends with two hilariously entertaining podcasters stabbed in the gut with a broken pint glass. You're just going to have to watch the damn show below and find out for yourself suckas!

There's lots of cool, unique aesthetic touches being put into play down at Fabrica Oveja Negra (Black Label Trading Company's factory in Esteli, Nicaragua). I don't believe that I ever had a cigar featuring a chocolate chip shaped cap before tonight. Mix in the closed foot and the bright fresh blood colored band and the Bishops Blend is an eye catching cigar for sure. After the crew experienced cold draw flavors ranging from English breakfast tea, to chocolate, to a nice natural sweetness our curiosity was peaked as flame met foot.


The first third of the Bishops Blend is front loaded with pepper, chocolate, and graham cracker. Construction is top notch all around with a smooth draw and copious smoke production. The second third brings in a rich leather note while the pepper becomes muted. I was almost ALMOST disappointed in where the cigar was heading at the halfway point. After a delicious start, I felt as though the Bishops Blend was losing some of the winning melody of flavors that were working so well for it but then something unexpected happened… marshmallow. Marshmallow happened folks. And then something even more unexpected happened, Tut fucking retrohaled for the first time in 40 episodes!
Ok ok, Tut actually retrohaled once before on an earlier episode but after a series of really harsh coughs intermixed with heavy wheezing and perhaps some girlish sniffling he vowed never to attempt it again. Most likely because we made fun of him so damn much… But the Bishops Blend was just too damn tempting for him to resist and all of a sudden he was blowing all sorts of smoke out of his nose!
And guess what? Magically Tut was now experiencing the chocolate and the breakfast tea that we had all picked up on earlier. He even detected a note of BACON. We were all so proud of him, you have to watch the show below just for that moment alone (around the 1 hour 42 minute mark and again at 1 hour 54 minutes but, you've been warned, it aint pretty). Boy oh boy, the guy's come a long way from his hardline anti-retrohale rhetoric of Episode 2…

After the strength took a drastic downturn in the middle of the smoke, it really ramped up towards the end so be careful if strength isn't your thing. The final third of the Bishops Blend brings the marshmallow together with the chocolate and pepper and it results in a unique taste profile that we found highly enjoyable. I believe with the passing of time and continued positive word-of-mouth that the Bishops Blend may turn out to be the Liga Privada 9 for Black Label Trading Company in that this may be the breakthrough stogie that thrusts BLTC on to the main stage when discussing premium cigars. All the elements and potential are there. I'm already looking forward to revisiting the Bishops Blend and pairing it with a stout because tonight's beer was not the pairing partner we had hoped for…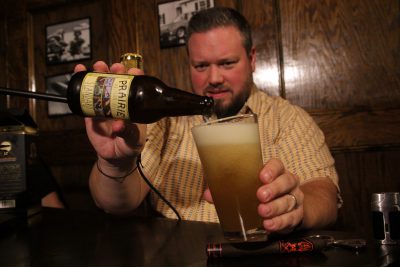 After our first experience with Prairie Artisan Ales at RoMa Craft Headquarters, we all walked (stumbled) (crawled) away impressed and eager to try some of their other offerings.The Prairie Standard is their "everyday beer" and we could see why. Citrus notes of lemon and grapefruit and a delicious creaminess greet you on the front end and these flavors really sell you on what follows next but as far as what exactly does follow next… we had a hard time putting our finger on it. Did we like it? Did we agree with Tut's detection of "a cream corn sensation"? Watch the show below and all will be revealed!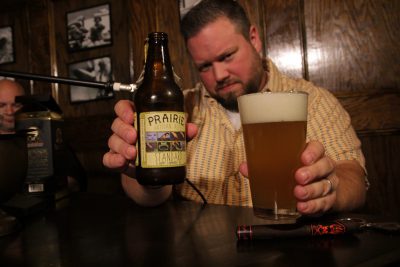 Well, as promised, I said far less than usual in my cigar review and even less in the beer summary. And when it comes to this movie I'm going to say even less. Watch or listen to the show because the gang hasn't been this divided on a film in a long time and when that happens here on the TNCC it always results in a fun, lively, healthy, expletive heavy debate. Actually there's nothing physically healthy about what we do here, obviously, but we have resigned to the fact that we sacrifice our bodies every two weeks to bring you the best damn film/cigar/beer discussion known to man.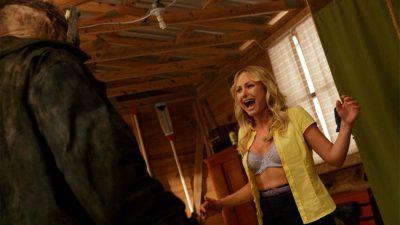 I will say this here in regards to The Final Girls and this alone – Last Action Hero did it much much better. In my expert opinion, the filmmakers seem to be poking fun at a genre that they actually know very little about and that results in quite a few problems. Some at the table agreed with me, others did not. And that's where tonight's fun begins…
THE NUB

Our still camera battery crapped out on us after the show when we take our cigar photographs, so I will try to update this episode page as soon as possible with some action pics of the Bishops Blend burning down from start to finish. As I mentioned at the beginning of tonight's show, we are going to be taking a short hiatus during the month of November while we film a special video project and gear up for Season 3 of the podcast. Things are looking up these days in The Corner Of No Hope and we thank you for your support. Please leave us comments on the YouTube episode page, provide us with a review on iTunes, or do both! All these seemingly small gestures would be greatly appreciated as they let us know exactly what you're thinking about this sweat soaked tidal wave of hardbodied insanity we like to call The Tuesday Night Cigar Club.
Below is tonight's full episode for both your viewing and listening pleasure. Thank you for checking out The Tuesday Night Cigar Club and we'll see you next time when we review another cigar, adult beverage, and film. May the wings of liberty never lose a feather…

Podcast: Play in new window | Download (106.4MB)
Subscribe: Apple Podcasts | RSS