Tonight is a very special episode of the Tuesday Night Cigar Club Podcast and it's also a very different episode structure-wise from the norm around here, so this abbreviated episode page will look a little different as well. We were recently invited by Skip Martin and Mike Rosales of RoMa Craft Tobac to join them at their headquarters in Austin, Texas to eat some amazing barbecue, watch a film, and do a show. They also put out an open invite on social media for fellow brothers of the leaf to join us and it was a cool turnout. Several hours later we stumbled back to TNCC headquarters with a ton of footage and, to be honest, a large chunk of it was unusable due to the heroic amounts of craft beer consumed by your favorite loveable podcast crew (especially yours truly). You live you learn, next time we shall roll cameras BEFORE we are seeing double… or at least seeing triple. Nonetheless it was a fun day, we learned a lot, and it was just really nice to hang out with our RoMa friends and make some new friends in the process.
So in an effort to bring this best show to you as possible, we sat down in the Corner Of No Hope a week later and recorded a "wrap up" show of sorts to bring it all together. Watch or listen below, I think you'll really dig this one folks.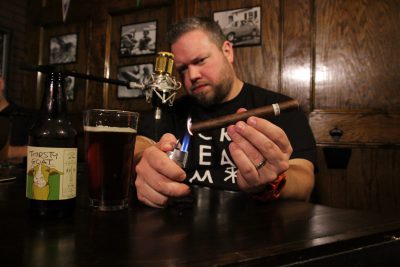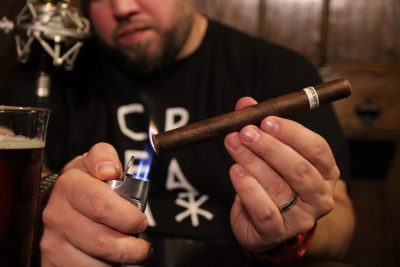 "Great flavor, great strength, great balance, always great construction…" That's a lot of "greats" used by our own Jason Tuttle when describing the Intemperance BA XXI AWS IV and, for once, I'm in full agreement with him. A very mild pleasant spice starts things off and it's followed by delicious notes of cedar, chocolate, and coffee. If you want to learn more about it you'll have to soak in the show below but I will say this – this cigar is easily the best buy for your dollar we've seen on the show so far.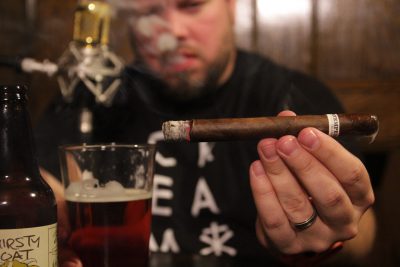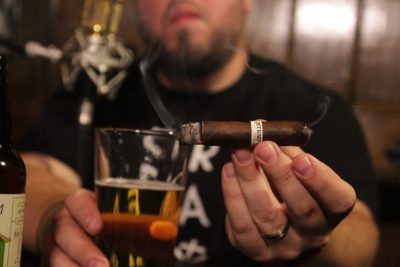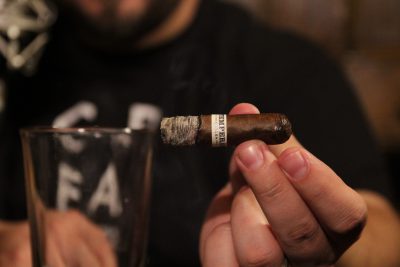 Speaking of bargains, head over to Cigar Hustler and do some shopping using promo code TNCC when checking out. We had the opportunity to meet Cigar Hustler's own Mike Szczepankiewicz at RoMa Craft HQ and he was cool enough to offer this deal to our loyal listeners. So hit him up for some fantastic specials and pick up some of his personal blend the Powstanie while you're there. It's made by RoMa and it's a killer cigar.

As you'll see for yourself when watching the show below, we drank a plethora of different beer brands while hanging out with the RoMa gang. Far too many to name here and a vast majority of them are not easy to track down. So to quench our thirst while recording the "wrap up" portion of the show down the road we sampled several different, more readily available, craft beers and out of the pack one beer stood out as a worthy pairing partner for tonight's cigar. The Thirsty Goat American-style amber ale has a nice smooth malty presence that complimented the Intemperance rather than competing with the stogie. What else did we think of it? What else did we drink? Did I ever find my missing pants? Watch the show below!

Skip referred to tonight's movie as a "film lover's film" and he was absolutely correct. We discuss it all on the show from the music, to the acting, to the cinematography… but the funnest part for me of this RoMa event was discussing the film while it played on the big screen with everyone gathered around.
Next time we do a screening here we will record a running audio commentary as we watch it for you to follow along with at home. Or better yet, get your ass to Austin next time and join the party! I will say this, Heat is the result of a filmmaker at the top of his game. Michael Mann knew these characters and this material so damn well that only he could steer this ship and deliver a film that rests easily in all of our Top Ten lists.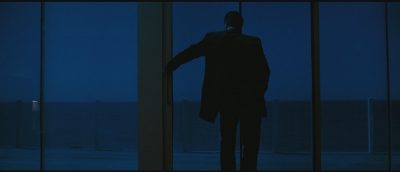 THE NUB

I want to thank Skip and Mike for opening their doors to the TNCC crew and hosting a fantastic event. I also want to thank them for blending tonight's cigar which we all loved and that's very rare for our highly differing palates. It was fun my friends, let's do it again soon.
Below is tonight's full episode for both your viewing and listening pleasure. Thank you for checking out The Tuesday Night Cigar Club and we'll see you next time when we review another cigar, adult beverage, and film. May the wings of liberty never lose a feather…
Podcast: Play in new window | Download (305.9MB)
Subscribe: Apple Podcasts | RSS