Cigar: Undercrown Shade Flying Pig (3 15/16 x 60)
Company: Drew Estate
Wrapper: Ecuadorian Connecticut
Binder: Sumatran
Filler: Dominican Criollo '98 and Nicaraguan Corojo and Criollo longfillers
Price: Prerelease (although MSRP will run around $12)
Acquired: Received as a gift from Drew Estate's Drew Diplomat program (2016)
Elements: Corner Of No Hope / a big bottle of Cabernet Sauvignon
As loyal listeners to the Tuesday Night Cigar Podcast will certainly remember, we all highly enjoyed the Undercrown Shade gran toro when we reviewed it way back in Episode 17 (almost exactly a year ago! yikes) and it ended up as our #3 cigar of the year on the TNCC's "Best of 2015" list. So I obviously went in to tonight's review with expectations a bit higher than normal.
1/3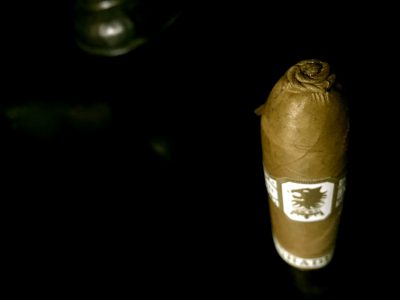 I pick up aromas of hay and green tea on the prelight sniff. After gently pulling and twisting off the pig tail cap, I get hints of vanilla cream cookie and toast from the flawless cold draw.


There's surprising pepper through the nose initially followed by a coffee note (think a breakfast or morning blend). The draw seems to be pulling perfectly with no touch up from the scissors needed. The burn line is straight which always impresses me when smoking a "pig" vitola as they can be tricky to light evenly.


As the first third slowly progresses, the somewhat generic coffee flavor evolves gradually into more of a Caf au Lait sensation, with a developing creaminess as well.
2/3

Cedar and unsalted cashews join the coffee flavors in the middle section of the cigar. The burn line and draw continue to be spot-on. I consider dumping the ash as a precautionary measure, but, you know what? Fuck it. I'm letting this fat little bastard ride until either the cigar is nubbed or my shirt is covered in grey dusty memories.


I just got blasted in the mouth by a cloud of marshmallow. It came out of nowhere but I'm definitely not complaining. I remember experiencing something similar when reviewing the Nirvana Cameroon Selection from Drew Estate a while back. Sadly the marshmallow note only lasts only a few puffs… did I imagine it? Am I going crazy?
3/3

The strength picks up upon the beginning of the final third and the Undercrown Flying Pig is starting to burn a little hot now as well. I flirt with the idea of ashing again before I remove the band but, again, I resist. Danger is my middle name. Actually my middle name is Cornelious and if you tell anybody that I'll kill you.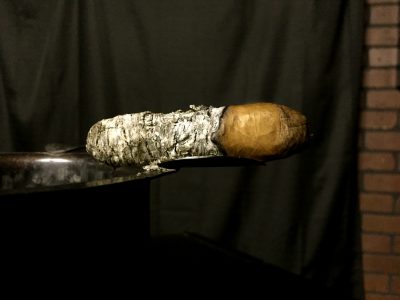 The cigar comes full circle now, with the more straight-up coffee note dominating and the cedar is hanging in there as well. Sometimes I often find that a cedar/woodsy note can go in smooth but have a slightly dry harshness on the back end of your throat but that is not the case here. It's smooth all the way until this little piggie goes wee wee wee all the way home! I'm so fucking sorry that I just typed that. I think I am in fact finally going bananas. I believe I officially started to lose my marbles a few weeks ago while explaining unsuccessfully how babies are made to Tut and Yak Boy back on Episode 37…


More wine is the answer for now, it has to be…
THE NUB

Looking back at our initial assessment of the Undercrown Shade, there's certainly some similarities between the two cigars but I feel the Flying Pig certainly has an identity all its own. I'm a fan of the pig vitola, especially when it performs construction-wise like this sucker did. And it seems that these formerly hard to find Unicos from Drew Estate are becoming more and more available, so seek one out for yourself and let us know what you think. Oink oink my good man!*
(* I'm calling my shrink right this instant, I promise)