Ahoy maties! How could we possibly do Halloween season right without including a film from the Master Of Horror himself? And speaking of masters, I can't believe how long it has taken the TNCC to review one of Steve Saka's new cigar releases of 2016. Well much like peanut butter and chocolate and other brilliant combinations made throughout history, tonight we mesh a great film with a fantastic stogie and the results will dazzle you. That's right, DAZZLE. You got a problem with the word dazzle? Yeah, I didn't think so…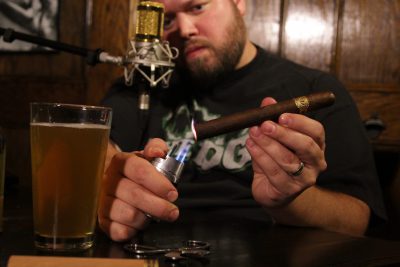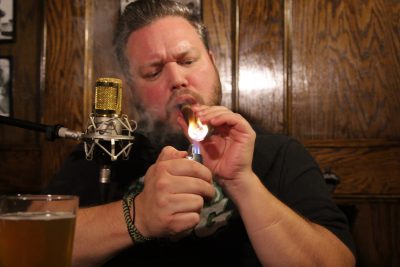 As you loyal listeners to the show will surely remember, last year the TNCC made Dunbarton's Sobremesa El Americano our #1 Cigar of the Year. That cigar's delicious harmony of milk chocolate, cedar, cream, and a unique mixture of sweetness and black licorice in the final third blew us all out of the fucking water. So tonight's revised version of the Sobremesa blend has some big boots to fill to say the least (which is what I try to do here, you should really watch the show below to get our true impressions on all of tonight's subjects). The Elegante en Cedros is as beautiful to look at as its older brother and that simplistic yet highly detailed Sobremesa band remains the same.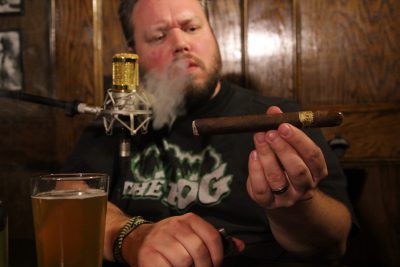 After toasting the foot, rich leather and spicy pepper greet you on the initial draw. As far as the spice is concerned, think of a charred jalapeño taken right off the grill. You scrape off just enough seeds from the jalapeño to give you a great burn through the nose without inducing tears and that's what you have here on the retrohale. That's definitely a deviation from the Sobremesa's original flavor profile. The Elegante en Cedros features flawless construction resulting in a perfect draw and tons of smoke production. Soon after lighting up those original notes start creeping their way in (milk chocolate and cedar) but that new spice never leaves you on the retrohale, it's there when you need it which I think we all felt was a nice upgrade to the initial Sobremesa release. It's always nice to have options, folks.


Throughout the smoke, Tut just kept shaking his head and mumbling "this is a damn good cigar" over and over again, only to occasionally change up his praise with "this would be a great cigar after a big juicy fucking steak". High praise indeed. I should mention that if you're wearing fancy pants while smoking this stogie beware that the ash drops frequently so be careful when hovering it over your lap. If you're wearing normal nonfancy pants then it's probably no big deal as it doesn't lessen the enjoyment of the cigar in any way whatsoever. And, finally, if you're wearing NO pants while smoking the Sobremesa Elegante en Cedros… you sir or madame are a total fucking badass and I want to party with you.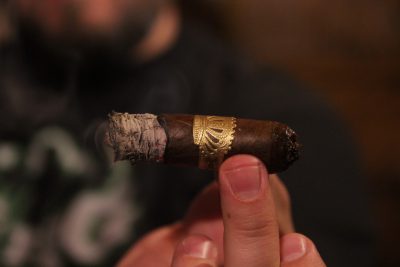 The tweaked blend seems to have lost most of the creaminess that we all enjoyed so much from the initial Sobremesa release as well as that delicious sweet licorice finish. However, the factors that have replaced those lost notes – the spicy pepper and the overall strength increase – help solidify ALL the original flavors still present and the additions more than make up for the subtractions. The Elegante en Cedros is a gorgeous cigar that stays faithful to the original Sobremesa while also bringing new elements to the table. As Tut sadly dropped the nub of the cigar into his ashtray post coitus he stated that it was "an effortless smoke that had a real presence to it". He also boldly crowned it his cigar of the year. Well guys and ghouls, it's only late October but I will agree that this cigar has set the bar extremely high. Well done Mr. Saka.

So Tut was so physically spent from his overwhelming cigar experience that we didn't get the usual amount of beer photos for the website, he just couldn't hold his camera steady after his intense stogie orgasm. So sue us dickheads, it happens! All you need to know is that we loved this lager. I don't often mention the beverage's packaging here but it is note that we all thought the Sea to Sea's black and sea foam green can was visually impressive. It just popped. While it my not have technically been the greatest beer pairing we've featured on the show it was certainly the best visual pairing as far as matching the aesthetics of tonight's film.


The Sea to Sea is a light tasting lager with a standout yeast note among layers of other flavors. While the IBU is low (20), there is a noticeable bitterness and very pleasant hoppiness as a result of the Czech Saaz hops utilized. There is no maltiness or any of that typical dirty or unpleasant back end often associated with lagers. Truthfully I'm not a fan of most lagers but I personally dug the hell out of this one. Seek it out! We also mixed in a sixer of another beer to see how it paired with tonight's cigar but you'll have to watch or listen to the show below to uncover that mystery. That's some Scooby Doo level shit right there.


See what I mean about that beer can matching tonight's film visually? That's some expert level pairing for you! And speaking of experts, we talk a lot tonight about John Carpenter. We talk about his signature style which encompasses his musical compositions, his masterful use of the camera, all the tricks he frequently and effectively pulls from his fearmaking toolbox… In my opinion there are no better examples of perfectly composed wide anamorphic images, moods established solely through music accompanying those beautiful images, and slow building moments of dread that you can find anywhere else other than right here in John Carpenter's The Fog.
And did I mention that the film features TOM FUCKING ATKINS? We've drooled all over this man among men previously here on these pages so I will control myself this time around if at all possible. TOM FUCKING ATKINS!!! Ok, ok, I'm done. The film also showcases old school practical effects at their best, this is when "movie magic" was actually magical and not just something soulless rendered out of a CPU. The Fog has it all and we go into great detail about every aspect of it on the show so I highly advise you watch or listen to it below. Hell, we get so involved in the discussion that Tut actually got attacked by The Fog during the podcast!
Seriously, there's no better film to watch this Halloween season than John Carpenter's The Fog, I just can't stress that enough. So give it a viewing in a nice dark room and then retire out to your favorite smoking spot and cue up tonight's show. Let's have some fun talking about it over a shared smoke and a refreshing beverage.

THE NUB

I believe this to be one of our best episodes ever. We cover all the bases and then some, so click the damn play button below and let us know if you agree. Please leave us comments on the YouTube episode page, provide us with a review on iTunes, or do both! All these seemingly small gestures would be greatly appreciated as they let us know exactly what you're thinking about this sweat soaked tidal wave of hardbodied insanity we like to call The Tuesday Night Cigar Club.


Below is tonight's full episode for both your viewing and listening pleasure. Thank you for checking out The Tuesday Night Cigar Club and we'll see you next time when we review another cigar, adult beverage, and film. May the wings of liberty never lose a feather…

Podcast: Play in new window | Download (303.1MB)
Subscribe: Apple Podcasts | RSS