Tonight's film is about activism, political protesting, and standing up for justice in the face of both great odds and potentially lethal danger. Personally, I felt like I was doing a special form of activism just watching and then discussing tonight's movie it was so goddamn awful. Featuring "acting" so piss poor it made my toes curl, I kinda wished the producers had held a hunger strike demanding to see more audition tapes… but I digress. I know what you're thinking loyal followers – did the TNCC let this cinematic dud ruin our good time or were we able to rise above it and party like the podcast heroes you've come to know and love? Well, why don't you watch/listen to the show below and everything will be revealed!
The Ecuadorian Habano wrapper comes encased in a bright green candela wrapper and it makes for an impressive presentation (something that Oscar Valladares is becoming known for in the industry and rightfully so). Once the candela leaf is removed, an oily attractive brown milk chocolate wrapper is revealed that features some crystallization when the studio lights hit it just right. There's a very faint aroma of hay off the foot of the cigar.
Upon ignition your senses are overwhelmed with a pleasant creaminess right off the bat. Followed quickly by cedar and then a coffee bean note that's highly present on the retrohale which accentuates the cream nicely. The ash holds strong and smoke production is copious. In conjunction with the cedar and cream, a leather presents itself on the draw and some pepper appears on the nose around the halfway mark. That pepper is a profound and an unexpected spice element and I like this twist the Oscar Habano chose to throw at us.
It was a weird occasion in that we all experienced the same flavors but mostly at different times during the smoking experience, that's a first and I think it's kind of a cool first. The Oscar Habano keeps you on your toes, it's a delicious interesting cigar – seek it out!
So people are getting burned out on IPAs, eh? "Give me something new and bold to make me forget I'm lost and dead inside!" they're screaming from the back of the well-mannered line at their local micro breweries. Well apparently Victory Brewing was listening and they proceeded to cook up this variation on our old nemesis The Golden Monkey. As far as first impressions are concerned, I believe the three screen grabs below of Tut taking his first sip of the Sour Monkey paint an extremely vivid picture…
So fucking sour! Wowzers!!! You don't spank this monkey, this monkey spanks you. Tartness, pickle juice… it's such a unique beer profile BUT I have to admit that it got much easier to drink and calmed down significantly on the palate with each pint we poured down the hatch. We always joke about how every beer we feature on the show just so happens to get better with each one we drink but it really is the case here. Really. I swear!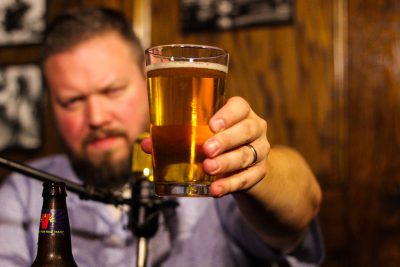 From the overused and poorly chosen drone shots used throughout tonight's film to the insanely adolescent script that's "brought to life" by some severely piss poor acting, The Green Inferno is a big green fucking mess. While it may have sounded like a fascinating and hilariously entertaining story in between bong hits at the frat house, someone (an adult perhaps) should have stepped in and stopped this ridiculous exercise in amateurishness before cameras ever started rolling.
So how did I really feel about The Green Inferno? Well watch or listen to the show below and find out for yourself!
THE NUB
I always say a small prayer before each show that we don't get stuck with a boring cigar or a boring beer. Hallelujah, I can honestly say that neither of tonight's subjects were boring in the slightest. They kept us on our toes… and eventually knocked out cold flat on our backs.
Please leave us comments on the YouTube episode page, provide us with a review on iTunes, or be a real stud and do both! All these seemingly small gestures would be greatly appreciated as they let us know exactly what you're thinking about this sweat soaked tidal wave of hardbodied insanity we like to call The Tuesday Night Cigar Club.
Below is tonight's full episode for both your viewing and listening pleasure. Thank you for checking out The Tuesday Night Cigar Club and we'll see you next time when we review another cigar, adult beverage, and film. May the wings of liberty never lose a feather…
Podcast: Play in new window | Download (101.7MB)
Subscribe: Apple Podcasts | RSS