I considered writing up tonight's episode page by channeling the voice of Charles Bronson like I did way back on Episode 3 but over the last 67 episodes I've lost a little bit of gas in the ol' creative tank for some reason, thanks beer!!!, so I'm just going to type this up all normal like. Sorry… not sorry… punk.
Size: 6 x 52 box press
Wrapper: Honduran Sun Grown Corojo
Binder: Nicaraguan
Filler: Honduras & Nicaragua
MSRP: $8.50
Man, just like the 2012 by Oscar Connecticut we reviewed on the show last year, the sparkling crystals found on the wrapper of tonight's cigar when turned slowly under the TNCC lights just makes for a super sexy presentation. There's both hay and alfalfa present on the cold draw. The enticing aroma that floats across the room once lit adds to that initial appeal as well.
First impressions are of a medium strength white pepper spice on the nose (which dissipates fairly quickly), followed by nutty components (peanut and almonds), light coffee, and a creaminess that envelope your palate like a delicious fog during the first third. Tut immediately picked up on a strong cardomom presence on the retrohale that he immediately flipped out over – in a good way.
Speaking of my inebriated colleague Tut, when I chastised him for smoking too fast he exclaimed "I can't help myself, this is just a great tasting cigar" and I kind of understood where he was coming from for once. Those initial notes of coffee, nuts, and cream continue throughout the remainder of the first half but the retrohale with its cardomom/mint element is highly unique and memorable. If you ain't blowing smoke out your nose, you can blow your opinion of this cigar straight out your ass! Sorry, so sorry, that was crude but I just couldn't help myself. Construction is damn near perfect: a smooth open draw, straight burn line, and a solid chunky ash that drops of its own volition every inch and a half or so.
In the final third the nuttiness (still roasted peanuts and almonds) overtakes the coffee note and that Indian spice on the retrohale only intensifies. The 2012 by Oscar Corojo delivers a very unique overall profile that is unlike anything we've experienced in quite some time, it has a lot of personality to it, and at a very favorable price pint at that. Seek it out!
FINAL TNCC SCORE = 92
Old Chub is a Scottish strong ale that delivers on both flavors (chocolate, a cola-like sweetness) and easy drinkability. It's crisp and surprisingly light on the palate, which leads me to believe it's being marketed correctly as a dark beer for those beer lovers who don't normally dig darker beers. I have to ask though, what's with the gross names given to scotch ales such as the Old Chub and The Hairy Man (Red Horn Brewery)? Just curious. On the show we went ahead and trademarked Pendulous Nads Scotch Ale © so don't even think about it… you filthy intellectual property stealing punks.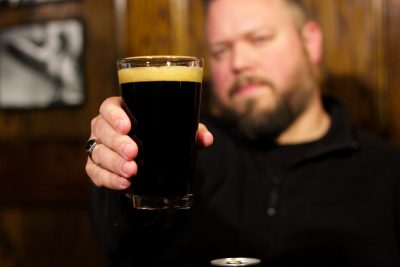 It has to be mentioned here, we did sample the Oskar Blues G'Knight towards the end of the show and it blew all of our collective socks off. It's an amazing imperial double red IPA and it was so fucking delicious that we openly wept that we couldn't get our hands on more than just a few cans. It's got the citrus, it's got the floral, it's got the cream, it's got EVERYTHING.
The aroma alone off this beer is so impressive it will cause grown men to weep. Rest In Peace Gordon Knight and thank you from the bottom of our hearts for your sacrifice. Tut pronounced this as his favorite beer we've ever showcased on the show and I'll insist we revisit it again to prove him right…
If you love you some Charlie Bronson, and we here at the Tuesday Night Cigar Club LOVE US SOME CHARLIE BRONSON, then Death Wish 3 will melt your brains and your hearts. It's got everything you could want in an 80's Bronson action flick!
And it's got bigger more destructive guns!
Although, as we all know by this third entry in the beloved Death Wish franchise, Charles Bronson's Paul Kersey doesn't really have any friends. In fact, the poor bastard helping Kersey in the photo above is forced to go into battle with a homemade zip gun (a pipe that shoots shotgun shells when you pull a string?!?) while his weathered mustached "friend" keeps his entire arsenal of 2,000 weapons to himself. Kersey!
And, of course, there's the obligatory Bronson love interest as well. Per the formula of these films, she's a good twenty years younger than Charlie and falls in love with him unconditionally despite knowing nothing about him and him only muttering a few syllables to her throughout the entire film. Kersey!
But it doesn't matter because she's dead before the final act. It's a Death Wish movie for God's sake, she had to know what she was getting herself into! We have a ton of fun talking our way through tonight's film so what are you waiting for, punk? Watch or listen to the show below and join the party!
There's something about a Bronson movie that brings out the best in us. And by "the best in us" I mean we tend to make each other laugh and drink a ton of beer while entertaining you, our loyal TNCC audience. It's a fantastic show, I promise. Now get to watching/listening before we go all Charlie B on your ass!
Please leave us comments on the YouTube episode page, provide us with a review on iTunes, or be a real stud and do both! All these seemingly small gestures would be greatly appreciated as they let us know exactly what you're thinking about this sweat soaked tidal wave of hardbodied insanity we like to call The Tuesday Night Cigar Club.
Below is tonight's full episode for both your viewing and listening pleasure. Thank you for checking out The Tuesday Night Cigar Club and we'll see you next time when we review another cigar, adult beverage, and film. May the wings of liberty never lose a feather…
Podcast: Play in new window | Download (91.3MB)
Subscribe: Apple Podcasts | RSS