Tonight's featured cigar is special. Tonight's dark and fruity, extra strong beer is kind of special too. And tonight's round table discussion concerning Dukes Of Hazzard star Tom Wopat and what he allegedly did with his index finger recently is kind of super special. I think you know us well enough by now to see where this show is headed…
Size: 5.5 x 46
Wrapper: Sumatra
Binder: Nicaraguan Habano
Filler: Nicaragua & Dominican
Price: $9.50
The black and silver band featuring a serpent and a multicolored rainbow stands out nicely against the beautiful golden brown wrapper. The expertly constructed pigtail cap (coiled snake cap?) peeled off perfectly on the majority of the S&R cigars smoked, so additional cutting of the cap was mostly unnecessary. Upon ignition, an amazing aroma flooded the table from all four corners. "When you smoke cigars and you fall in love with the specific aroma of a cigar, this is what you want" said The Doctor and we all agreed with his diagnosis. Initial impressions of the retrohale ranged from strong woodsiness to red pepper. I experienced immediate sensations of cedar and cream on the draw.
Cinnamon and brown sugar emerged on the retrohale by the midway point as well as a nice and unique yellow sheet cake flavor on the draw. The cedar and cream remained consistent and, it's worth noting, I personally love the point/counterpoint of sweet and spice on the nose with cream and woodsy notes dominating the palate – just fucking aces.
While we didn't all experience the same flavors and notes at the same times, we DID all experience the same flavors and notes eventually just at different points in the smoking of the S&R. So the flavors are all there and consistent, they'll just hit you at different points depending on your palate which I dig. Again, just fucking aces. There were absolutely zero construction issues among all of the S&Rs smoked. So when a cigar comes out of the gate with a spectacular presentation (aroma, band, appearance) and then the flavors hold up their end of the deal, you know this sucker is getting a high score from us…
FINAL TNCC SCORE – 93
Style: Belgian Dark Strong
ABV: 10.5%
Bitterness: 25 IBUs
Our first quadruple! For a beer that features Belgium candy sugar as an ingredient and considering the fruitiness on display with every sip, the Medusa is surprisingly not all that sweet. It features a heavy body with recognizable hints of raspberry, molasses, and a nice bread note and even a slightly subdued maltiness on the back end. The Medusa also has almost no lingering mouthfeel, once you swallow it – it's gone, poof, as if you never had it in your mouth at all. There's a really juvenile sex joke in there but I'm going to be the adult for once and leave it alone. Once you swallow it… classic… Anyhoo, because of that lack of lingering mouthfeel we all agreed that this would be an acceptable heavy beer to pair with almost any type of cigar because you're not really risking any flavors contrasts at all, as long as you wait a few moments between sip and puff.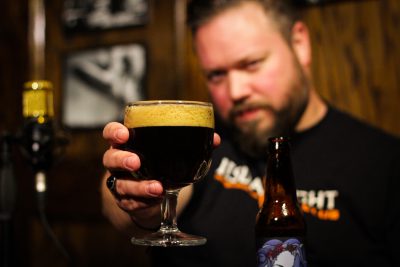 But don't take our word for it, seek out the Copperhead Medusa and let us know what you think!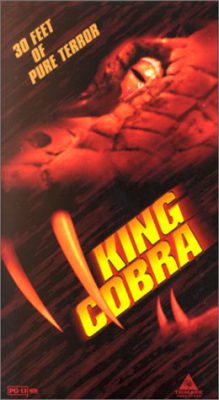 Truthfully, we make this film a lot more fun than it actually is. King Cobra hatched in that glorious time period of creature features right before CGI swooped in and made every snake, every alligator, and every Sharktopus the laughing stock of late night B movies for decades to come. Filmmakers actually gave a shit back in the day, imagine that!
So why out of all the readily available killer snake flicks did I select King Cobra for tonight's viewing? Well, the film stars Pat "Mister Miyagi" Morita as the world's most respected herpetologist and Erik "Officer Poncherello" Estrada as a flamboyantly gay, small town microbrewery owner. Bet you didn't expect me to say that crazy shit.
As usual, that's all I'm going to reveal here on the episode page. So what are you waiting for? Click on the link below to watch/listen and let's get this party started!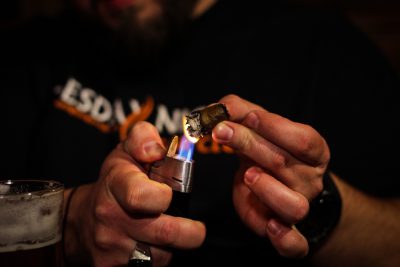 Tonight's a prime example of one of those shows where our unique methodology paid off in a big way. Presented with a "serpent" themed cigar, we ended up pairing it with a beer that we probably would have never discovered otherwise and we had a total blast talking our way through a movie that would have most likely never come across our radar. This is why we're the experts, don't try this at home y'all.
Please leave us comments on the YouTube episode page, provide us with a review on iTunes, or be a real stud and do both! All these seemingly small gestures would be greatly appreciated as they let us know exactly what you're thinking about this sweat soaked tidal wave of hardbodied insanity we like to call The Tuesday Night Cigar Club.
Below is tonight's full episode for both your viewing and listening pleasure. Thank you for checking out The Tuesday Night Cigar Club and we'll see you next time when we review another cigar, adult beverage, and film. May the wings of liberty never lose a feather…
Podcast: Play in new window | Download (98.6MB)
Subscribe: Apple Podcasts | RSS