Yes, folks, we talk about some really weird shit on tonight's episode and severed demon heads are just the tip of the iceberg. It's a weird, fun, informative show and I think you're going to enjoy the hell out of it so click on the links at the bottom of this page and JOIN THE PARTY!!!
Size: 7.25 x 42
Wrapper: barber pole with Ecuadorian Maduro and Mexican San Andrés wrapper leaves
Binder: Nicaraguan Habano
Filler: Nicaragua
Price: $11.50
This release commemorates the fifth anniversary of both the company and its first limited release, Morphine. Black Label's National Sales Manager Derek Matthews explained to me that the Morphine lancero "technically is a barberpole, but not for the visual aesthetic. It was done for the flavor aesthetic. Though if you look closely, you can see a slight difference in wrapper leaf color…assuming your rods and cones can precept such things." I don't care for Derek assuming anything about our rods but I'll discuss that with him privately some other time. And it's only the lancero size that features the dual wrappers, the other vitolas just have the Mexican San Andrés Maduro…
The Morphine lancero features a closed foot with a chocolate chip cap and Holy Shit is this one oily bastard. Tut got notes of green tea and ginger on the cold draw and we all got a nice blast of eye-watering spice in our noses upon ignition. The draw provides just a slight bit of resistance but nothing worrisome at all early on as smoke production is awesome. Initial flavors on the palate are earth and bitter Baker's chocolate. Coffee and a tasty mineral component soon presents themselves on the retrohale as well.
In the second half, the chocolate note veers away from bitter and develops into a warm dark chocolate that's still accompanied by earth, mineral, and now a leather and raw maple note as well. Green tea makes its presence known on the retrohale replacing the spice (which comes back with a vengeance towards the end) while the coffee comes and goes (as a result of the barberpole's influence perhaps). The Morphine lancero has a very impressive ebb and flow to it. This is a complex, highly refined cigar and quite possibly the best dark cigar to come out of Fabrica de Oveja Negra yet. And, as far as drinks are concerned, the Morphine lancero definitely benefits from being paired with an extremely strong beer – don't halfass it.
I get so goddamn excited when we're featuring a Unibroue beer! They're absolutely one of my favorite breweries and nobody does flavor like Unibroue – nobody. These Canadian fools are not afraid to pack a myriad of diverse flavors into a beer and somehow they make it a winning singular drinking experience every time. These are beer scientists that have their science down to a, well, a science.
La Fin Du Monde ("The End Of The World") is a highly viscous Belgian Tripel style beer, 9% ABV, and it's fucking delicious. It's floral, there's some citrus, some coriander, it's heavy but not too heavy, slightly malty but not too malty, it's damn near PERFECT. Unibroue finds a way to balance all these characteristics so well that for once we had a hard time putting into words just how amazing this beer truly is…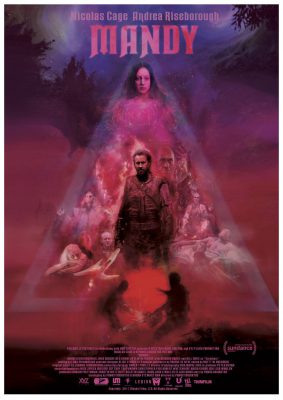 There's no way in Hell that a two-minute trailer can possibly do the film Mandy justice but here's what they came up with and it should give you a slight idea of what you're in store for with tonight's discussion…
Intrigued? Well you should be. Mandy is a deeply personal, uncompromising, brutal, funny, indescribable piece of art and while 2/3 of the Tuesday Night Cigar Club despised the movie your lovable, incredibly handsome TNCC host highly enjoyed it and that clash of opinions leads us into some top notch conversation. So what the fuck are you waiting for? Click the links below and watch or listen to the show NOW!
Let us know what you think of this one, it's a bit different and we're curious to hear your reactions to the show. And if you're a true blue hardcore TNCC fan that wants us to get back to our masterful dissections of 1980's T&A flicks, breathe easy as we shall return to our bread and butter very very soon.
Please leave us comments on the YouTube episode page, provide us with a review on iTunes, or be a real stud and do both! All these seemingly small gestures would be greatly appreciated as they let us know exactly what you're thinking about this sweat soaked tidal wave of hardbodied insanity we like to call The Tuesday Night Cigar Club.
Below is tonight's full episode for both your viewing and listening pleasure. Thank you for checking out The Tuesday Night Cigar Club and we'll see you next time when we review another cigar, adult beverage, and film. May the wings of liberty never lose a feather…
Podcast: Play in new window | Download (82.3MB)
Subscribe: Apple Podcasts | RSS