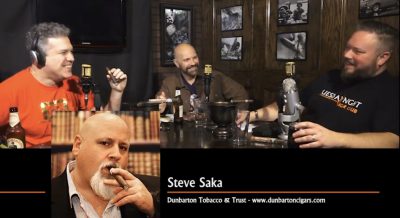 Well folks, this wasn't supposed to be our last episode of the year but sometimes shit happens and there's nothing that can be done about it. The good news is that luckily we say sayonara to 2018 in style as we welcome cigar industry legend Steve Saka on the show to educate our ignorant drunk asses and introduce his latest creation. It's a fun, informative, life affirming Tuesday Night Cigar Club that will melt your minds… and your hearts.
Size: 6 x 54
Wrapper: San Andrés Negro "Cultivo Tonto"
Binder: Hybridized "Thin Ligero" Ecuadorian Habano
Filler: Nicaraguan
Price: $17.45
No oils present on the flawless milk chocolate colored wrapper, minimal to nonexistent veins. "Creamy as hell" and "Easy as hell to smoke" were the first words coming out of our mouths upon firing up the Sin Compromiso. There's no spice whatsoever and that in and of itself is refreshing these days. French roast coffee, cream, and I DON'T GIVE A SHIT WHAT YOU SAY I GOT A NOTE OF MARSHMALLOW IN THE FIRST HALF. Maybe even s'mores…
"So damn silky"… yep. Full bodied while never teetering beyond the low side of medium strength, the Sin Compromiso is just a smooth, lushy, silky, unique motherfucker. There's a note of mild earth present but pure half & half cream on the retrohale rues the day here. A gorgeous burn line with a prefect draw, construction overall is flawless. In the second half a slight chocolate note and Ritz cracker flavor joins the coffee on the palate but… CREAM. CREAM, CREAM, CREAM… CREAM. The Sin Compromiso is a highly enjoyable diversion off the beaten path. Seek it out!
TNCC FINAL SCORE = 93
We appreciated the slight hop presence found within the Birra Moretti, you don't get that with most lagers, but it was extremely subdued and there was absolutely no bitterness present. It's very similar to an American "light beer" in how hands off it is, but that slight introduction of hop flavor on the front end adds a much needed element to bump it just slightly beyond the realm of boring.
*Disclaimer: The Tuesday Night Cigar Club intends no disrespect to the Gambino crime family, the Gotti family, or any living or deceased member of the Sicilian Mafia. We love spaghetti and meatballs, we love Sofia Villani Scicolone (aka Sophia Loren), and we love La Cost Nostra!
Due to our lengthy conversation this evening with Señor Saka, the decision was made to shake things up format-wise a bit and NOT take you through tonight's film scene-by-scene as is our usual modus operandi. And that turned out to be a fantastic call because the "film" Gotti is terrible.
John Travolta works his ass off to bring authenticity to the role of legendary crime boss John Gotti, but it's a completely wasted effort as he's under the "direction" of one of those numbnuts from the TV show Entourage and I'm convinced the dude couldn't tell an engaging, coherent story if his life depended on it. Seriously, how do you take such a fascinating character and make a movie this bad? Watch or listen to the show below and we shall fill you in!
2018 was one hell of a year for us and it's looking like 2019 is going to be another barn burner. We'll be back in a few days with our hotly anticipated "Top Ten Cigars of 2018" list and then it'll be business as usual as we get back to doing what we do best – drinking copious amounts of booze and talking our faces off for your entertainment.
Please leave us comments on the YouTube episode page, provide us with a review on iTunes, or be a real stud and do both! All these seemingly small gestures would be greatly appreciated as they let us know exactly what you're thinking about this sweat soaked tidal wave of hardbodied insanity we like to call The Tuesday Night Cigar Club.
Below is tonight's full episode for both your viewing and listening pleasure. Thank you for checking out The Tuesday Night Cigar Club and we'll see you next time when we review another cigar, adult beverage, and film. May the wings of liberty never lose a feather…
Podcast: Play in new window | Download (61.5MB)
Subscribe: Apple Podcasts | RSS