The Tuesday Night Cigar Club's "Top 10 Cigars of 2018" isn't a reflection of my personal favorites or any one member's choices but rather the crew's consensus as a whole (in fact I have some major issues with our rankings but my hands are tied). There are three cigars, however, that did not make this list that we feel compelled to call attention to. The TNCC spent an evening at RoMa Craft Tobac HQ back on Episode 73 and the Wunder|Lust blew our collective socks right the fuck off. It's a truly amazing cigar and if we hadn't got so shitfaced with Skip and company that night and rated it properly, well there's no doubt it would be in the top five on this year's list. We will be properly featuring the Wunder|Lust next year on the podcast so keep your eyes and ears out for that show! I also personally reviewed two stellar cigars for the website, the Liga Privada No. 9 Corona Viva and La Flor de Ynclan Lancero Especial, that both impressed the hell out of me and you're doing your palate a huge disservice by not seeking these two special cigars out as soon as possible.
As always, to be qualified for our "Top 10 Cigars of 2018" list the cigar had to be featured and reviewed on the Tuesday Night Cigar Club podcast. Cigars that received only written reviews on the Beyond The Pod section of our website or stogies that the four of us smoked separate from the show entirely were not eligible. So without further ado, here's the very best of the best! Click on the cigar's name and you'll be taken to its original TNCC review:
"On the cold draw we picked up fruit (grapes) and upon ignition a wonderful aroma flooded the entire table as a burning wasabi spice flooded our noses. It's serious eye-watering business and its balanced by a subtle sweetness underneath the spice that's just perfect. That spice just hangs in your nose, punishing you (punishing you in a good way that is). On the draw we immediately experienced cream, earth, coffee, and that same raisin-like sweetness that's noticeable on the retrohale… The Cinco Décadas is unquestionably delicious and it is a fitting cigar to mark a milestone in Joya de Nicaragua's history."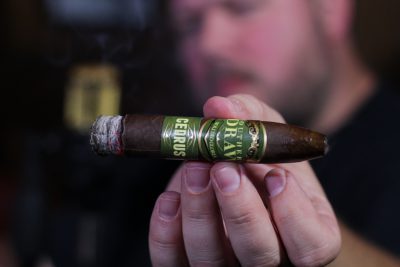 "This might be the oiliest Sumatra wrapped cigar I've had the pleasure to smoke, there's a sheen on this wrapper that is just gorgeous… Seriously, this quality cigar for $12? Right on! Medium body, smooth and complex, as Tut said during the show 'you simply can't go wrong with this cigar'. We all agreed."
"Cinnamon and brown sugar emerged on the retrohale by the midway point as well as a nice and unique yellow sheet cake flavor on the draw. The cedar and cream remained consistent and, it's worth noting, I personally love the point/counterpoint of sweet and spice on the nose with cream and woodsy notes dominating the palate – just fucking aces…"
"The Morphine lancero has a very impressive ebb and flow to it. This is a complex, highly refined cigar and quite possibly the best dark cigar to come out of Fabrica de Oveja Negra yet. And, as far as drinks are concerned, the Morphine lancero definitely benefits from being paired with an extremely strong beer – don't halfass it."
"So damn silky. Full bodied while never teetering beyond the low side of medium strength, this cigar is just a smooth, lushy, silky, unique motherfucker. There's a note of mild earth present but pure half & half cream on the retrohale rues the day here… The Sin Compromiso is a highly enjoyable diversion off the beaten path."
"A beautiful box press, the barber pole wrapper shows signs of crystallization when twirled under the studio lights. Upon toasting the foot, there's black pepper on the nose with a dominating rich chocolate note on the draw. This highly enjoyable ying and yang of spice and chocolate stays consistent throughout the first half with a creaminess also showing up in the second third… This was the best overall barber pole cigar we've ever featured on the show and at this price point you'd be a fool not to give it a shot."
"As time ticked by on the Crna Nok, coffee and leather flavors on the draw and a creaminess on the retrohale ruled the day. At the midway point, Tut said "it's a sexy smoking cigar" and I have to agree with him. The final third brought spice on the retrohale and a consistent dark chocolate note on the draw which together brought this winning cigar to a close."
"Those initial notes of coffee, nuts, and cream continue throughout the remainder of the first half but the retrohale with its cardomom/mint element is highly unique and memorable. If you ain't blowing smoke out your nose, you can blow your opinion of this cigar straight out your ass! Sorry, so sorry, that was crude but I just couldn't help myself…"
"A beautiful strong ash, smoke that travels up the body of the cigar where it lingers and swirls, and a perfect draw all tell you everything you need to know about the construction of La Opulencia. Rich chocolate, coffee with a hint of cream, and animal cracker on the retrohale are the flavors that stuck out most in the second half…"
"There's chocolate milk, cedar, and a very faint leather on the draw and the strength never rises above a solid mild. Stack of nickels ash, straight burn line, and the Black Label draws like a dream. Super smooth. Super easy. Super tasty."
"An oily, chewy, classic 'Steve Saka Broadleaf' wrapper which has an amazing aroma you can pick up on without even getting your nose up close to the cigar. Upon ignition there's a nice ligero kick immediately, this little sucker is strong as a motherfucker twice its size!, and the classic Mi Querida espresso coffee note is front and center reporting for duty. It's a slow burning smoke and construction was fantastic on all four samples…"
A giant Thank You is in order to everyone who watches or listens to our unique show every other week and joins the party. There's no one else out there doing what we do and we are grateful that you dig it enough to keep coming back for more. Our livers may hate you but our hearts love you all. It looks like 2019 is set to be another barn burner for the Tuesday Night Cigar Club so please stay tuned. May the wings of liberty never lose a feather, now let's bring another round!