I went into The Corner Of No Hope this evening feeling a little dejected, as I had tried unsuccessfully to make tonight's film discussion revolve around a double-feature of shark movies but the Video-On-Demand Gods didn't allow that to happen. Luckily, a preposterous amount of delicious beer and a good stogie will quickly erase any of life's endless frustrations.
Size: 6 x 52 (toro)
Wrapper: "Broadleaf Choculada capa"
Binder: "Mexican Candy"
Filler: "99 Ligero, Piloto Cubano, Corojo 06, something else, but I forgot, lol"
Price: $12.00
There's barnyard aroma when sniffing the closed foot of the Crna Nok and a strong flavor of dark chocolate on the cold draw. Upon lighting up, one thing is crystal clear to a blind man – I don't believe we've ever featured a cigar with smoke production quite like this on the show. Thick white smoke pours from the foot and travels its way up the body of the cigar where it lingers, taking its sweet time, until eventually it joins up with the smoke creeping out from the head creating a continuing loop of seductive smoke… it's truly a beautiful sight. Construction overall is aces.
Nostril tingling spice on the retrohale with notes of black coffee, cream, leather, and dark chocolate on the draw are the first impressions. We all agreed, somewhat surprisingly, that for a double-ligero there wasn't a noticeable super nicotine heavy strength early on.
As time ticked by on the Crna Nok, coffee and leather flavors on the draw and a creaminess on the retrohale ruled the day. At the midway point, Tut said "it's a sexy smoking cigar" and I have to agree with him. The final third brought spice on the retrohale and a consistent dark chocolate note on the draw which together brought this winning cigar to a close.
FINAL TNCC SCORE = 92
The Mystery Of The Deep is a perfect tool to help you separate the true IPA men (Yaks and myself) from the IPA little boys (Tut). Featuring a crisp aroma and a golden glow, this double IPA sneaks up on you like a hops assassin in that it has a delicious flavor profile that goes down super smooth but, wait for it, cause it'll eventually get you and get you hard… For having 85 IBUs the beer is far from outrageously bitter and that, in and of itself, is commendable from a brewing standpoint (we could all still taste our cigars just fine despite the relentless barrage of hoppy goodness). We all picked up on a lot more malt presence than we do with most double IPAs and I think that consideration will allow the Mystery Of The Deep open its dark mysterious arms to hopefully embrace a larger audience. It's smooth dammit and I encourage all of our listeners to Seek It Out NOW!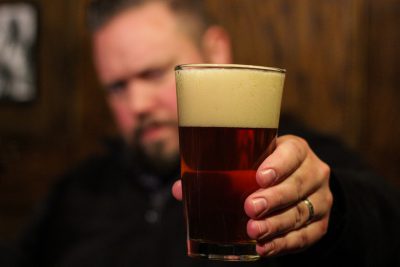 A shark movie seemingly written in a middle school screenwriting class, seemingly acted out by high school theater actors, with special effects seemingly created by some of the best FX wizards in Hollywood. Well, two out of three ain't bad! And seemingly is one of those words that when you type it too many times it just looks and starts sounding really weird. As you can probably tell we had some issues with 47 Meters Down; however, the TNCC's very own Doctor wrote a positive review of the movie which you can check out here. Man, I wonder what the hell he was drinking that day…
As usual, I'm not going to divulge anything more about tonight's film discussion here on this episode page, you'll need to watch or listen to the show below to soak it all in. But I think you've probably caught the drift as far as how we all felt about this sunken… ok ok, no more nautical references, just watch the damn show. I do feel kinda bad about how we rip apart this movie though so, to counteract all that negativity, here's a catchy music video from 47 Meters Down star Mandy Moore!
Just try to resist the urge to dance, it's impossible! You're welcome.
Boy, thankfully my world-renowned cigar pairing expertise paid off tonight, because this ballsy cigar stood toe-to-toe with tonight's ballsy beer and they both were able to puff out their chest and show off their individual strengths without any conflict whatsoever. I wish I could say the same for the TNCC crew… but you don't drink nine 9.2% beers in a three hour span without some craziness taking place. And that's not nine beers shared between the three of us, no no, I'm talking about one man. One hero some might say…
Please leave us comments on the YouTube episode page, provide us with a review on iTunes, or be a real stud and do both! All these seemingly small gestures would be greatly appreciated as they let us know exactly what you're thinking about this sweat soaked tidal wave of hardbodied insanity we like to call The Tuesday Night Cigar Club.
Below is tonight's full episode for both your viewing and listening pleasure. Thank you for checking out The Tuesday Night Cigar Club and we'll see you next time when we review another cigar, adult beverage, and film. May the wings of liberty never lose a feather…
Podcast: Play in new window | Download (91.8MB)
Subscribe: Apple Podcasts | RSS