We're back! And we're back with possibly the greatest pairing trifecta in the history of cigar/beer/film podcast pairings. That's not me blowing smoke up your ass either, it simply doesn't get any better pairing-wise than this one, folks! On a somewhat related note… I should also take this time to mention that tonight's episode features some rather risqué subject matter which I believe we handle with a level of dignity, grace, and maturity that you've come to expect from us.
Size: 5.5 x 52 belicoso fino box-pressed
Wrapper: Sumatra from the Besuki region of Indonesia
Binder: Nicaraguan Habano 2000
Filler: Habana '92, Corojo '99, Criollo '98 (all Nicaraguan) and some Piloto Cuban (Dominican Republic)
Price: $11.99
We spoke with Robert and Sharon Holt of Southern Draw Cigars earlier this summer at the annual IPCPR trade show in Las Vegas where they filled us in on their big new releases with tonight's cigar being one of them. Take a look!
Our initial thoughts once we got the Cedrus in our hands was that the overall presentation was phenomenal. The olive green band is yet another winning color choice to stand along side the distinctive pink Rose of Sharon and the dark purplish blue Jacob's Ladder bands. It's a damn near perfect looking box-press as well. Upon ignition there's a blast of pepper through the nose joined by a super nice spice on the palate. That spice isn't overwhelming at all however, there's a smoothness that follows behind it that really works well and it allows the spice to linger in your senses in an enjoyable way. The blueish smoke travels lazily up the body of the cigar which is just sexy as can be.
In the first half that ever present spice is joined by some gentle cedar (imagine that), wood shavings, green tea, and leather. How's that for a quadfecta of flavors? And the aroma is crazy intoxicating. Construction was spot on with flawless draws and razor sharp burn lines on all four samples smoked. A cigar can certainly be complex without having transitions per se. The Cedrus is like a consistent layer cake with spice icing, a middle layer of woodsiness, and a bottom layer of smooth leather and all these flavors just meld together amazingly. And it's worth mentioning that after sipping the Brixton Mash Destroyer (our second libation enjoyed this evening) it absolutely introduces a vanilla note to the cigar which is delicious but strictly a result of the paired spirit. And this might be the oiliest Sumatra wrapped cigar I've had the pleasure to smoke, there's a sheen on this wrapper that is just gorgeous.
I always say each and every episode don't give us a boring cigar and the Cedrus is diverse and unique and the furthest thing from boring. I believe that at this price point it's going to get a lot of traction and, most importantly, longevity in the market place. And I know what I'm talking about, don't forget I'm a world-renowned internet cigar expert according to a website. Seriously, this quality cigar for $12? Right on! Medium body, smooth and complex, as Tut said during the show "you simply can't go wrong with this cigar". We all agreed. But why take my word for it, we talk a whole lot more about The Hogan on tonight's show so click on the links below and watch/listen right now!
TNCC FINAL SCORE – 94
Ok ok, the unfortunate (or in our case HIGHLY fortunate) name of tonight's beer gets a lot of fun poked at it… oh boy, there's another joke. I'm sorry I can't help myself! But it was chosen, pairing wise, for a very good reason (tonight's cigar is named after a tree as well and the hero of tonight's film likes to pleasure the ladies in a certain way…). So all giggling aside, we gobbled up the Pussy Willow like there was no tomorrow on the show and for good reason – it's delicious.
I was a bit worried when the beer poured super faint and almost translucent into our pint glasses but that concern was quickly extinguished when the surprising medley of flavors hit our tongues. Refreshing and crisp with a mild but certainly noticeable hop presence and an enjoyable lemon citrus component. Not to mention this North Texas pilsner comes in at a surprising 5.9%! While it might not look like much of anything to get excited about in your glass, you'd be a fool to pass on this pussy. Willow.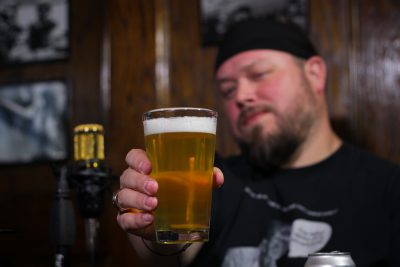 Yes, Shark Attack 3: Megalodon has an official poster that I could have inserted above but, let's face it, the image of the mama megalodon swallowing a boat full of assholes whole in one big gulp is what's going to either make you watch this flick immediately or give it a hard pass. But if you're still on the fence about joining us for a lively discussion of this early pro-prehistoric shark / pro-cunnilingus creature feature take a ganders at this quick clip and I think your mind will be made up pretty damn quick:
First of all, despite that clip's title it is totally NOT the only scene worth watching! The movie rocks. And secondly, it stars a highly likable dude who looks like Tom Cruise and who literally doesn't stop flashing his thousand dollar smile throughout the entire running time of the film. Even when he's fighting giant monster sharks or going downstairs on his lovely costar, so c'mon join the fun!
If you're up for some fun than then this is definitely the show for you. And that's what the Tuesday Night Cigar Club is ultimately about – Fun with a capital F. So click on one of the links below, light up a stogie, and be prepared to have FUN.
Please leave us comments on the YouTube episode page, provide us with a review on iTunes, or be a real stud and do both! All these seemingly small gestures would be greatly appreciated as they let us know exactly what you're thinking about this sweat soaked tidal wave of hardbodied insanity we like to call The Tuesday Night Cigar Club.
Below is tonight's full episode for both your viewing and listening pleasure. Thank you for checking out The Tuesday Night Cigar Club and we'll see you next time when we review another cigar, adult beverage, and film. May the wings of liberty never lose a feather…
Podcast: Play in new window | Download (109.2MB)
Subscribe: Apple Podcasts | RSS