Whenever beer chugging is in the mainstream news, we tend to talk about it on the show. Chugging in the outside world should be celebrated! So tonight we start things off by making fun of Aaron Rodgers and his disastrous attempt to chug a beer at an NBA game. Turns out he's just as overrated as a drinker as he is as an NFL quarterback. And I'm NOT just saying that because I'm a lifelong Chicago Bears fan, one thing has nothing to do with the other. So we kick this episode off by me chugging two beers to show Mr. Fancy Pants how it's done and with an opening kickoff like this… there was no doubt that tonight was gonna be epic (unlike Aaron Rodgers career).
Size: 6 x 54 (box press toro)
Wrapper: Nicaragua
Binder: Nicaragua
Filler: Nicaragua
Price: $10.60
"Meridiana" is Spanish for meridian, which is a line of longitude on a map, connecting north and south poles (the rims of the world, if you will). They are also using the designation "El Mundo de Tabaco" on this cigar, which translates to "the world of tobacco" (see how we tied that in with tonight's film? do NOT try this at home folks, we are professional pairing experts). A very silky, let's say "velvety to the touch" (because that's precisely what we said on the show) milk chocolate colored wrapper surrounds a firmly packed cigar with a strong aroma of cocoa powder and leather on the cold draw. When the aroma began to drift across the table and Tut exclaimed "this is one damn fine smelling cigar" he was not wrong. Immediate impressions upon torching the foot were of wonderful Nicaraguan mineral earthiness and heavy leather while a medium black pepper made itself known on the retrohale.
As the cigar progresses, the mineral component of the earthiness dies down a bit and the leather steps up a notch to fill its place. There remains the mild black pepper on the nose and construction as a whole is perfect. The aroma continued to impress us throughout and despite the cigar never delivering on that initial cocoa sweetness we all wanted, when you factor in the fair price point we all gave La Meridian Three Thumbs Up!
TNCC FINAL SCORE: 90
Size: 5 x 50
Wrapper: Ecuadorian Habano Colorado
Binder: Nicaragua
Filler: Nicaragua
Price: $8.50
From our good friends and partners over at Famous Smoke Shop, we learned this:
San'Doro Colorado cigars are from Villiger – the world's 5th largest cigar company –  in partnership with Oliva Cigars in Nicaragua, who have blended and handcrafted this super-premium cigar selection to the highest standards. The brand's name comes from the Latin words Christopher Columbus used to describe the dried leaves smoked by the Taino Indians on his famed 1492 voyage to the New World: indorum sana sancta, which means, "the holy healing plant of the Indians," or san'doro, for short.
A super sweetness is revealed on the cold draw of the dark brown, rustic wrapper. Upon lighting up, there's nice vegetal jalapeño spice on the nose (as opposed to the black pepper from our first cigar) with a strong leather presence on the palate. In fact, that leather is the singular flavor we all picked up on throughout the duration of the cigar. Construction is great but there's not a lot to the cigar complexity-wise; however, it's an enjoyable one note stogie and at $8.50 a stick maybe that's ok. Perhaps you should pick one up and judge it for yourself. Because we were perhaps too drunk and tired at this point…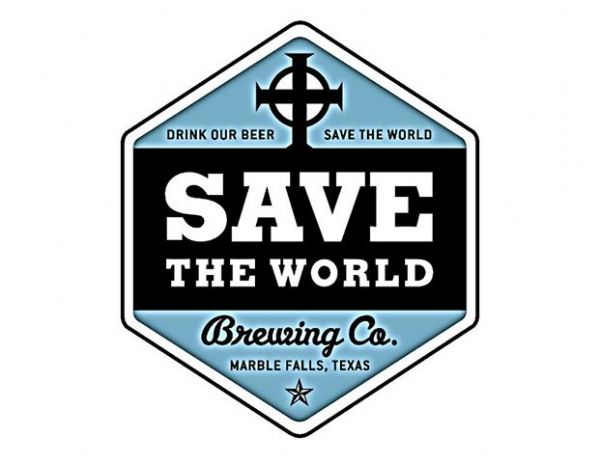 Tonight we sampled three different lines from the the Save The World Brewing company, one very good beer and another very great beer, but first we decided to take a quick detour in to the world of French booze…
1804 GRAND IMPERIAL ORANGE LIQUEUR
We started the party off with a sip or two off a bottle of 1804 Grand Imperial Orange Liqueur that was graciously gifted to us by Villiger Cigars and while it wasn't bad by any means, it was simply too sweet to continue drinking as far as a pairing partner for tonight's cigar. The very strong orange flavors didn't leave room for anything else that crossed their path. Having said that, if you poured me a couple fingers of this stuff with a slice of Italian tiramisu cake after a big dinner I wouldn't complain one bit.
PRINCEPS PACIS TRIPEL ALE by SAVE THE WORLD
Citrus and hops are big time secondary flavors with this robust delicious brew, as the malts and spices stand at the forefront. There is a slight grapefruit note but it's overshadowed by the powerhouse spice (nutmeg and cinnamon) and maltiness for sure and there's zero floral component whatsoever. This sucker isn't heavy on the flavor complexity as some of our previous favorite tripels reviewed here in the past BUT we all really dug it. We drank this big bad bottle at "cellar temperature" which in Texas means just leaving it on the table for a bit and that's definitely the way to go. Three Big Thumbs Up!
HUMILUS FILIUS BELGIAN PALE ALE by SAVE THE WORLD
The malts take a back seat with our next beer, as the Humilus Filius features a kinda generic beer taste with a nice dry and very clean finish. There's no bitterness in this pale ale so if that's what you're looking for stick with the West Coast stuffs. The Belgian people are a much more softer, kinder people than us in-your-face Americans and they don't wish that Hop Bombardment upon you. 27 IBUs? I think my newborn daughter was hoppier than that when she came out of the womb. Oh well, it was still tasty and we all gave it Three Thumbs Up.
LUX MUNDI PATERSBIER by SAVE THE WORLD
While this beer's name might translate to "Light Of The World" it failed to light us up. It was just too damn light! While it's slightly hoppier and features more citrus than the Humilus Filius, it took a backseat to that beer overall in flavor and enjoyment. In fact it was sadly a bit skunky and bland. Two and a half thumbs down. Stick to the tripel and you'll be fine folks..
In these movies, why does the kid always inherit a wristwatch from his dead dad? Just once I'd like to see them get handed a shark toothed necklace that was worn by his dead porn star dad. And, I'm sorry, they just couldn't call this damn movie "Adventure Of A Lifetime" or "Camp Adventure"? Any title with the word "rim" in it is going to get some chuckles here in The Corner Of No Hope. Despite the horrible snicker-worthy title, this Netflix original movie is extremely well paced in that they get to the inciting incident super quickly, there's not too much backstory on the kids, and we all loved how all of the doomsday alien invasion was mostly kept to viewing it from the kid's perspective. This is their film and it's a wise (and production budget friendly) directorial choice.
BUT ultimately we all had huge issues with just what audience this film was made for. Far too many head scratching pop music choices and even more confusing dated movie references (keep that shit to what the characters on screen would actually reference and call upon, theses children weren't born when Independence Day played in theaters and they sure as shit weren't alive to rock out to NWA's "Straight Outta Compton"!) all these elements made it clear that the screenwriter and director McG (give me a break) were injecting their own tastes into the world of these child actors and when you add the love/sexual component of the main characters when they are clearly not even teenagers yet, it all just left us feeling uncomfortably weird, disjointed, and ultimately confused.
If Rim Of The World is trying to be the next Goonies maybe lose the "dick in my mouth" and "cock blocking" dialogue? These kids look like babies and if you're targeting this film to us, that's a giant miscalculation. Or maybe we're just a bunch of old drunk fuckers who don't know what the hell we're talking about. That's ALWAYS a distinct possibility.
Our second cigar couldn't step out of the shadows of the first and, oddly enough, the third beer of the night didn't stand a chance of outshining it's delicious predecessors. There was a real kismet at work here that just unfolded before our eyes (and mouths) and that's what makes doing what we do so cool sometimes.
Please leave us comments on the YouTube episode page, provide us with a review on iTunes, or be a real stud and do both! All these seemingly small gestures would be greatly appreciated as they let us know exactly what you're thinking about this sweat soaked tidal wave of hardbodied insanity we like to call The Tuesday Night Cigar Club.
Below is tonight's full episode for both your viewing and listening pleasure. Thank you for checking out The Tuesday Night Cigar Club and we'll see you next time when we review another cigar, adult beverage, and film. May the wings of liberty never lose a feather…
Podcast: Play in new window | Download (73.0MB)
Subscribe: Apple Podcasts | Android | RSS