Our summer of fun continues! While this week's show doesn't feature nearly as much bikini talk, the good times continue to roll around here nonetheless. Drinking a real beer this time around certainly helped grease the party wheels in The Corner Of No Hope as well. Mmmm beer… is there any problem it can't solve?

Much like the director of tonight's film, the man behind the El Gueguense ("The Wiseman") is responsible for some of our all time favorites. As former VP and Director of Tobacco & Production at Drew Estate, Nicholas Melillo played a crucial role in creating a ton of premium cigars that consistently occupy my humidor such as the Liga Privada 9, Flying Feral Pig, Nica Rustica, and the list goes on and on. When Tut and I first sampled El Gueguense (el-wah-when-say) last year the cigars were fresh off the truck and had barely been on the store's shelves for maybe an hour. It was Melillo's initial release upon leaving Drew Estate and we were dying to see what "The Chief Of The Broadleafs" had cooked up for us. The result was… confusing. We both experienced so many notes and rapidly flowing flavor transitions throughout the smoke that it left us scratching our heads. We didn't know what to make of it to be honest and the only thing that I was sure of was that I wanted to give the blend time to establish itself and then come back to it with an open mind. Tonight that opportunity finally presented itself.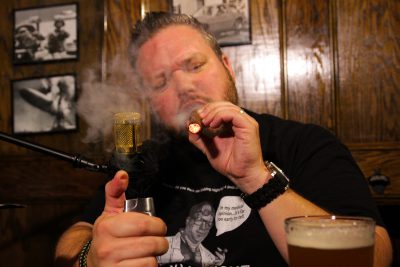 The cigar features a beautiful Corojo '99 wrapper and the band surrounding it has beautifully detailed artwork on a striking blue background. I've said it before, I think blue bands are highly underused in the industry, the color just seems to visually pop against all the various shades of wrapper. Usually these days when you get smacked in the face upon lighting a cigar its by strong spice or black pepper, we experience it time and time again when lighting up on the show. Not this time! El Gueguense immediately whipped us all across the face with a thick leather belt (something The Doctor usually has to pay for). A really pleasing rich leather note starts things off nicely and some of us experienced a chocolate sensation early on as well. I can't stress enough that there is no trace of spice or pepper here whatsoever. The leather gives in to a really pleasurable cedar flavor as well as a creaminess that WE ALL picked up on.


In the second third of the cigar the chocolate, leather, and cedar are all still present and are making for fantastic dancing partners. A slight floral note that I had picked up on earlier hasn't materialized again and we concluded that it may have just been a side effect of tonight's beer pairing. That's what we do folks, as your professional and fearless cigar pairing sherpas we figure this shit out. This cigar is a prime example of the rewards that can be reaped when revisiting a blend that has had some time to rest, it's a completely different smoking experience than the one we had a year ago.


Impecable construction. Distinctive layers of flavors that transitioned back and forth amongst each other masterfully. We loved El Gueguense, an absolute winner. A 2+ hour smoke that takes you on a fun ride and is worth every minute of your time and every dollar you hand over for it. So get your ass over to Famous Smoke Shop and pick up a fiver! DO IT!!!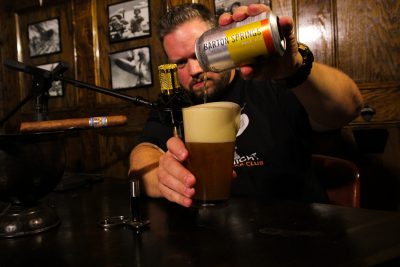 To be fair, on a hot as hell night like this in Central Texas it'd be hard for us to turn away any cold beer that was handed to us. Ok ok, in all honesty we've never turned down any beer at any time from any one for any reason whatsoever. Not even when the kind old bicycle shop owner gave us our first sips of booze in an effort to loosen our… wait a minute, that was an episode of Different Strokes. Thank God!


The point I was trying to make is that we fucking love beer and we especially love when the beer selected for each episode pairs perfectly with the cigar while still maintaining a unique and pleasing identity all its own. That was 100% the case tonight with the Barton Springs Pale Ale. Citrus, slightly sweet without going overboard, complex flavors abound here and they're done right! This beer is a highly enjoyable IPA that non-hopheads will love as well on a sweat soaked summer night. Or afternoon I suppose. Or morning as long as the dog has been fed and the kids are safely off to school. Don't judge me dammit! I'm not the one running that creepy ass bicycle shop! Leave me alone!


This is one of those episodes where I can't possibly do our discussion of the film justice here on this page so I'm going to just ask you to scroll down to the bottom and either watch the show or listen it immediately. It's a fun and informative dissection of Richard Linklater's return-to-fun Everybody Wants Some! and it took us back in time to our own nefarious college adventures as well. While unable, perhaps due to no fault of its own, stand toe to toe with its cinematic father figure Dazed & Confused this film is no dud and we highly recommend it.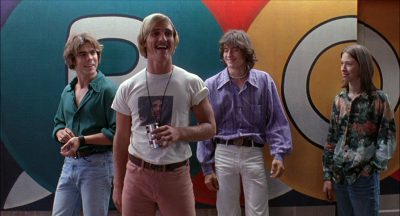 On the show we discuss how Dazed & Confused spoke to use with such power and authenticity because we were roughly the same age as the characters that we were watching onscreen. We knew them so well and fell in love with them almost instantly because they were us and we were them. And the older you get that's a hard recipe to duplicate I've found. But so much of this film does recreate the special feel, the vibe, of Dazed & Confused and that's due to Linklater's artistry and EQUALLY the skills of his longtime editor Sandra Adair. The way Adair conducts the visuals to flow so rhythmically with the film's soundtrack is spooky. Much like the late Sally Menke collaborated with Tarantino to breath true life into flat staged moments and create memorable sequences by beautifully marrying images and frames of film that live long after the movie as a whole has dissipated, Adair really shows off with Everybody Wants Some! and in many ways she's the behind the scenes star of the show.


AND THERE'S FUCKING PITCHERS!!! We live in such a pint-centric world these days that there's something nostalgic about watching a group of guys pass around a bunch of sudsy pitchers of beer. And by nostalgic I mean shit we used to do just a few years ago but still… sweet memories. But seriously, Linklater came off a goddamn Oscar nomination to do a movie about a bunch of college jocks hunting ass. You gotta respect that.
THE NUB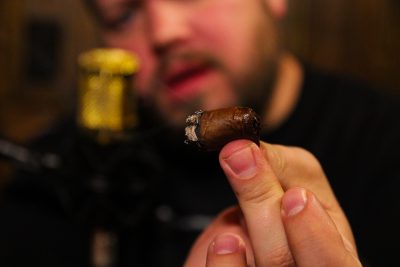 It's a fun movie, a super refreshing beer, and a delicious cigar as you'll understand from watching or listening to the show below. And if there's nothing else we can all unanimously agree upon, I think we can all agree that the birthday cake Kimberly, Arnold, and Willis got for Mr. Drummond molded in his own likeness was actually far far creepier than that bicycle shop owner. Am I right?
Please leave us comments on the YouTube episode page, provide us with a review on iTunes, or do both! All these seemingly small gestures would be greatly appreciated as they let us know exactly what you're thinking about this sweat soaked tidal wave of hardbodied insanity we like to call The Tuesday Night Cigar Club.
Below is tonight's full episode for both your viewing and listening pleasure. Thank you for checking out The Tuesday Night Cigar Club and we'll see you next time when we review another cigar, adult beverage, and film. May the wings of liberty never lose a feather…

Podcast: Play in new window | Download (300.5MB)
Subscribe: Apple Podcasts | RSS