We began tonight's show by filling The Boot Of Remembrance for the late great comic genius Mr. Gene Wilder. However, our mood was not somber but rather reflective and appreciative of the man's work and the untouchable legacy he left behind. Then, as always, we proceeded to light up tonight's stogie and drink copious amounts of alcohol until we were unable to feel feelings anymore. Enjoy!


Translated from Macedonian, Jas Sum Kral means "I am king" which is a ballsy name for a cigar for sure but we're a ballsy bunch here at the TNCC so it's a good fit. Actually it was better than a good fit, we all really dug this cigar. There is a sweet fruitiness initially (raisins, grapes) that slowly gives way to a creaminess that was by far the shining attribute of this cigar for me. CREAM. While half of our crew picked up on notes of earth and leather, the others just honed in on that delicious CREAM and let our palates swim in its creamy goodness. CREAM.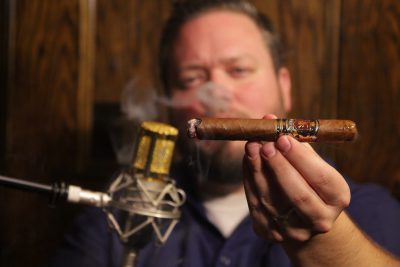 While I wouldn't classify the Jas Sum Kral as overly complex, there is a consistently enjoyable flavor to this cigar from start to finish. You can taste high quality tobacco here. Like a little spice? There is a strong pepper note on the retrohale throughout the duration of the smoke and it's fun to balance that with the cream through the mouth. Top notch construction here featuring a smooth draw with perfect air flow, something we've come to expect from the New Order of the Ages factory. A good cigar blender will create something unique that, if you like it, will get you to come back for more. Factoring in all of the characteristics mentioned above and a price point ($8.50) that's more than fair, I will definitely be back for more. In fact, we will be reviewing the Jas Sum Kral Red Knight lancero on an upcoming episode so stay tuned!

Our first Maibock beer here on the show! What exactly is a "Maibock beer", you ask? Listen to or watch the show below to learn what it means dammit! I can't do everything for you here. We all loved the Dead Guy Ale and not just because we are all mostly dead inside. There's a little sweetness to the beer that combines wonderfully with the herbal undertones and these flavors compliment the malt heavy profile extremely well. It's easy to see why this has become Rogue Ale's flagship beer – it's simply delicious. It's not a summer beer, it's not a winter beer, it's just a damn good beer and it paired fantastically with tonight's cigar. Bottoms up!

I give props to this movie for rolling out with an R rating. Here in a few weeks you will hear us review another 2015 genre entry (The Final Girls) that could have highly benefitted from growing a pair of balls and taking the gore and nudity up a few notches. Scouts Guide To The Zombie Apocalypse, much like our recently reviewed winner DEATHGASM, isn't afraid to go all out. We're talking zombie brains splattering, zombie boobs flopping around, zombie cats, and even severed zombie dongs soaring through the air and landing in people's mouths! You can't do that with a PG-13 rating folks.


It also features a stellar performance from a young stud named Patrick Schwarzenegger (pictured above). That's right, the big guy's son! Some have said his onscreen charisma and endless charm remind them of a young Matt Cade. And by "some have said" I mean that all three other members of the TNCC said it on tonight's podcast. Don't believe me? You calling me a devilish handsome liar??? Well WATCH OR LISTEN to the show below and hear for yourself!
THE NUB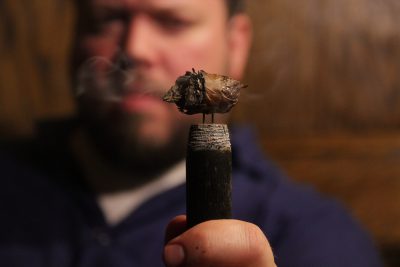 Tonight's show was a fun one! Impressive cigar, delicious beer, and an entertaining movie. Whenever the three mystery elements combine successfully like that, how could it not be fun? I know, I know, you want to see a picture of those zombie boobs, don't you? Well, you shouldn't have questioned me earlier on the TNCC gang praising my reputation as a drop dead gorgeous teenage heartthrob back in the day. So here's a picture of the severed zombie dong instead.


Hopefully you've learned your lesson. Please leave us comments on the YouTube episode page, provide us with a review on iTunes, or do both! All these seemingly small gestures would be greatly appreciated as they let us know exactly what you're thinking about this sweat soaked tidal wave of hardbodied insanity we like to call The Tuesday Night Cigar Club.

Below is tonight's full episode for both your viewing and listening pleasure. Thank you for checking out The Tuesday Night Cigar Club and we'll see you next time when we review another cigar, adult beverage, and film. May the wings of liberty never lose a feather…
Podcast: Play in new window | Download (284.1MB)
Subscribe: Apple Podcasts | RSS